Borrowers are staying in the pipeline longer than ever, and originators have had to pull out all the stops to remain engaged with their clients over time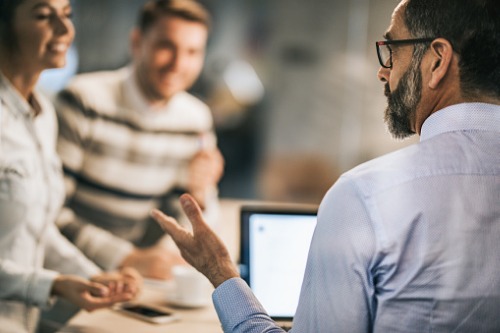 Gone are the days of the conveyer-belt borrowers who go from preapproval to closing in a matter of weeks. In many parts of the country, borrowers get preapproved only to wait months before they can find their ideal property—and it might be many more months before they can beat the competition for another.
In this climate, mortgage originators have had to figure out new ways of creating stronger connections and maintaining them for longer periods of time, and ways of perfecting and improving on classic strategies of staying in touch with clients and prospective clients after their initial preapproval.
The longer a client stays in the pipeline, the more chance an originator has of drifting off into oblivion. Drip marketing is certainly effective and has its place, but some top producers have found new ways to maintain closer ties with their clients, and often it involves a combination of new technology and old techniques.
Debbie Maggert, a branch manager with Guild Mortgage, uses Salesforce as a CRM, and her clients are the recipients of a 12-month drip campaign. Her additional follow-up system to that is pretty low-tech: she regularly calls people.
"I'll help people a year or two years after I worked on their tax returns, worked on their credit. They get touched by us with a physical phone call," Maggert said. "I talk to them on a regular basis throughout the year to make sure: are they still looking? Are they working on their credit? Did they work on the income? If they're self-employed, have they filed those tax returns? . . . we incubate our applications from a couple years back."
There's a fine line between being persistent and being a pest, and Brad L'Engle of Guild Mortgage constantly toes that line. Once his clients are preapproved, they enter into a 13-20 week process that involves calls, emails, text messages, thank you notes, and sometimes small gifts. He calls, emails, texts, and then gives them a break before starting the sequence again.
"There's no way that they're getting out of my grip. I just have it locked in on Wednesdays, from about 1 to 4. We call it extreme follow up, and my admin and I we just go down and make sure everyone has some sort of a touch. And then we obviously communicate that touch point with the realtor so they know that we are staying on top of the leads—because, well, the realtors probably aren't," L'Engle said.
Independent originators who either have strong systems in place or who are employed by companies with strong systems in place have an advantage over those whose systems are unorganized and inconsistent.
"I'm fortunate to work for a company that has very strong technology, and a great CRM. So clients who are preapproved do get regular messages. As well, I use my sales team to reach out periodically and clients how things are going," says Dianne Crosby, VP of mortgage lending at Guaranteed Rate. "But it's not perfect. And I'm not perfect."
Because originators aren't perfect, sometimes people and follow ups fall through the cracks. This happens particularly when business is booming or there's any kind of staffing transition. When this happens, though, Maggert doesn't worry. Even when people haven't been touched in a couple of months, she knows she hasn't lost them because her typical follow up method is so consistent and personal.
"I might lose a couple, but people come back to us: 'It's been a year now we're ready,' or 'it's been six months, now we've done this. Can you repull our credit?' They come back to us, and because we're still there, they don't leave us," Maggert said.
L'Engle doesn't stop his follow-up efforts, even when people have been going through the homebuying process for more than a year. Until someone gets a mortgage or tells him to "take a hike," he continues to contact them.
"I joke that I will follow up one follow up short of a restraining order," he said. After a prolonged period of time with no response, he will keep them on his email drip list. "The funny thing is that they will respond to me out of the blue on an email that I sent like nine months ago, so I'm [obviously] still front of mind."
Even when clients go to another lender, originators can learn a lot from having conversations with them about their process and experience. Clients come back to originators who don't give up on them, and who consistently keep them on their radar. Originators also benefit from consistently mining their databases and catching anyone who's gotten stuck.
"When there's a refi boom, which appears to be happening now, it's easy to forget about our homebuyers. And we've got to be especially mindful that, you know, as exciting as it may be to help a client save a half a percent in rate, there are people who are trusting us to help them and guide them and strategize with them for buying their first home. Let's make sure we carve out time to be doing that," Crosby said.