Mortgage professionals can eliminate friction and time with proper disaster preparation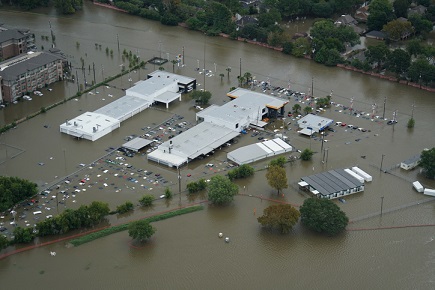 Last year was a very active year for weather- and climate-related disasters in the United States. There were 14 separate billion-dollar disaster events, costing the country around $91 billion, according to the U.S. National Oceanic and Atmospheric Administration (NOAA).
CoreLogic, a leading global property information, analytics and data-enabled solutions provider, recently released its 2019 CoreLogic Storm Surge report, which indicates that 57% of the total homes at risk of storm surge flooding are along the Atlantic Coast, and more than 7.3 million single- and multifamily homes along the Gulf and Atlantic Coasts have the potential for storm surge damage, with a total estimated reconstruction cost value of nearly $1.8 trillion.
After Hurricane Harvey hit Texas in 2017, mortgage delinquencies on damaged homes spiked 200 percent. That was just two years ago, but even in that short time, improvements have been made in the way that mortgage servicers can help borrowers who are impacted by natural disasters.
Technology has helped with this in a number of ways, including an ever-increasing accuracy when it comes to predictions, says Altisource SVP of Field Service Jim Vaca.
"There are technologies out there today that are getting very accurate at not only predicting when the event is expected, but when the event actually happens, better identifying with a higher certainty each of the assets that the servicer has which could have been impacted," Vaca said.
Servicers who have that are able to help identify or at least narrow down the number of borrowers they should contact.
To that end, texting has also helped when it comes to borrower communication in the aftermath of a disaster. When you have the aforementioned technology that identifies who's potentially impacted, Vaca said, then you can pair that with texting technology that allows servicers to quickly and proactively reach out to potential borrowers who may have been impacted. The borrower responses can kick off a series of activities that then engage their field service vendors to assess the magnitude of the damage and help facilitate communication with insurance and claims management companies.
Depending on who owns the servicing rights to a loan, Vaca said that the originator and/or servicer can also be proactive about missed mortgage payments due to climate disasters.
"If you have a home in Miami or up the East Coast, you know you're going to be hit by a hurricane at some point," he said. So there's an opportunity to be upfront and proactive as early as the closing table, giving borrowers any information available about a hotline to call or a website to visit to get any of their mortgage questions answered in the event of a disaster. Another proactive move might be automatically and immediately waiving a payment for those impacted by the event until the damage and the magnitude of the situation has been assessed, "so it's one less thing that the borrower needs to worry about when they're going through potentially losing their home, losing all their possessions, [and] working with their respective insurance company to get their other financials in place."
Predictions for the 2019 hurricane season are that it will be near- to slightly above-normal, although that still means 12 to 14 storms of varying severity.
"Clearly, the historically large U.S. losses from hurricanes and wildfires over the last few years have further skewed the total distribution of extreme weather costs," said Adam Smith, lead scientist for the U.S. Billion-dollar Weather and Climate Disasters analysis. "This increase reflects a combination of increased exposure, vulnerability and the fact the climate change is playing an increasing role in the increasing frequency in some types of extremes that lead to billion-dollar disasters.
With that in mind, servicers can be more prepared for preparing for natural disasters internally by having an effective SWAT team that can be initiated immediately upon identification of a qualifying event, Vaca said. Understanding what a qualifying event is, having a smaller team watching those, and then once the event hits a certain magnitude, bringing together that SWAT team and ensuring that everyone across the board knows who's playing what role and what needs to be done. But knowing isn't good enough, he says.
"While this is all great on paper, in addition to it, you really should be executing it on an annual basis, what we call a tabletop exercise to test readiness. So go through the steps or relive what happened during the last disaster. What was the timing associated with it, and what should we have been doing during that time?"
He also suggests that the servicer knows that their field service providers have a similar team and plan in place so they can ensure the field vendors also have a planned response. Everyone should know the main points of contact at each vendor in the event of an emergency, as opposed to fumbling around searching for the correct people when under pressure.
Having direct lines of communication with FEMA and other federal agencies can help tremendously, as they're the ones who are first on the ground. Altisource has regional field service managers (RFSMs) throughout the country, and when disasters occur, they will engage them to be their boots on the ground, talking and working with local officials and agencies. This helps them bridge the gap between the realities of what's happening locally to what clients may be seeing.
"The more you have documented, the more you practice, when the disaster when inevitably will come comes, you're ready and you have the playbook," Vaca said.