She's all about drive and effort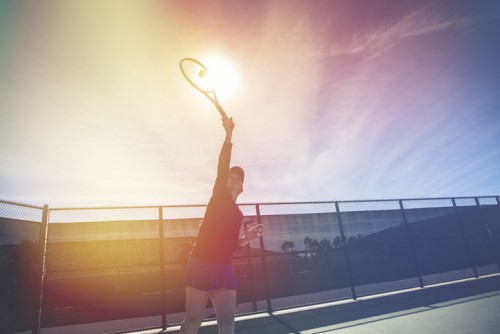 Although she's now a successful mortgage originator, Mary Lee used to be an athlete. As a runner, she was told to always stay in your lane, not to look left or right. As a tennis player, she was told to always focus on the ball, concentrate on her footwork and plan her next move based on the previous one.
It's no wonder that now, she doesn't look at the scoreboard.
"I don't go check numbers all the time," she said. "I really don't pay attention to who's behind me or who's beside me. So if it's a race, I want to make sure that my vision is clear and unobstructed."
Lee has kept her eye on the ball for a long time, building her career for the past 12 years at Cornerstone Mortgage, where the culture has allowed her to thrive. It's different from anywhere else, she said, and from the top down, everyone is working for the same goal and focused on their role in the process instead of working from a place of hostility and jealousy.
"I don't do my processor's work, he doesn't do my work and I don't do my production partner's work, everybody does their own role. And so when we stay within our roles, there's no micromanaging, because I've told them many times, if I have to micromanage, you're not going to like me."
When you talk to Lee, you feel like you've got a fighter in your corner. And when every originator out there has the same thing to offer on paper, she's quick to step up to the net and volunteer what sets her apart: her integrity and dependability, for starters.
"The agents know, when I say go, we go," she said. Sure, everyone's trying to get new business through the door, but Lee works primary from referral business, which is a good place to be. "I'm being saturated right now by phone calls, pay for leads. We just don't have to do that. I know the economic news is not wonderful for next year as far as lending's concerned so it's going to have to make us work smarter, not harder."
Lee says that she's seeing a lot more shopping around, and more people looking for 'cheap' instead of 'value.' How long that's able to continue is uncertain, but rather than focus on ways to run cheaper, Lee is entering 2019 with the goal of focusing more intently on identifying partners who want to take their business to the next level, and as her Houston market is quickly turning into a buyer's market, helping those partners find those buyers.
Lee's business is heavily focused on referrals, but she does cast a wider net than just working with realtor partners. Her financial advisor partners are a rich source of referrals, and she says that they're a little bit more dependable than realtors, who "will tell you yes to your face and then they'll never return a phone call" or otherwise spurn advances.
"I don't ever want to replace anybody; I want to be an alternative to your lending options and hopefully, we'll earn that number one slot," she said, ""The agents that do business with us know that the trust and the value is there. We're just trying to get new people to sit down and listen."
Even when Lee and her team has secured that number one slot, the work isn't over. It's a constant, consistent effort every day to maintain and exceed the level of service that partners and borrowers expect. Without that consistent effort, Lee said, originators will never reap the benefits.
Lee walks an interesting line between old-school note-taking and record keeping, and using up-to-date technology. She hand-writes notes not only to her customers, but also keeps handwritten notes about all of her phone conversations. For her, mortgage business is still heavily a paper-laden process. That being said, she has implemented some technology such as integrated mobile options that allow texting via desktop.
But her methods are incidental to what's made her successful. Really, she said, it's just being willing to work.
"You don't have to change your business, you just have to work your business. Most people don't want to work their business. I've talked to loan officers who don't go to closings, who don't call agents, and I'm like, 'What, do you sit there and just think the phone's going to ring? How do you make it ring?'"
Lee will always try new things to get it to ring. Some things that she's tried in the past, buying advertisements on grocery carts and in magazines and the like, haven't worked. Other things, like going to teacher orientations in various school districts, have definitely been worth a shot. If she gets a 15% return, she says, then it'll have been worth the drive and effort.
And that, really, sums up Lee's approach to origination: drive and effort.
Game, set, match.