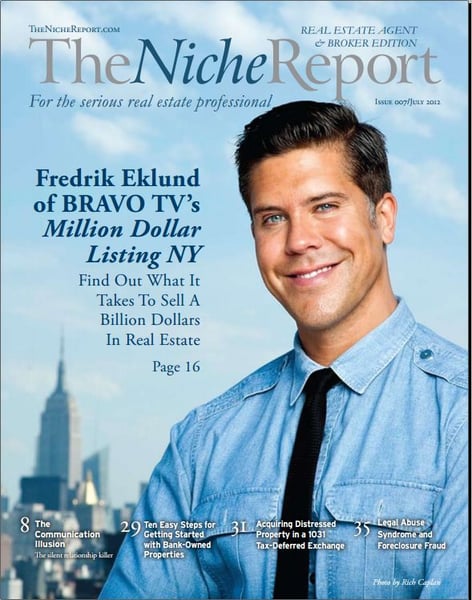 Daring, dashing and cunning; Find out what it takes to sell a billion dollars in real estate
(
TheNicheReport
) -- Fredrik Eklund is our featured interview this month, and he doesn't disappoint. He is unabashed, bold and an "open book," which I highly admire. Handsome, successful and smart, the only thing that makes any comparison to him even more unfair is he is European, multilingual, and has style that would make anyone in Hollywood jealous. Fredrik is the real deal – not only fiercely competitive, but his production numbers are the only thing that outweighs his sense of being number one. "I have never made a deal in the rain," he is famous for saying in 2010 to the
NY Times
. "People need to see a place in good weather to appreciate it." With key sales principles like these, he sells properties – and a lot of them. Fredrik "
and the two other guys
," as we joke, are members of the Bravo hit show,
Million Dollar Listing New York
. With over $75M in listings, he is one of the top brokers in New York City. His success in real estate has made Fredrik a celebrity in his native Sweden, and coming from a prominent Swedish political family with ties to the prime minister, the royal family and other political and social celebrities doesn't hurt either. Moving to the United States ten years ago with no clients, no real estate training, and with English as his second language, he got his real estate license in 2005, and has since built a real estate practice that boasts clients like Cameron Diaz, Justin Timberlake and the Olsen Twins. Fredrik is impressive, and demonstrates a path to success that is achievable in any market. Any housing professional, with the right personal and professional attributes, can dominate a market in less than five years. This is what I have concluded after interviews with Donald Trump, Barbara Corcoran, Josh Altman and now Fredrik Eklund: in real estate, anything is possible. If a one-time, gay porn star can slay New York real estate, why can't you – as a real estate agent in Springfield, Massachusetts; or Edina, Minnesota; or in St. Louis, Missouri? Fredrick is a risk-taker – and ultimately this is what it takes to be successful. You cannot be afraid to fail, and when you do, you need to try again, but differently. Fredrick is no different from any other agent out there; the real separating quality is, he 'esteems himself' differently. He expects great things from himself, and great things he has accomplished. And it is for these reasons Fredrik is a proud member of yet another prestigious accolade: Agent of the Month in
The Niche Report
Feature Interview Series.

: Hi Fredrik, tell us about yourself, were you raised in Sweden from birth?
Fredrik Eklund
: Was born in the suburbs of Stockholm, Sweden, and we moved into the city center when I was twelve. My first trip to New York City was at the age of eight, when my father exchanged his business class ticket paid by his job, to three coach tickets and brought me and my brother. I was instantly hooked, climbing up the Statue of Liberty in the pouring rain and looking out on the skyline in the fog.

: Ha, sounds like your father was a bit of an entrepreneur too, always looking for opportunity. Did you go to College? And if so, where?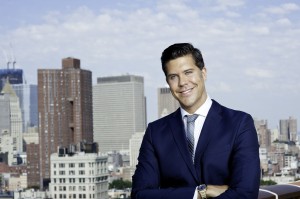 Fredrik Eklund
: Yes, Stockholm School of Economics, one of the best business schools in Europe. But I only lasted a year. I have a hard time sitting still, and the four hour long sessions listening to the professor in Statistics made me want to go out and explore the world. So I started an Internet company, Humany.com, and convinced the former Prime Minister of Sweden to join my board. I quit school and after a year we had 45 employees and I was the CEO. It was a very interesting time of my life.

: Sounds adventurous! Are you still affiliated with Humany.com?
Fredrik Eklund
:
I sold my shares and moved on. The company still exists and does well, but I have no affiliation with it.

: Were there any jobs that prepared you for real estate?
Fredrik Eklund
: Yes, I have always been an entrepreneur, and worked for myself and sort of invented my jobs. I don't want to know what my paycheck will be on Friday, and I want to set my own goals and limits. I have worked with my Internet start-up, a music publishing company, banking in Singapore, London and Tokyo and also tried porn and wrote a bestselling book in Sweden – all before moving to NYC and getting into residential real estate. I say I see life and the world as a big smorgasbord, and I want to try as many things as possible. Doing real estate for nine years now is my longest run with anything.

: How did you find yourself in the business of selling real estate?
Fredrik Eklund
: I had just moved to NYC and my friends told me I should try it and that I would be good at it. I am analytical and numbers driven, but also love people, and listen to and understand my clients. In real estate you need to have the perfect balance between the carrot and the whip, and at the same time be emotionally detached to your deals. That's not easy, especially when the deals are big, and so are the commission checks, and your clients are stressed (because it's the biggest financial decision in their life time). I had no previous experience in real estate, and did not even know the neighborhoods or the streets of New York but I was determined to succeed and worked extremely hard from 7am to 11pm every day, and after my first year in the business I sold over $50M worth of real estate and was nominated as Rookie of the Year by The Real Estate Board of New York.

: So how long have you been into Real Estate? Do you feel like you ever get burnt out or the learning process stops or becomes a drag?
Fredrik Eklund
: Next year it will be ten years. And yes, I'm still learning every day. I always say you can only learn real estate the hard way which is by failing, picking yourself up and LEARN. So, every challenge is an opportunity to grow stronger. As I was younger I didn't view real estate and life in general, like this and got saddened by all the challenges that rose. But now I get truly excited when a deal gets difficult, or about to fall apart, because it gives me yet again a chance to learn.

: How did you land the gig with Million Dollar Listing NY on Bravo?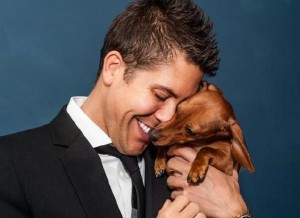 Fredrik Eklund
: I always wanted to do a real estate TV show. I think MDL is a great format and Bravo is the best network for this kind of TV. The show really hits a nerve, and it's intriguing to see these million dollar homes, the negotiations, but most importantly the buyers, sellers and the agents that make it all happen. So when I heard about Bravo casting, I went in and gave it my best shot. Looking back at the experience I'm glad I was myself the entire time, and kept my integrity.

: And we have to ask, how's Andy Cohen from BRAVO TV? Does he actually do any of the interviewing when it comes to casting for Million Dollar Listing?
Fredrik Eklund
: He doesn't cast. But he is hands-on and very much a decision maker. People tell me they don't understand how I find time for everything, but I don't understand how Andy finds time to run a network, his own late-night show and write and promote a NY Times bestselling book. He is an inspiration. He also is a friend, in the sense he makes all of us Bravolebrities feel safe; it is scary to sign on to do something like this, but he makes us know we are taken care of and it will all be worth it.

: Were you familiar with your costars Ryan and Michael prior to the show? What was their reputation if any, prior to being casted?
Fredrik Eklund
: No, I did not know them but I knew of them. Michael is the son of my boss, Howard Lorber who is a legend and a genius. Being my boss, and the very guy who hired me, it was nerve-racking to film with Michael and the friction that the deals created. Ryan reminds me a lot of myself when I started in the industry: he is driven, aggressive and with a big ego and I really enjoy watching him on TV.

: In all honesty, we get the feeling you simply don't like Ryan (nor Michael, which is a hilarious relationship to watch on tv). Why don't you like his style and if you were his sales coach, what would you teach him?
Fredrik Eklund
: That's not true at all. I do like Michael, and we became friends during filming. He is a sweet guy, he is involved in a lot of charities and with an amazing Rolodex. We are just very different and we do business very differently, which makes for great television. When it comes to Ryan…. He will be one of the biggest brokers of NYC one day. He has everything going for him, and he is very, very smart. I couldn't be more impressed with him. BUT, we are competitors and we go after the same clients and deals. My only advice to him would be to get himself into more new development, representing developers. That is the only way to get to the big numbers in NYC.

: Competition is difficult and especially if you frequently come out on top – is this why you can be hard on these guys?
Fredrik Eklund
: Competition is not difficult. It is good. It is what drives people like myself, and what makes us all be better. When it comes to Million Dollar Listing NY, this is the format, and its television. Who wants to watch something when everyone is in agreement? But the format is true to NYC: it is the most competitive real estate market in the world with 25,000 licensed agents and I would say only 200 that make really good money and control the bulk of the inventory. I want to be number one and I am not ashamed of saying it. So I'm happy if you call me competitive.

: In terms of dollar volume, where would you rank yourself in terms of top agents in NYC? Top 100? Top 50? Top 10?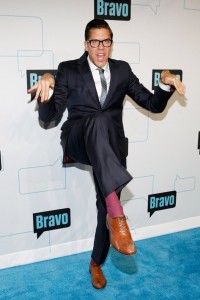 Fredrik Eklund
: I'm def top 10 in the city. I found I was #1 in the Prudential Network of 60,000 agents a couple of months ago, during this past spring. I was never driven by money, but it excites me to be in the very top. If you are, the money comes anyway. And you can't buy that excitement for money.

: Define Success in specific terms.
Fredrik Eklund
: That is a tough one because success is many things at the very same time. Which means success is BALANCE. I've always seen life as a pie, with many pieces: money, family, love, health, nature, travel, food, spirituality. When one piece of the pie grows too much, too fast, the other pieces shrink, and you've lost balance. It is only when we have balance we are successful in my eyes, and that is a very difficult place to reach, and usually we only have balance for a short moment. But when we do, and everything in your life comes together, and the pieces of the pie are in harmony (size wise), it is the best feeling and you glow. Everyone around you can see that glow and want to be part of it.

: What does it mean to be a consummate professional in New York Real Estate?
Fredrik Eklund
: To always treat everyone with the highest respect. Not only because it is the only way to live, but because it's good for business (you never know who'll be your next client). New York real estate is a very small world and we deal with the same top brokers, attorneys and developers all day. It's like a family, and pissing a person off is never worth it. Remember being emotionally detached? Take the higher road.

: You are one of the best negotiators I have ever witnessed. This is 80% of being successful in real estate. How did you learn to be such a master negotiator?
Fredrik Eklund
: Thank you. I've been thinking of that a lot and how I became such a negotiator. I think it has something to do with being the younger brother in a loud family and always have to make my voice heard, and get my will through. Then through-out my professional life as an entrepreneur I have always had to negotiate my success as I am inventing it, and turn naysayers into followers. I have always sold myself and my ideas when nobody believed in them.

: How do you negotiate? Lay out your key principles to keep in mind when negotiating.
Fredrik Eklund
: You need to be kind and funny, BUT then all of a sudden put your foot down at the very right time. Scan the emotions in the room, monitor the energies, and really speak to the person as a friend. It's about winning the trust. Also, which is difficult, is to take the conversation OUTSIDE the deal to a completely different subject, and then sneak it back into the deal when least expect it, to connect people with unexpected emotions (to get them where you want).

: There is an episode of Million Dollar Listing NY where you were negotiating with a buyer's agent, and at the end of a stressful battle of wills, you say "I think you can go higher, in fact,
I know you
can go higher". They ended up going with the higher final price! That was a phenomenal power move. When do you wave the white flag? What if the agent had walked away?
Fredrik Eklund
: Negotiation is the world of up-side-downs. If you are a master of negotiations you say one thing but really mean another. You are constantly bluffing in a way, and yes, take a lot of risks. It is the only way to win. I love it, because you have to calculate in a split of a second what to say and how to act while balancing on your toes.

: To move your way up to working with and representing some of the wealthiest people in the world, is it luck to find yourself in the right place in the right time to work with such a sought after clientele?
Fredrik Eklund
: I don't really believe in luck. I believe there is meaning to things, and the way our lives pan out, and we all need to have trust that this is meant to be. I do believe I'm good at what I do and that I deserve this level of success and that I can be part of changing the business. I hope that shows in my eyes, and that clients are attracted to me for it.

: Have you always focused on the higher dollar properties? Have you ever sold a home for $224,000 which is the average sales price for a home in the United States?
Fredrik Eklund
: The first property I ever sold was $550K and I had to repaint and clean it myself. Now my sweet spot is between $3M and $6M but I also do a lot over $10M and sometime $20M. The truth is that I work as hard on a $1M listing as a $20M listing. I'm known for volume of deals, and my teams sell on average one apartment per day between NYC and Stockholm. That is a lot of negotiating at the very same time.

: Ahh… That's right; I noticed your website has many listings based in Stockholm. Is there a difference between selling real estate here in the U.S. versus Sweden? Are you very involved with the selling process overseas in your home country?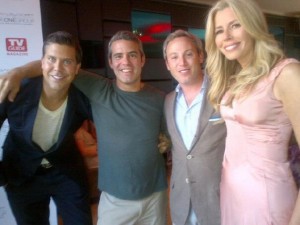 Fredrik Eklund
: I have three offices in Sweden and now opening in Mayfair, London. I started the company just three years ago and I'm so proud over how its developed. No other brokerage in Scandinavia has more listings over $1M and we are 50 employees now. Its becoming a big show, no pun intended, and its profitable. Its so rewarding to implement all the things I've learned in NYC to the Swedish market, but also the other way around. There are a lot of overlapping and buyers buying in between these cities, and I actually feel most alive when I'm balanced traveling between my home town Stockholm and the place I live, New York. I'm hopeful Million Dollar Listing NY Season 2 will show more of this side of me and my business and hopefully an episode in London.

: What are the top five keys to success in selling real estate?
Fredrik Eklund
:
Use your personality. No one wants to work with a boring agent.
Answer all emails and phone calls in real time. Work in the now, and don't put things on a to-do list for tomorrow or next week, it never works out.
Learn real estate internationally. There are few geographically boarders today and buyers come from all over the world. You need to understand what is driving these buyers. CityScape in Dubai and MIPIM in Cannes and Hong Kong are good real estate fairs to start.
Don't ever give up. You will lose a lot of deals and you need to pick yourself up. See each failure as a way to learn, and just make sure you don't do the same mistakes twice.
Set exact goals for yourself, in numbers. Write the commission you want to make on a yellow post-it and wrap your toothbrush in it, or tape it to the toilet seat, whatever you do, look at it every morning.

: With a city of over eight million people and nearly 25,000 real estate agents, in just over 300 square miles, how does one stand out in New York Real Estate?
Fredrik Eklund
: Be obsessive about real estate: eat, drink and breathe it. When people see that glow and determination in your eyes, they will work with you. And try to have fun, the race is long and without humor it gets boring quickly.

: Who are the buyers of New York's high end real estate? Be specific – are they foreign? Domestic? What is their average age and average occupation?
Fredrik Eklund
: The beauty of NYC real estate is that the buyers come from all over the world. We see a lot of Brazilians, Scandinavians, Chinese, Russians and French. And then we have the locals, Wall Street, and now lately a lot of tech money from Facebook, Amazon, Apple, Foursquare and Google with newly established headquarters downtown. I love the diversity of the buyers, and their needs. It's my job to listen and help regardless who they are.

: What percentage of the deals do they generally (on average) pay in cash and generally what percentage of every deal is borrowed?
Fredrik Eklund
: Half/half. It's amazing to me just how much cash there is. I do all cash $10M deals every month. It didn't use to be like this. 2006 there was a lot more financing available.

: You are the self-proclaimed Machine of Love and you are openly gay, do you think being gay is an advantage in real estate? And In all seriousness, you are good looking and have a strong sense of detail and taste in fine clothes; clearly not attributes of the average straight agent! So tell us, has coming out helped or hurt your business or does being gay give you an edge?
Fredrik Eklund
: I don't think about these things. I am who I am and I don't view people by their sexuality. I'm open like a book and have always been. A friend once told me not to be a river but to be an ocean. When it comes to clothing I enjoy it, and I do think it shows respect to my sellers who have put in millions into their homes. I need to take that love in their homes and represent it to the potential buyers, and I cannot do that if I'm late, smell bad or have a cheap suit. Now, I'm from Sweden, I happen to be tall and fairly good looking, so my boyfriends tell me, maybe these things come naturally, but I don't think my success has anything to do with whom I fall in love with. It comes from incredible hard work, which is the unglamorous answer.

: Speaking of identities, you are Swedish; Swedes have a reputation for being classy, educated with European sophistication. Do you use this to your advantage, if so, how? Do you benefit from being European when selling higher end properties?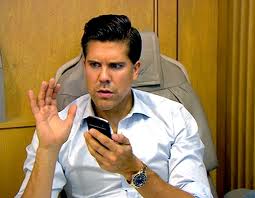 Fredrik Eklund
: Swedish people are very loyal and honest, almost gullible. I see that as a good thing. I come from a good place, the country and my family, and now I am far away by myself in NYC. I want you to be in a good place too, you know? I don't have a hidden agenda, my agenda is clear: to get the lowest price when representing a buyer and the highest when representing a seller. I don't view myself as classier than anyone else, in fact when I grew up in the suburbs in Sweden we had no money, and I have never been given money. The only advantage being Swedish has given me, is perhaps just that, to NOT be driven by money, because in Sweden (to generalize a bit) money doesn't matter. It's a socialist country and family and nature comes first. I have never been driven by money, but by the contrasts in my life and to be the best that I can be. And be that while high-kicking unexpectedly.

: How do you deal with sellers who simply aren't realistic with the value of their property?
Fredrik Eklund
: In episode two of Million Dollar Listing NY, I walk away from a seller who is unrealistic. At this stage in my career I say what I think and know, and if a client doesn't listen I walk away. I respect each seller, it is their property, not mine, and they have the full right of their opinion. But I don't need more listings (I have 123 between NYC and Sweden currently) to prove something, what I need is happy clients who know that I made a difference in their life. And hopefully becoming their friend on the way.

: Fredrik, thank you for your time. You've been a delight and one of the most responsive and open interviews we've ever had.