Invest in yourself and you can't lose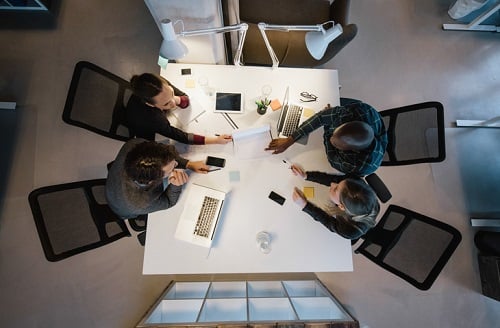 Brian Cohen and Shant Banosian have known each other for a long time and talk often. They are #2 and #3 on Scotsman's 2017 Top Originators in dollar volume respectively; combined, the pair had more than $700 million in loan volume last year. Sharing a panel at Mastermind 2018, the two provided a blueprint for their beliefs and strategies behind their record-setting results.
The temptation in a challenging market is to go lean; to scale back, keep things manageable, and try as best you can to ride it out until loans are once again falling into your lap.
Another strategy, however, employed by some of the most successful loan originators in America today, is to go the opposite route, and spend more – on yourself.
"You've got to take a leap of faith and invest in yourself and invest in your business or you just can't grow," said Cohen.
Because investing in your business is ultimately investing in yourself, and your own motivations and actions are something you and control, unlike other places to park or invest your profits, like the stock market.
When you think about investing in yourself and your business, it doesn't necessarily mean paying for seminars, but improving your process flow and hiring new staff. Banosian said that when you're hiring someone, he keeps two things in mind: Does this new hire mean that he's going to get more time back, or that he's going to get more business?
"I 'm okay with either result. If I don't do any more business and I have more time to spend with my wife and my kids and to work on other things that I'm passionate about, I'm okay with that. Every single time, what's really happened, is, I just end up doing more business because we implement systems and coach and train and motivate," he said. "The one thing I'm sure about every single time is, if I invest in myself, that's like a done deal, I'm definitely making more money."
Cohen said that it's not an either-or proposition; investing in your business by building a good staff results in a better you as a whole.
"I'm married, I've got three little kids, I take an awful lot of vacation, I play an awful lot of golf, I try to manage my work life balance, and as I've grown in my career, and as I've continued to evolve, that's why I stress the importance of a team and support staff," Cohen said.
What having a good staff also forces you to do as an originator is to be more productive with your time, focusing on what you want to do and owning the parts of the job that you enjoy. Banosian said that he has a method for every single call that he takes, and over the years he's figured out how to become more efficient, spending less time on each call but doing much more in the way of building a rapport, identifying client goals and motivations, and empowering borrowers.
"You don't build rapport [by asking] where did you live three years ago? That's boring. I want to talk about what's impactful, educate them on the programs and options and rates and all this stuff they need to know."
Banosian's shop may be a well-oiled machine, but that doesn't mean he doesn't run it.
"Everybody always thinks that we don't do anything. It doesn't rain mortgages in my office. Clients say no to us. We get shopped. But I really value my time and I don't waste any time during the course of the day."
Another way to invest in yourself is to trust the way that you do business. Cohen admittedly doesn't fit the "typical" personality of a Type A, gregarious, fast-talking mortgage salesperson. He doesn't approach his business the same way that Banosian approaches his, and for all of the tips and tricks that industry experts have to bestow on the masses, you have to be able to adapt these tips in a way that you feel comfortable implementing them. That's true when it comes to asking for business, and it's true when it comes to meeting and gaining the trust of referral partners.
"I'm not very aggressive. I always joke that I'm kind of like a silent assassin. I sit back, I listen, I don't talk about how well I do or how many loans I close, and I just let [realtors] do their thing," Cohen said. He tells them, "At the end of the day, I want to make you look good so your client's happy and now they're going to refer both of us on the next transaction."
And if you're just starting out or just beginning to take your business to the next level, there's really no secret. Find what you do well and the style in which you perform best, and go out and execute.
"I was personally never much of a cold caller, I would always look for some sort of commonality or some sort of connection," said Cohen of his start in the business. Now, he's licensed in 35 states, going into new markets all the time and looking up the top producers in each market out there.
"People are afraid to ask for business, it's incredible. It's not that complicated."