Tech training and a new renewable income stream were workshop highlights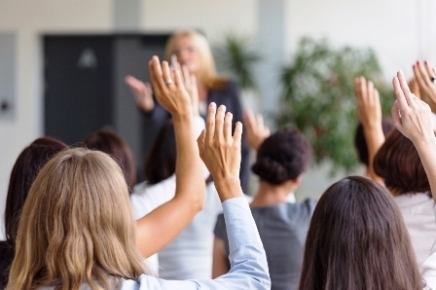 The Association of Independent Mortgage Experts (AIME) made its first-ever visit to the east coast with a Mortgage Expert Workshop in Florida, followed by another in Atlantic City next month.
AIME hosted just under 700 attendees at their first-ever event in Ft. Lauderdale, Florida, where they continued to spread their message of helping brokers handle the pressures of today's market, have more of a stake in the future of technology, and grow market share.
While brokers across the country share some of the same pain points when it comes to growing their business, chairman of AIME Anthony Casa said there he's noticed some subtle differences between mortgage professionals on opposite sides of the country.
"People on the west coast, I would say are very open and very engaged with change, very interested in change; I almost think it's part of the culture in California," he said. "I did get a bit of a sense at our Florida show, not of resistance, but more of, 'I have to get myself to do it,' and 'I know I have to do this.'"
In order to help make technology adoption—and the adoption of AIME's new platform ARIVE—easier, their Florida workshop included a 90-minute training on ARIVE. Casa said that they've onboarded almost 1,000 users so far, and they hope to continue adding 500-1,000 users each week.
"It can't be understated that we're professionals that have been using a certain system for 10, 20 years, and people are creatures of habit. But being able to actually sit there and not only show them how to use it, but show them . . . . how it's going to save [them] time, and literally show them the time saving—that was impactful."
Another impactful component of the event was when Phil Shoemaker, chief business officer of Home Point Financial, revealed the Customer for Life Program that the company has been working on with AIME in order to provide mortgage brokers with a long-term renewable income stream.
Independent mortgage brokers are often out in the field being a relationships manger, but without a call center as a support, the broker's ability to retain clients for future transactions is about 14%, Shoemaker said. The big outfits with thousands of people in a call center have about a 70% chance of retaining a customer. Lenders would love to give brokers back customers, he said, but brokers don't have the technology in place or the teams in place to retain them. With this program, when a broker does a loan with a lender, if that lender ever repurposes a loan for that customer, the lender would compensate the original broker.
AIME is in talks with several other wholesale lenders over this type of arrangement.
"All of a sudden, if you're a mortgage broker that was doing 200 transactions a year, and the average consumer does 3-4 mortgage over their life, you are creating this sort of residual income, and it's guaranteed," Casa said. "That was the first time any lender has actually come forward with what we've been working on, and if we're able to successfully standardize that, then that's sort of a game-changer for mortgage brokers."
With this workshop under their belt, AIME has one more event on the calendar before FUSE 2019, and that's the Mortgage Broker All-Stars, taking place in Atlantic City, NJ, in June. AIME has identified eight subject areas where brokers want to receive expert help, and the workshop is going to focus specifically on tactical subject matter by top originators who are experts in each of those areas.
This is the first time that AIME has done a show that is strictly focused on originator tactical content that is specific to the audience. So regardless of whether you're planning on attending FUSE 2019 in October, or even if you've been to other workshops, Casa said that the workshop in Atlantic City is a can't-miss, especially if you're on the east coast.
"This is going to be a show that is going to help you specifically grow your business and not have to deal with any of the sponsored content or any of that good stuff. But more than anything, I think that if you're on the east coast, getting . . . to Vegas or go down to Florida is not likely. This is going to be probably our one and only show in Atlantic City, so I think it'll be a good opportunity for everybody to get a flavor for what we've been doing."