Jump to winners | Jump to methodology | View PDF
THE LEADERS OF THE PACK
For the mortgage industry – indeed, for every industry – 2020 was a year like no other. The chaos brought about by the COVID-19 pandemic hasn't stopped mortgage professionals from going the extra mile, however. Nowhere is this clearer than by glancing at the list of the nation's top retail lenders, compiled by Mortgage Professional America following an extensive reader survey.
So what exactly does it take to be a 5-Star Retail Lender? What approach separates the winners from the rest?
The secret's in the service
Unsurprisingly, customer service is a huge factor in attaining success, as Len Krupinski, COO of Fairway Independent Mortgage Corporation, is quick to point out. With more than 20 years in the business under his belt, Krupinski knows how to tackle tough times with a level head and exceptional dedication to customers.
"There is a discipline for each and every loan because all that matters is that we do a great job from start to finish for every single customer," he says. "It helps to show that we have done a good volume of loans, as it means we're experienced, so the customer should expect great service from us. If we don't provide great service, it is crucial for us to immediately identify what happened so that we can improve for the next loan. We are always learning and trying to get better. We don't ever think that we have 'arrived' and our work is done. Our focus is on streamlining the process for the loan officer and the customer, as we want to eliminate the pain points to create a great experience while doing a loan with us."
Customer service is naturally tied to what a retail lender can offer – which is why originators said they prioritize areas like compensation, rates, underwriting scenario support and breadth of product when choosing a lender to work with.
On the latter point, Family First Funding was highlighted for having "over 60 correspondent and broker investor relationships," plus "in-house underwriting of non-QM, jumbo and reverse," while an originator who singled out Veritas Funding enthused that "these guys seem to have it all available, in-house or broker … the best I have ever used or seen anywhere in my 36-plus years in the mortgage business."
LoanStream Mortgage was commended for its variety of "prime and non-QM proprietary programs," while Christensen Financial also received praise for its breadth of products.
"We have incredible relationships with our 35-plus investors, which means our branch managers lend with confidence," Christensen Financial told MPA. "Our product lines are extensive and include FHA, VA, USDA, conventional products, jumbo, reverse and construction, as well as portfolio products."
The changing industry climate has also meant a fundamental shift in working practices. A huge increase in remote working was the most obvious effect of COVID-19 – something that could have a significant impact in an industry where face-to-face communication is so highly valued.
Gabriel Gillen, president of Family First Funding, admits that "2020 was not an easy year for the industry. However, our work family came together to accomplish record growth and honor our commitment to serving our communities."
'Coming together' seemed to be the name of the game over the past year. Originators highlighted the importance of people-focused support from retail lenders, such as HR assistance and communication. A sense of integrity was also highly valued by respondents.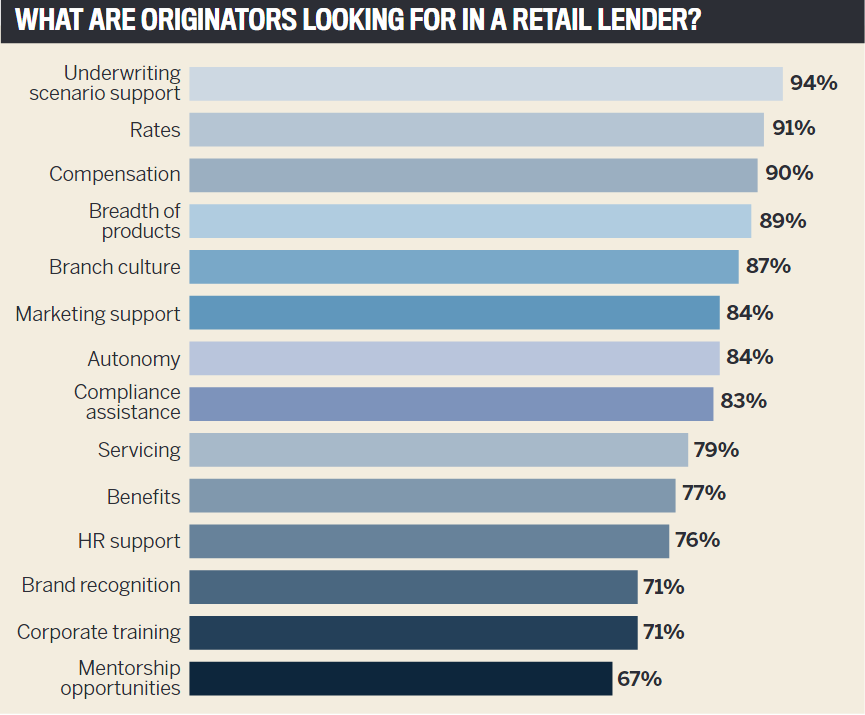 Digitization, branding and beyond
In a world where end-to-end digitization is becoming a daily reality, it's not surprising to see that originators consider technological advancements very important when choosing a lender to work with. This goes hand-in-hand with the fact that convenience is a bigger deal than ever – so ease of access and the ability to get 24/7 phone support also ranked highly among the originators MPA surveyed.
Brand recognition was another sticking point for many originators – and this is where LendUS was of particular note. It came into being via a merger between RPM Mortgage and American Eagle Mortgage, two already well-established brand names, and the new brand prides itself on being "driven like Wall Street and approachable like Main Street."
A brand is nothing, however, without great marketing support – another category in which MPA's 5-Star Retail Lenders all received high commendation.
"We have a dedicated marketing support concierge to assist our branches and their partners," says Christensen Financial. "We supply powerful marketing tools, such as a co-marketing CRM that connects to our LOS, pricing engine, MLS and business retention software for powerful automation. Other high-converting tools include an SEO-optimized website, automated lead intelligence system, mobile app technology for loan updates and online reputation management, just to name a few."
The company adds that it "lets our LOs and branches shine for themselves. We don't put the Christensen Financial brand front and center in everything our branches do. We let them cultivate their own brand, and we serve as the powerful engine that works in the background, making them look great to their partners and customers."
Originators also praised Family First Funding its "full-service marketing department, real estate trainer and coach, and on-staff graphic designer," while LoanStream Mortgage received similar commendation for its "full marketing support – fliers, emails, social media, customized support, CRM, lead generation and more."
With all these takeaways in mind, what do this year's survey results reveal about the future of the retail lending sector – and what criteria originators will continue to value most when choosing a lender? It's clear that COVID-19's impact on the market will be felt for many years to come. And in such an unpredictable climate – where the need for expert advice and guidance is stronger than ever – it's safe to say that premium customer service will remain paramount.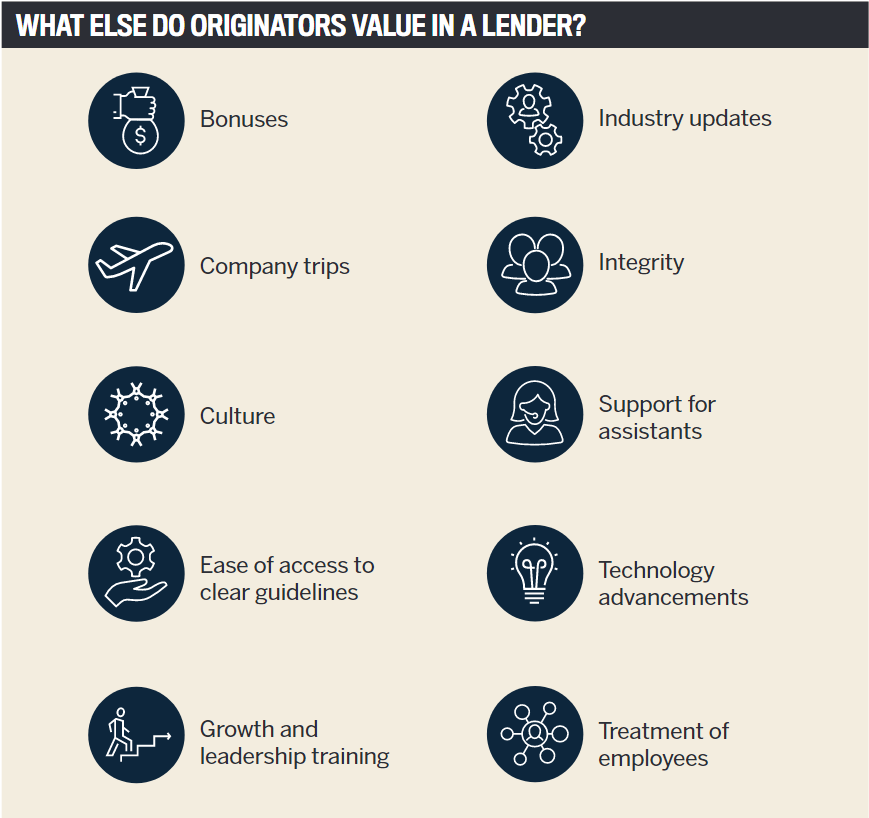 Academy Mortgage
American Financial Network
American Pacific Mortgage
Better.com
Caliber Home Loans
Christensen Financial
CrossCountry Mortgage
Draper and Kramer Mortgage
Embassy Funding
Fairway Independent Mortgage Corporation
Family First Funding
Finance of America
Freedom Mortgage
Guaranteed Rate
Guild Mortgage
Homebridge Financial Services
LendUS
Loan Simple
loanDepot
LoanStream Mortgage
Movement Mortgage
New American Funding
NFM Lending
NOVA Home Loans
Primary Residential Mortgage
PrimeLending
Supreme Lending
SWBC Mortgage
Total Quality Lending
Veritas Funding
With a huge influx of responses from originators, the competition for a place on the list was tough – but after reviewing all of the nominations, the MPA team narrowed down the list to 30 very deserving winners.