Jump to winners | Jump to methodology
Putting people and innovation over profit
The mortgage industry is going through a radical shift, with fluctuating market conditions influencing trends in technology, product offerings, and how lenders operate. As experts put it, we are no longer in a transaction-based business. Lenders must focus less on profit and more on delivering true value to customers as a differentiator in this transaction-oriented market.
Mortgage Professional America set out on a quest to discover the lenders who are making this balancing act look easy. In a survey released early this year, MPA asked brokers and originators across all 50 states to evaluate their lenders across four categories – prime/conventional, FHA/VA/USDA, non-QM and commercial – based on six criteria. Only 15 companies made it to the winners list of MPA's 5-Star Lenders 2022.
"We are laser-focused on meeting the timing expectations of our customers and ultimately their borrowers in every transaction"
A spokesperson for Orion Lending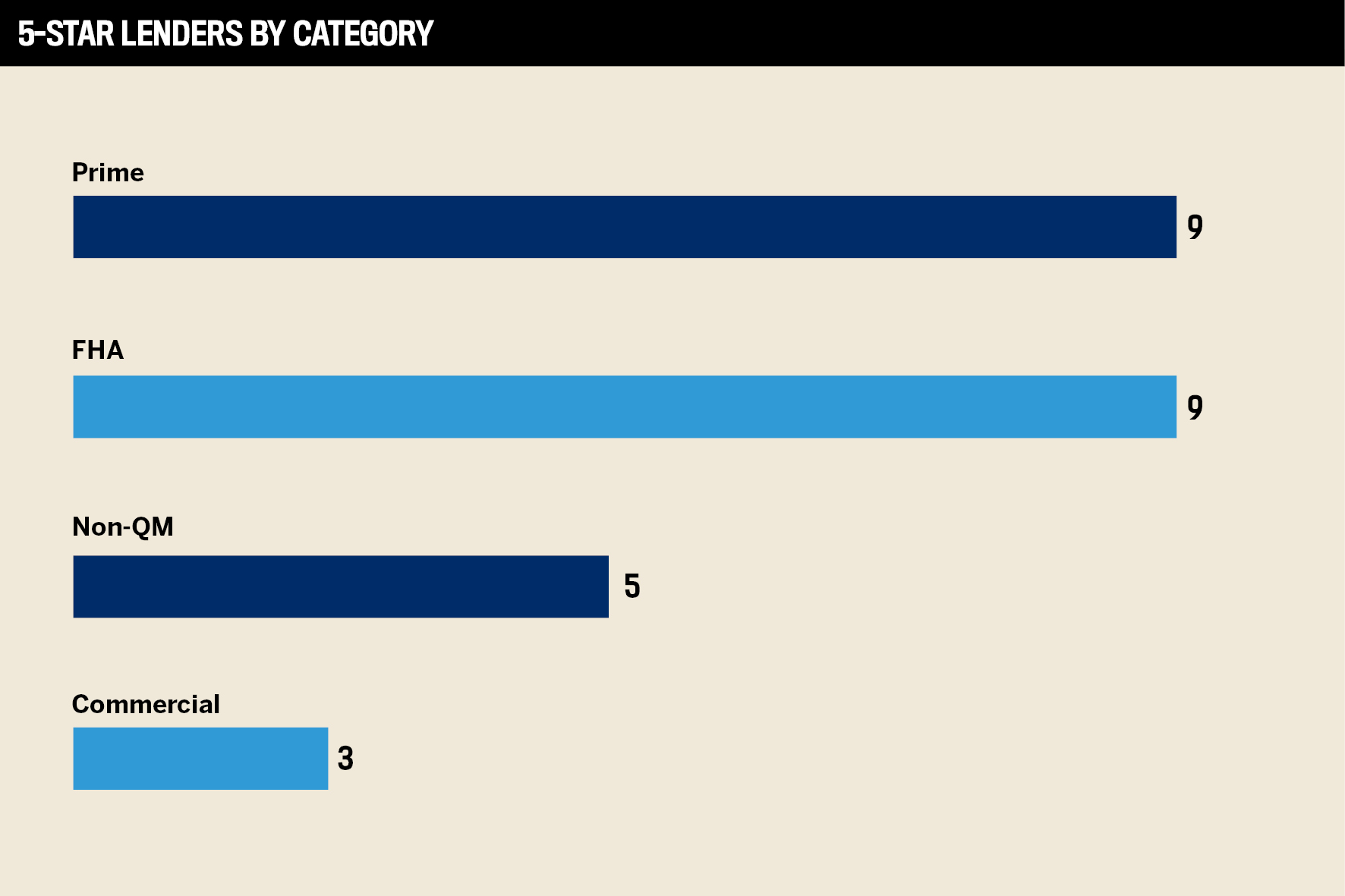 Before revealing the winners, let's break down the key factors that make up a 5-Star Lender. The respondents ranked their preferred lenders based on interest rates, turnaround time, customer service, technology, loan programs, and marketing. Lenders that earned an average score of four or higher in each category were hailed as a 5-Star Lender.
Respondents view customer service, which had a total score of 139, as the most crucial factor in choosing a lender. Interest rates, turnaround time, and loan programs tied in second with a score of 135. Brokers and originators also emphasized the impact of technology (134) and marketing (133) on their business.
"Surety of execution, consistently enhancing guidelines and offering flexibility through our non-QM products sets us apart"
Tom Hutchens, Angel Oak Mortgage Solutions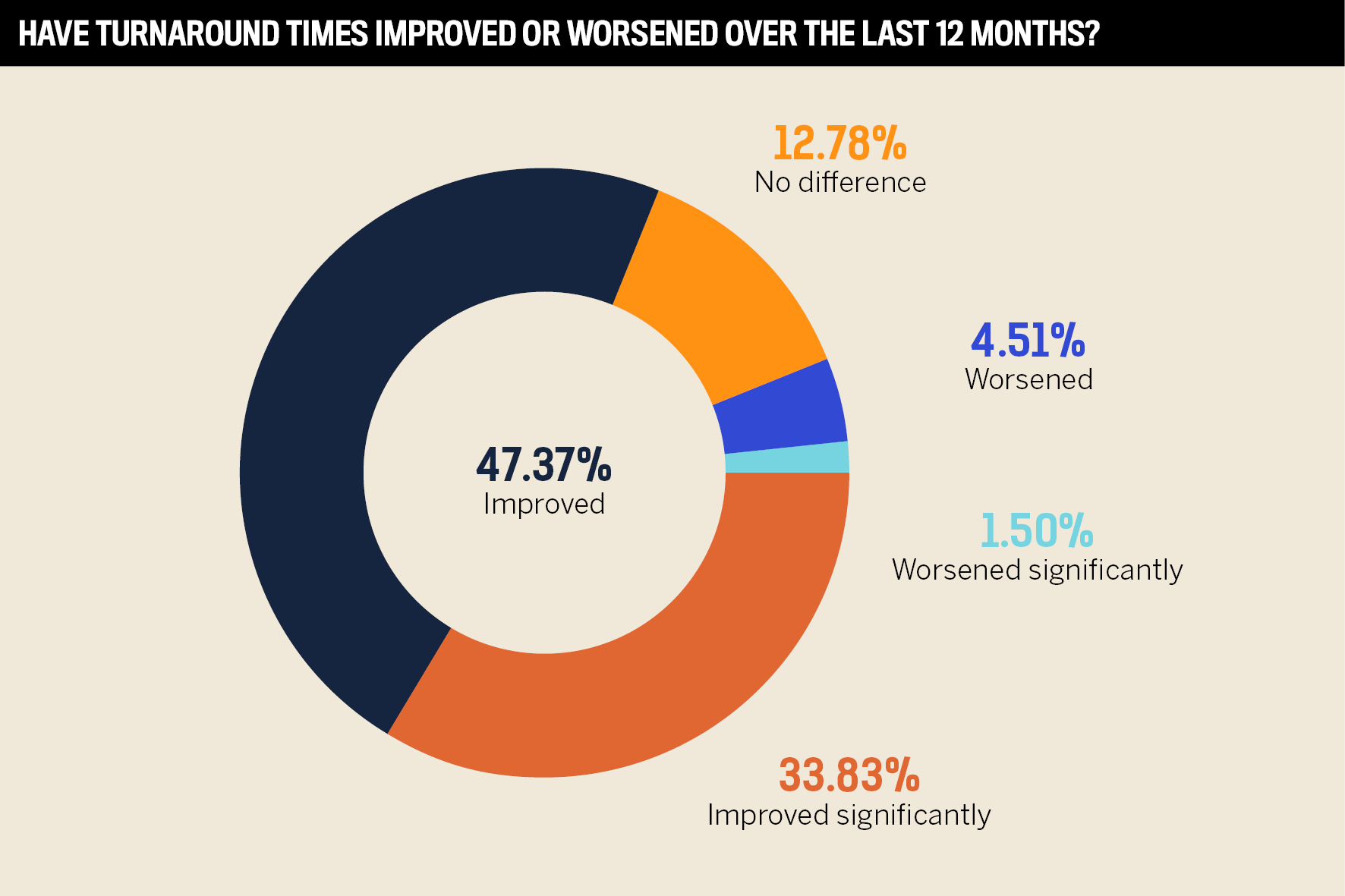 A customer-centric approach
The past few years have not been easy for 5-Star Lenders as they've struggled with regulatory and market pressures, but they still delivered on customer service – a category in which Homepoint Financial received a high commendation.
Homepoint impressed respondents with its stellar customer assistance, which centers around a "people-first mentality" and pairing large-lender resources with a "small-lender feel," according to Phil Shoemaker, president of originations.
"We have organized our operations and sales teams into pods that provide brokers with a uniquely intimate partnership arrangement with designated specialists that gives a 'small lender' feel – with the technology, resources and capabilities of a large lender. This arrangement condenses points of contact for our broker partners, making it easier to escalate service and inquiries," Shoemaker tells MPA.
Another wholesale lender that has raised the bar for customer service is Orion Lending. Since its launch eight years ago, the company continues to strengthen its broker support to create value beyond a single transaction.
"Orion Lending offers several live trainings on a weekly basis to educate our broker partners on products, technology, marketing, and more," a company spokesperson says. "In addition, we have an online chat to assist with any questions and a chatbot that is available 24/7. And of course, our highly trained account executives are always available to lend a hand."
Excellent customer service also requires great marketing. Orion says it helps the company remain competitive and avoid being adversely selected amid ongoing market volatility.
"We are constantly marketing both internally and externally our purchase commitment, which prioritizes purchase business in every department," Orion adds. "We are laser-focused on meeting the timing expectations of our customers, and ultimately their borrowers, in every transaction."
"We're going to see thousands of retail loan officers make their way over to the wholesale channel"
Alex Elezaj, United Wholesale Mortgage
The emergence of new business models
Competitive rates and loan programs also influence customer satisfaction. These factors were highlighted against a backdrop of low rates and a surge in borrower demand during the pandemic. One segment that has expanded during the post-COVID era is non-QM, which has opened up new products and programs for underserved borrowers. Angel Oak Mortgage Solutions, a non-QM lender and 5-Star Lender, reveals that it stays ahead of the curve because of its unique business model that allows its rates to be competitive.
"Angel Oak is a vertically integrated ecosystem. That means we, as a mortgage company, work very closely with our asset management firm, Angel Oak Capital Advisors. This allows us to write to our own guidelines and quickly update them based on market conditions," explains Tom Hutchens, executive vice president of production. "We originate non-QM to retain for the life of each non-QM loan, not to sell. We do not have to seek third-party approval to do a loan – we are the end investor. Surety of execution, consistently enhancing guidelines and offering flexibility through our non-QM products sets us apart."
Angel Oak originated $3.9 billion in non-QM last year and is on track to make between $7 billion and $7.5 billion in 2022. In contrast to the growth in the non-QM space, the overall market is becoming increasingly competitive as companies face lower volumes and tighter margins.
Regardless of the changing industry landscape, the 5-Star Lenders are winning more business shares from brokers, including Homepoint, which survey respondents praised for its consistency in providing good rates and fast turnaround times.
"Paired with investments that we have made in new technology, the closer alignment of our sales and operations personnel enables us to deliver improved efficiency, leading to faster turn times, a simpler closing process, and a self-service disclosure process that seeks to position its broker partners for sustained growth in any market cycle," Shoemaker says.
In the survey, nearly half of the respondents report that turnaround time improved over the last year, and more than a third say they've seen significant improvement.
Pontiac, Michigan-based United Wholesale Mortgage also credits technology for expediting its average closing time to 19 days, with a large percentage of its business closing in less than 10 days. Alex Elezaj, company chief strategy officer, says that this speed, which is more than two times faster than the industry average of 43 days, enables UWM to grow its robust client network.
Brokers in the survey attest to this, saying that "UWM focuses on turn times, with many loans cleared to close within a week" and "they make it easier for the broker to do business."
"One of the ways we do this is through one of our technologies, BOLT," Elezaj says. "BOLT is a self-service platform that provides the ability to get initial approval for qualified borrowers in 15 minutes. It uses things like doc recognition, which allows initial approval of a file to be completed in minutes as opposed to hours."
Power your growth
To win in today's highly competitive market, the 5-Star Lenders believe mortgage companies should always put clients' success first. It's a race to the bottom on margins, and the tides are turning in favor of lenders who have given outstanding service to their customers. So, how do MPA's 5-Star lenders plan to keep the ball rolling?
Shoemaker says that Homepoint will continue to expand its offerings to help its mortgage broker partners achieve sustainable success in terms of products, processes and business strategy.
Orion Lending, on the other hand, will place more focus on AE training programs, its non-delegated correspondent channel, and additional loan products to "meet the needs of our loyal broker partners and those yet to partner with us."
UWM claims that 2022 is the year of the independent mortgage broker. "We're going to see mortgage brokers work harder to establish strong relationships with realtors and borrowers, and we're going to see thousands of retail loan officers make their way over to the wholesale channel," Elezaj tells MPA.
Meanwhile, Angel Oak expects the overall non-QM market to double and anticipates its business to see high growth as well. "This is an exciting time to get into non-QM as more borrowers will need those programs to qualify," Hutchens says. "In addition, we anticipate more originators wanting to get into this space as they see their refinance volume dry up. We couldn't be more optimistic about our growth in 2022."
A&D Mortgage LLC
Angel Oak Mortgage Solutions
Approved Mortgage
Carrington Mortgage Services
Flagstar Bank
Homeowners Financial Group
Homepoint Financial
Orion Lending
Pennymac TPO
PRMG
Rocket Pro TPO
Supreme Lending
United Wholesale Mortgage
Velocity Mortgage Capital
Prime
A&D Mortgage
Approved Mortgage
Flagstar Bank
Homeowners Financial Group
Orion Lending
Pennymac TPO
Rocket Pro
Supreme Lending
United Wholesale Mortgage
FHA/VA/USDA
A&D Mortgage
Approved Mortgage
Flagstar Bank
Homeowners Financial Group
Homepoint Financial
Orion Lending
PRMG
Supreme Lending
United Wholesale Mortgage
Non-QM
A&D Mortgage
Angel Oak Mortgage Solutions
Carrington Mortgage Services
Commercial
A&D Mortgage
Orion Lending
Velocity Mortgage Capital