Jump to winners | Jump to methodology | View PDF
Home was the theme of 2020 – houses become more than a traditional milestone in a person's life and came to represent safety, security and freedom. Amid many other storylines, the tale of America's real estate industry was one for the record books. The sector experienced a perfect storm of concur-rent strong purchase and refinance markets – and the industry is still riding that wave.
"I'm preparing for an aggressive and strong purchase market for the foreseeable future because I think there's going to be massive demand across the United States in all the markets – in the suburbs, in the cities – to buy a home," says Shant Banosian, branch manager at Guaranteed Rate and a member of this year's 150 Million Dollar Club.
Nicole Rueth, branch manager and mortgage consultant at Fairway Indepen-dent Mortgage Corporation and another 150 Million Dollar Club member, says even with the promise of some return to normalcy – taking in a sporting event, heading to amusement parks or concerts, going on a cruise, or even just enjoying a sit-down dinner at a restaurant – "the home will still be desirable." With the median home price hitting an unprecedented $370,000 nation-ally, she predicts continued yet slightly more gradual appreciation during the second half of 2021, with inflation peaking over the next few months before settling down.
MAKING THE MOST OF MARKET CHAOS
"This year we're refocusing on interest rates and what changes do to people's afford-ability," Rueth says, "and what happens to supply and demand because right now we have such intense demand, but we don't have full supply."
Although the vaccine rollout is a positive sign that the country is moving through the worst of the uncertainty, this year's landscape is still quite similar to the landmark environment of 2020 – and that's presenting some challenges for the mortgage industry.

How low can they go?
Dianne Crosby, a 150 Million Dollar Club member who serves as branch manager and vice president of lending at Guaranteed Rate, has been originating loans since 2002 and says that "no matter what interest rate we have to offer, clients are always hoping rates will go down. We've had such a low-rate environment in general for so long that people have become accustomed to it. As they start to rise from those all-time lows, I wonder if our clients are prepared for the adjustment."
The pandemic taught Crosby that while technology is a wonderful tool that was able to help the industry through the restrictions on in-person meetings, it can't replace the detailed, face-to-face conversations that are more critical than ever.
"Never have clients needed to consult with their mortgage lender as much as they do today," she says.
Rueth says the home-buying process is hard right now – clients are making multiple offers in multiple bidding wars that they keep losing, and this stretches out the timeline. All of a sudden, home prices have gone up, along with interest rates, which ultimately pushes the client's affordability down.
"It's adding more salt to the wounds," she says. "Not only are clients frustrated, upset and stressed out, but now they can't even afford to be in the home they wanted to be in. It's a double-edged sword right now."
Rueth predicts that rates will stay low – just not historically low – and that volume in sales and purchase lending might even top last year. However, she sees refinances falling significantly this year and says lenders need to shift their focus accordingly.
Banosian agrees, noting that people refinancing their loans to take advantage of the record low interest rates were a major driver of volume in 2020, but as rates have crept back up, the refinancing business has slowed down, which is presenting a challenge in itself.
"We're making sure we identify all the people who should have refinanced and let them know they have to get in before it's too late," Banosian says, adding that while rates are beginning to trend upward, he doesn't see them climbing too high, too fast.
Crosby says misinformation or misleading information is another stumbling block she's facing. Running refinancing clients' credit often leads to that information being sold, generating "a flurry of calls and emails" on rates they supposedly qualify for, which makes it difficult for them to trust the process and understand the rates they're getting.
The number of houses available to buy at any given time continues to fall, and the lowest inventory levels on record, combined with massive motivation on the buyer side, means it's difficult to get an offer accepted right now, Banosian says. Though clients are getting preapproved, not many are having offers accepted, and he's working with clients to add value and take away some of the stress and uncertainty where he can.
"We're helping clients get underwritten earlier so they can be more aggressive in terms of timelines," he says. "We're closing loans quicker to help make them able to compete with some of these cash buyers and other strong buyers out there."
Rueth agrees there's "a lot of work going into prequalifying somebody," noting that it's taking months rather than weeks for clients to find a home – if they can land one at all. Now, she says, "the real pain point is the frustration and lack of patience and turbulence" from figuring what to do when their lease is ending or their current house is sold, or their new job is starting and they can't get settled.
In this tight market, 150 Million Dollar Club member Christopher Keelin, Northeast senior vice president of sales at Family First Funding, says a lot of people are "in purgatory right now." Despite the motivation to get in those high offers to try to land a home, he keeps preapprovals at 85% to 90% of the client's budget so he's not pushing people past their comfort level.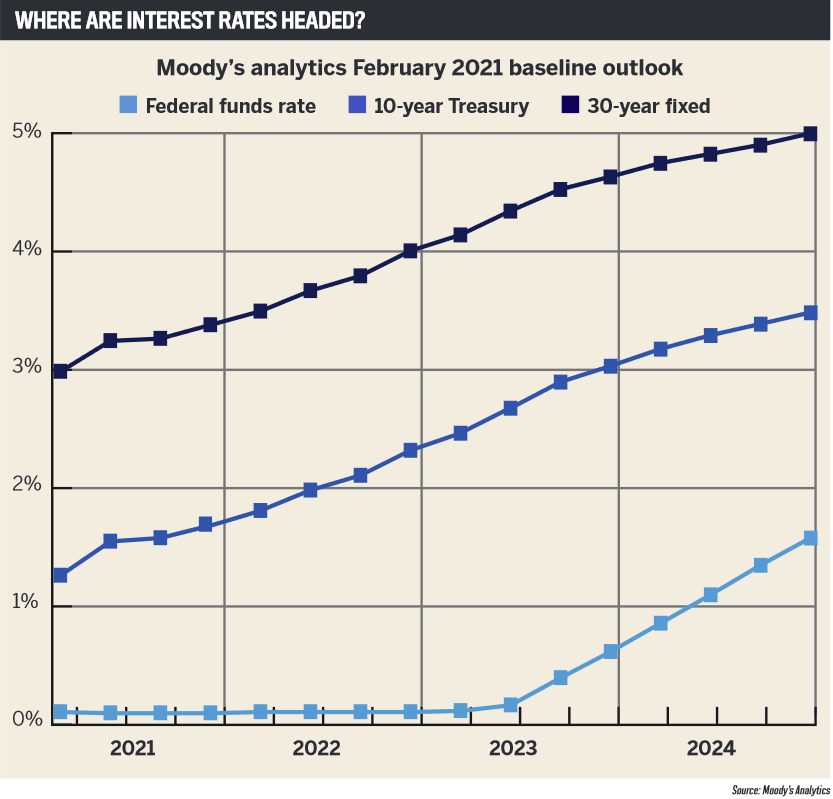 Not enough pieces of the pie
"If you look at the industry at a granular level, people can't afford the houses they're ultimately buying right now," he says. "They're not in a great position because one event could change everything – and we've seen that with the pandemic."
While people might be able to swing over-paying by 5% to 10%, he says, in some cases they end up 'house poor': able to pay their bills but struggling to fund other aspects of their lives like leisure activities or saving for the future. And if they end up losing their job and can't keep up with the mortgage payments at all? Then come foreclosures and short-sale implications, Keelin says.
"It's not the same bubble as in 2008, but I feel some kind of shift will happen, a realigning, that could be scary if the world doesn't continue at this pace," he says. "We have to have a moral compass that says, 'Listen, you're not the person to overpay by $50,000.' I'm having those conversations. Money's great, but I don't want to see anybody homeless."
Last year was such a wild ride that "everyone was in the moment and not preparing for the exit of this," Keelin says, adding that he's focusing on being proactive and preparing for a future that still holds many unknowns.
Despite the challenges, Rueth believes 2021 is shaping up to be a great year in the mortgage world – as long as industry players continue to adapt to the changing landscape.
"This is the year lenders and Real-tors alike need to redefine themselves in a reopening economy," she says, "because what worked two years ago isn't the same thing that worked last year and isn't the same thing that will work this year."
1. Thuan Nguyen


Loan Factory

2. Shant Banosian


Guaranteed Rate

3. Christopher Gallo


NJ Lenders Corp.

4. Michael Rodriguez


Platinum Capital Mortgage

5. Brian Minkow


HomeBridge Financial Services

6. Max Leaman


LoanPeople

7. Mike Meena


Augusta Financial

8. Craig Stelzer


CrossCountry Mortgage
10. Jarret Coleman


U.S. Bank

11. Dianne Crosby


Guaranteed Rate

12. Anthony Musante


PNC Bank

13. Hank Metzger


American Financing

14. Lance Johnson


Regions Mortgage

15. Shashank Shekhar


Arcus Lending

16. Brian Cooke


Position, Sub info
18. Dan Gjeldum


Guaranteed Rate

19. Damon Germanides


Insignia Mortgage

20. Nicole Rueth


Fairway Mortgage

21. Oleg Tkach


NFM Lending

22. Matt Oliver


Lund Mortgage Team

23. Ken Cheung


HomeBridge Financial Services

24. Elsy Hedman


AMH Capital

25. Sean Patrick Condon


First United Bank & Trust Co.

26. Karen Nielson


Guild Mortgage

27. Lauren Maxwell


CrossCountry Mortgage

28. Michael Brown


Churchill Mortgage Corporation

29. Hanh Dao


Loan Factory

30. Timothy Taylor


HomeBridge Financial Services

31. Cathy Haddad


Atlantic Home Loans

32. Kristi Hardy


Atlantic Coast Mortgage

33. Melissa L. Cohn


William Raveis Mortgage

34. Lynette Bonnett


Guild Mortgage

35. Mike Murgatroy


Guaranteed Rate

36. Peter Galvez


United Wholesale Lending

37. Jeremy Engle


Vero Mortgage

38. Waleed A. Delawari


Delaware Pacific

39. Mark Johnson


HomeBridge Financial Services

40. James Nesbit


Academy Mortgage

41. Tammy Saul


Federal Hill Mortgage

42. Preston Sims


HomeBridge Financial Services

43. Casey Van Winkle


First Class Mortgage

44. Russ Lang


Vista Lending, a division of Network Funding

45. Jay Vogel


Residential Mortgage Services

46. Jesse Morgan


PNC Bank

47. Brady Day


First Class Mortgage

48. Dave Venugopal


Residential Mortgage Services

49. Jason Le


Loan Factory

50. Jerilyn Shaw


C2 Financial Corporation

51. Greg Giokas


Residential Mortgage Services

52. Bob Cooley


The Cooley Team – Guild Mortgage Company

53. Hannah Nguyen


Loan Factory

54. Matthew Attaya


Residential Mortgage Services

55. Arman Ghamami


C2 Financial Corporation

56. John Antonelli


Vantage Point Financial Group

57. Joseph Chacko


C2 Financial Corporation

58. Michael Deery


Citywide Financial Corp.

59. Josh Moody


Goldwater Bank

60. David Brown


Guild Mortgage

61. Michael Bowen


Guild Mortgage
63. Tyler Bahnsen


HomeBridge Financial Services

64. Jodi Ryder


C2 Financial Corporation

65. Claudette Khachatourian


HomeBridge Financial Services

66. Brent Palmer


HomeBridge Financial Services

67. Kevin Luchko


loanDepot

68. Ryan Dunn


Oceanside Mortgage Company

69. Tom Sherman


Benchmark Mortgage
After verifying each originator's 2020 loan volume, the team whittled down the list to the final 69 originators that make up this year's 150 Million Dollar Club.