With new guidelines expected to take effect early next year, now is a great time for your eligible customers to get a VA loan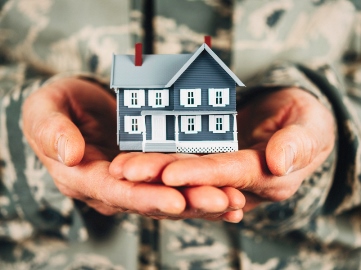 If any of your customers are in the market for a
VA
loan, now is the time. The
VA
is releasing a new handbook early next year – and revisions usually mean stricter qualification requirements, according to a report by Quicken Loans.
With mortgage rates near historic lows, now is a great time for eligible customers to shop for VA loans. And the program has many selling points. It's the only loan program that offers 100% financing, and monthly mortgage insurance requirement is replaced by a one-time fee, saving customers money over the life of the loan.
"The opportunity to have 100% financing provides an immense amount of financial flexibility," wrote Quicken Loans' Kevin Graham. "Instead of putting that money toward a down payment, you can choose to put your money into appliances, furniture or other items you need for a new house."
VA loans also have a better seller concessions policy, according to Quicken Loans. Seller concessions – like agreeing to pay for some origination costs in exchange for a higher purchase price – give buyers and sellers alike more negotiating flexibility.
VA loans also have relaxed refinance requirements, according to Quicken Loans.
"This is extremely powerful in today's low-rate environment," Graham wrote. "It could provide you with the flexibility to get a lower payment even if you lack equity in your home because your property value hasn't yet recovered from the economic downturn."