Latest house price index revealed more significant price growth than last month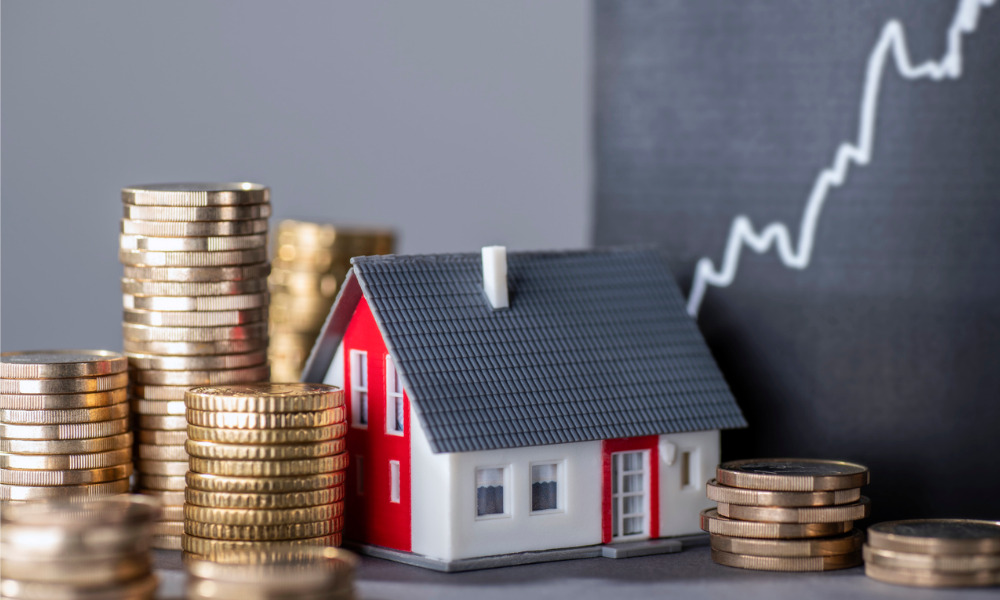 The average price of property coming to the market rose by 0.8% to £365,357 this month, according to property listing platform Rightmove.
Its latest house price index revealed much more significant monthly growth of £2,906 in house prices after they turned flat last month with just a £14 increase.
However, this month's growth was still below the 1% average monthly increase for March over the last 20 years. This, Rightmove said, reflects a higher degree of pricing caution by many new sellers than is usually seen at this time of year.
Rightmove also reported that new seller asking prices are now £5,800 below October 2022's peak, with annual price growth continuing to ease and now at +3%.
Average mortgage rates have also fallen back from their peak last year, with average rates for a 15% deposit five-year fixed mortgage now 4.65%, edging down from last month's 4.75%, and October's 5.89%, though the average rate in March 2022 was just 2.48%.
"The beginning of the spring season sees stability and confidence continuing to return to the market as it recovers from the turbulence at the end of 2022," Tim Bannister, director of property science at Rightmove, said. "The pace of the market reached an unsustainable level in the last two years, and was on track to slow to a more normal level, though the speed of this slowdown to more normality was accelerated by the reaction to September's mini budget.
"While higher mortgage rates and economic headwinds raise challenges, many potential home movers who were effectively side-lined in the frenetic bidding wars of the last two years will find that a slower-paced market gives them time to plan and secure their next move as we enter the traditionally busy spring-buying season."
Meanwhile, typical first-time buyer type properties – those with two bedrooms and fewer – lead the price growth recovery, with average newly marketed prices for this type of homes now just £500 lower than the record prices last year. Sales agreed in this sector are unexpectedly recovering fastest, and in the last two weeks are just 4% behind the same period in the more normal market of 2019, though 18% behind the exceptional 2022.
Meanwhile, larger home sales are lagging behind as sales agreed in the last two weeks in the top of the ladder sector are 10% behind the same period in 2019, and 13% behind in the second stepper sector.
"Lagging sales agreed in the larger homes sectors are likely to be caused by a combination of factors including fewer pandemic-driven moves to bigger homes, a more cautious approach to trading up due to the cost-of-living, and even perhaps concern over the running costs of a larger home," Bannister explained.
"Meanwhile, sales in the first-time buyer sector are likely being helped by some deposit assistance from family. The differing performance of smaller and larger homes highlights the multi-speed, hyper-local market."
Reaction to the latest house price growth
Tomer Aboody, director at property lender MT Finance, noted that some normality is setting in after two years of unprecedented house price rises, which were fuelled by the pandemic and rock-bottom mortgage rates.
"It is interesting to see the higher end of the market is on the up, showing that buyers are still there at all levels of the market, with price resetting making homes more affordable," Aboody said. "Of course, with interest rates still to settle down after multiple hikes, there's still some caution, although a confidently delivered budget has provided some confidence for the markets, with inflation on course to be reduced, and rates accordingly set to fall in the next 12 months or so."
Jeremy Leaf, north London estate agent and a former RICS residential chairman, added that the numbers confirm what they have been seeing recently in other surveys, as well as on the ground.
"Although Rightmove's statistics reflect asking, not selling, prices, the market is clearly demonstrating considerable resilience despite continuing worries about the cost-of-living and mortgage rates," Leaf said. "Property is price sensitive and activity patchy, but stock levels are improving.
"For instance, we're still receiving several offers on some properties – particularly family houses, where shortages remain – but little or no interest in others. Encouragingly too, we've noticed first-time buyers making a comeback after almost writing them off as an endangered species at the end of last year.
"Looking forward, buyers and sellers are beginning to shrug off the more damaging economic effects of last September's mini budget, so we're looking forward to a busier spring than we dared hope for in the early weeks of 2023."
Any thoughts on the findings of this month's Rightmove House Price Index? Let us know by leaving a comment in the discussion box at the bottom of the page.