Brokers play pivotal role, say industry leaders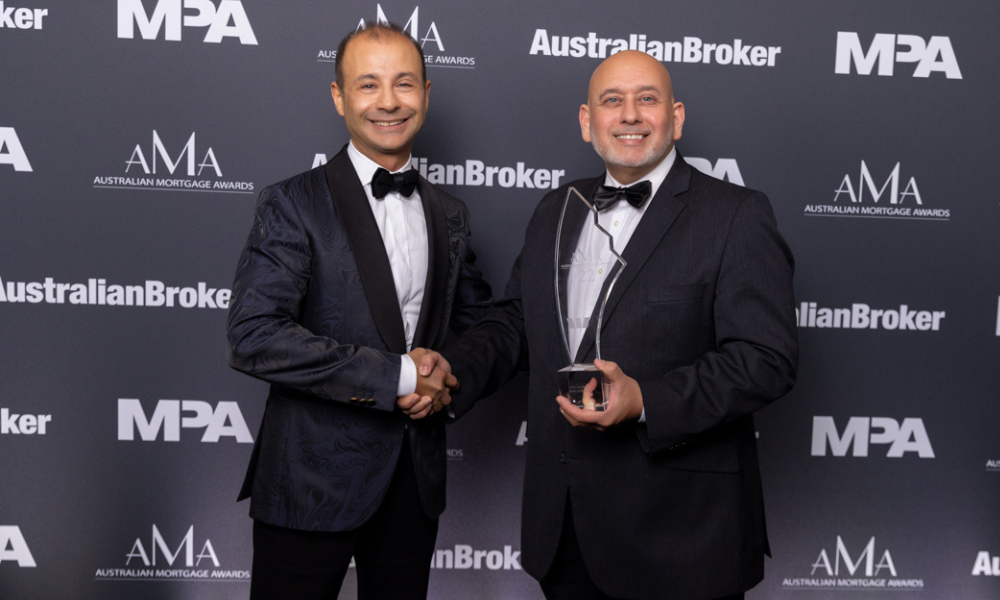 The sun has set on the 2022 Australian Mortgage Awards, and several award-winning lenders are now reflecting on the key factors – and people – contributing to their success.
The most prestigious awards night of on the industry calendar attracted a capacity crowd of well over 700, including lenders, aggregators, brokers, and BDMs. Held at the Fullerton Hotel in Sydney on October 14, there were 27 award categories and two national awards.
In the lender awards, Bankwest was crowned MSA National Bank of the Year, and also won the award for Best Industry Marketing Campaign.
Read next: Who won at the Australian Mortgage Awards 2022?
Pepper Money was awarded Non-Bank of the Year, and ubank was awarded PropTrack Fintech Lender of the Year. The Mortgage Manager of the Year award went to non-bank lender Mortgage Ezy.
Reflecting on the bank's two awards, Bankwest general manager third party Ian Rakhit (pictured above left with MSA National managing Sam Makhoul, and below with Bankwest marketing manager, partnerships Hayley Wheeler), acknowledged the significant role that brokers play.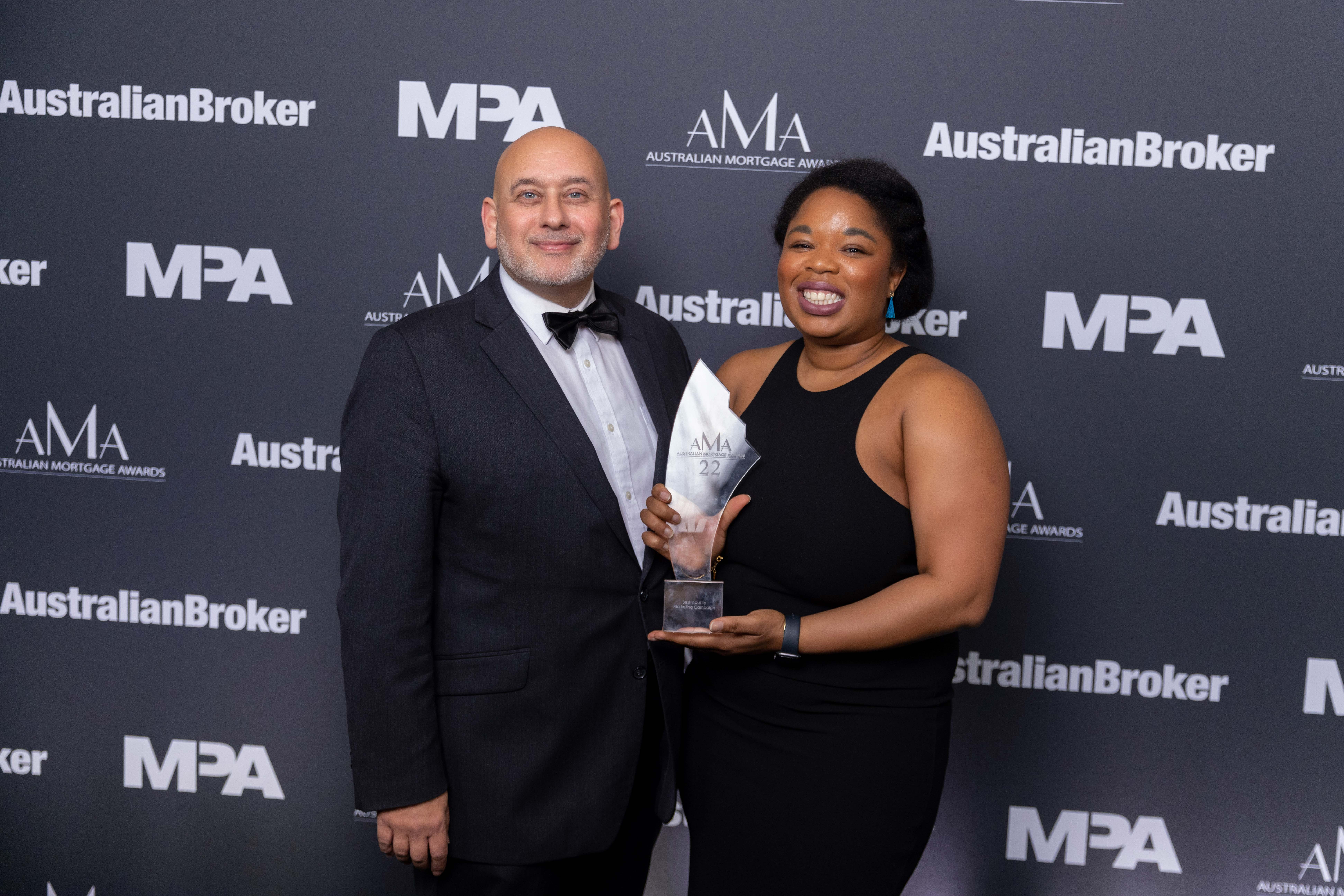 Bankwest could only achieve its goal to become the best bank for brokers in the country by collaborating with brokers to understand and address their needs, to deliver the best experience for customers, Rakhit said.
"I'm tremendously proud of my third-party colleagues, as well as our critical broker network, and grateful for this recognition because it's a reflection of the authentic, invaluable, collaborative relationship that exists between Bankwest and brokers," Rakhit said.
As brokers are critically important to Bankwest, presenting the Bankwest New Brokerage of the Year Award to MortgageWorks was "a real privilege," Rakhit said. He acknowledged that MortgageWorks is another key contributor to an industry that plays an important role in helping Australians put a roof over their heads.
"Brokers are critically important to Bankwest – so much so that we have included them as a key pillar in our business strategy – and we make no secret that more than 80% of our home loan customers arrive at Bankwest through a broker," Rakhit said.
In line with the bank's ambition to be available for more home loan customers nationally, Bankwest remains committed to supporting and investing in the broker network, he said.
"Bankwest now has a fully digital home loan process, creating a far more efficient, simpler, and faster experience for brokers and their customers," Rakhit said.
"Our unique case-ownership model and one-stop-shop Bankwest Broker Portal also means our broker network is empowered to self-serve most of their requirements – but, when they need us, our support colleagues are always available."
Pepper Money general manager of mortgage and commercial lending Barry Saoud (pictured below) accepted the Non-Bank of the Year Award on behalf of the Pepper Money team.
Pepper Money taking out the award is a "testament to our strong broker alliances" and the "trust we've earned over two decades," Saoud said.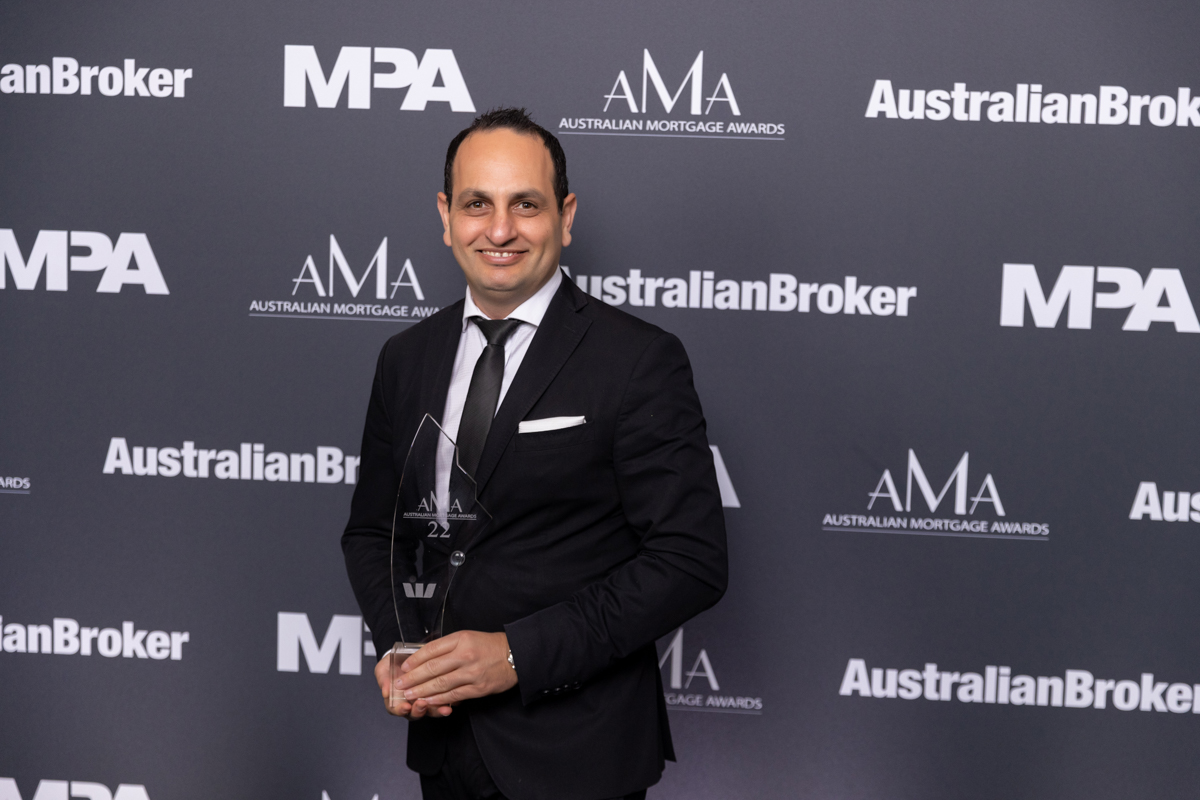 "When I reflect on what we do best, it comes down to our ability to deliver transparency, consistency, flexible credit policies, fast turnaround times, innovative technology, diversity of our products, and investing in our people," Saoud said.
"When our brokers deal with us, all these uniquely Pepper Money elements drive a greater broker and customer value proposition."
Thanking Key Media for the event, which was supported by MPA and Australian Broker, Saoud said that seeing the industry come together and celebrate the achievements of its top talent was a real highlight.
"I thank our valued partners, our dedicated brokers and the entire Pepper Money team for your support and motivation to continue our driving motivation towards helping more people succeed."
Read next: Brokers celebrated in Pepper Money Shout Out campaign
Head of broker distribution at ubank George Srbinovski (pictured below right, with Brendan Dewar, account manager at PropTrack) said being awarded PropTrack Fintech Lender of the Year was "absolutely amazing" for ubank.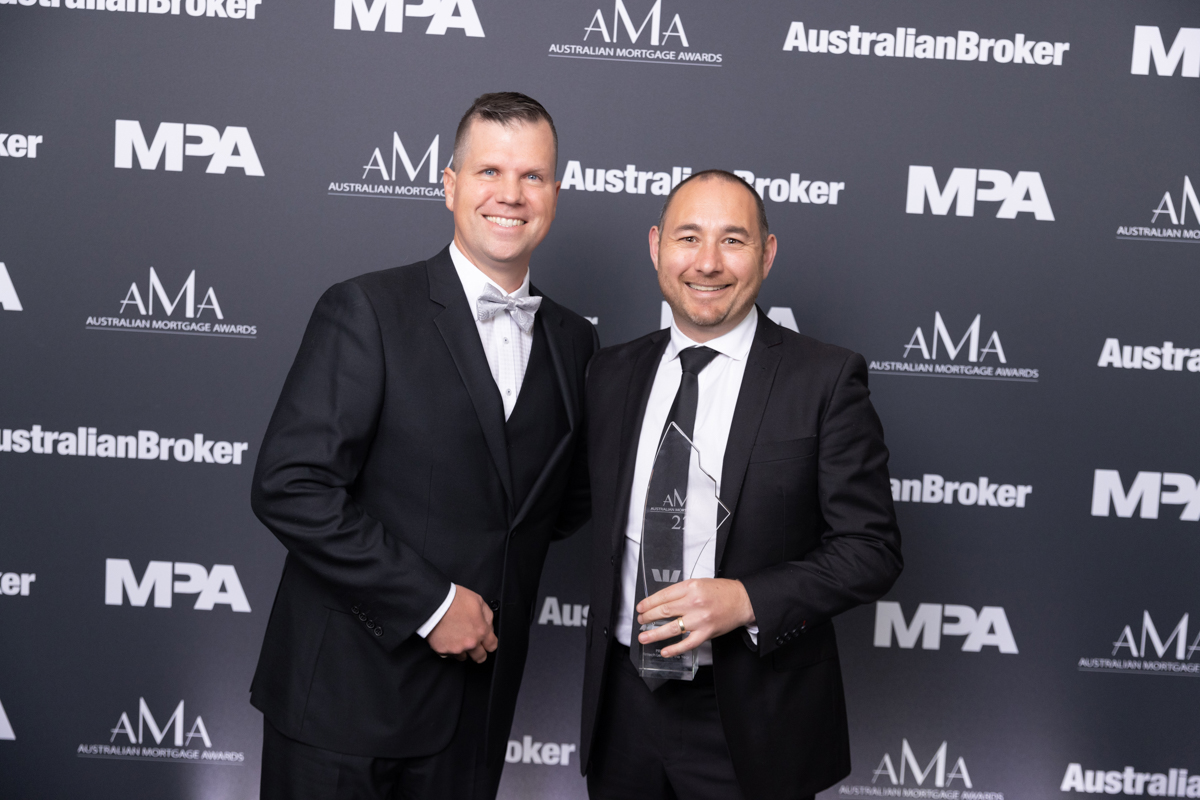 "It's icing on the cake for the consistent and hard work that our people do each and every day to serve and support brokers and their customers to be able to provide a digital home loan solution that's using technology to change the way home loans are written," Srbinovski said.
Srbinovski said it was fantastic to see so many peers and friends in the room, adding that the level of excitement and positive energy was evident.
"Thank you to all our brokers who have seen us through the journey from 86 400 and now into ubank. Over the past few months especially we have made considerable enhancements to improve the broker and customer experience," Srbinovski said.
"As I always say, we are only just getting started and we are continuing to look at how we do things and improve them."
As ubank continually looks at ways to improve, Srbinovski suggested brokers stay close to their ubank BDM, adding that the bank regularly releases developments that support brokers and their customers, including cash back offers and competitive rates.
Mortgage Ezy founder and executive director Peter James (pictured immediately below right with Antony Field, editor of MPA), said he was "absolutely thrilled" that Mortgage Ezy was recognised at this year's awards.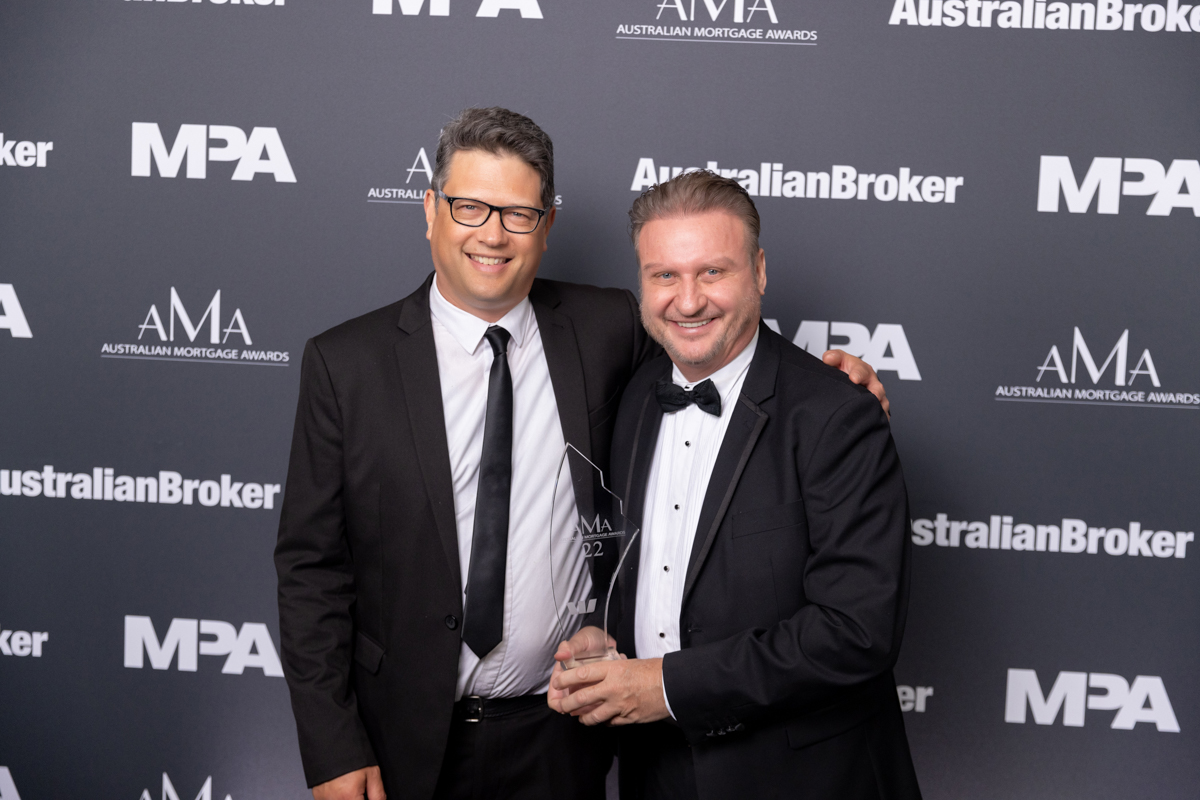 "It's a great recognition – especially for all of our hardworking staff," James said.
Mortgage Ezy was previously a finalist for Non-Bank of the Year in the years 2018 to 2020, before winning the Mortgage Manager of the Year award in 2022.
"For me, it's a testament to the great support that we've received from brokers generally … those staff members and brokers that have been tirelessly supporting us not just this year but for many years," James said.
"Mortgage Ezy is a protest vote for many brokers, and it's those brokers especially that have chosen to register that protest vote for the clients that this award means even more for."
Having been a "fierce supporter" of non-banks for over 20 years, James said what made him most proud to operate in the non-bank space was to see "a revival" of mortgage managers.
"We've spent a lot of time being on the MFAA committee, making representations to our politicians around best interests duty (and other things), generally raising awareness of mortgage managers," James said.
Mortgage Ezy operates with both non-banks, and banks that don't have an extensive branch structure, he said.
"I'm proud to be a part of this sector, because these are the last remaining independent businesses, to take our competition against the incumbents ... it's wonderful to see a healthy and robust mortgage management industry flourishing."
Looking ahead, James said Mortgage Ezy would continue to focus on its service offering. Mortgage Ezy recently released a service called DEB (Decision Engine Box), which James said had already started to improve turnaround times.
"It combines AI to do many of the checks that a loans processing officer would have done previously, slashing turnaround times on loans," James said.
Eventually, the system would enable conditional and formal approvals within minutes on a smartphone, to brokers and their clients. This would allow brokers to spend their time on borderline deals that are individually assessed, he said.