It's a tried-and-true tactic, but you may not like it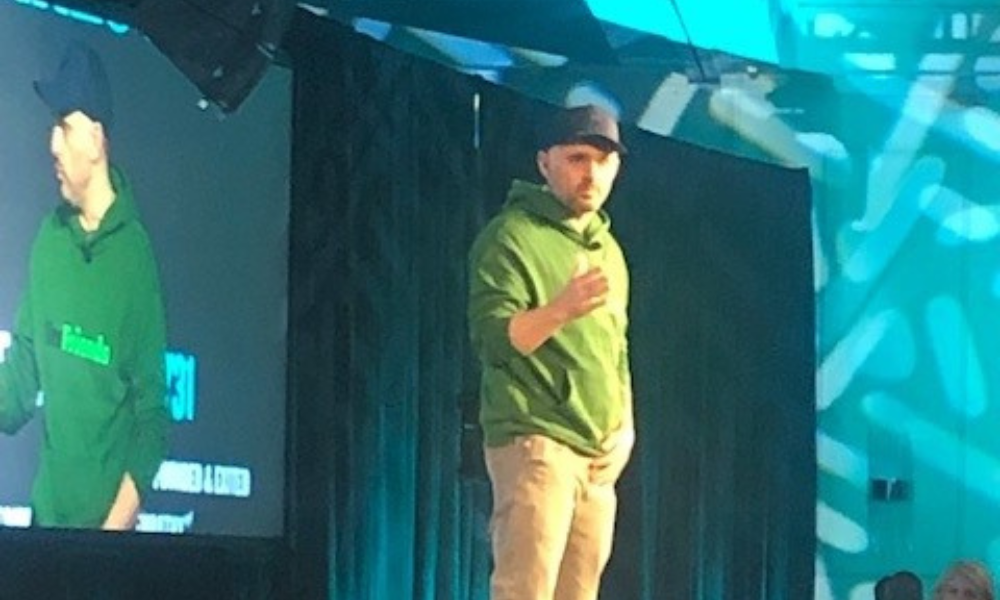 Inflation has made its presence known as evidenced by the volatility of interest rates, making an undesirable impact on the mortgage industry. This can only mean one thing: It's time to beef up on one's social media presence toward the goal of increasing market share.
That's the advice Gary Vaynerchuk (pictured) – known as Gary Vee – gave to attendees of the recent Hall of AIME event that took place in Naples, Fla., from Jan. 26-28. Staged by the Association of Independent Mortgage Experts, the event took place at the Naples Grande Beach Resort as a showcase to the group's top producers.
"What's the punch line of the conversation you're having with yourself right now with what you're dealing with?" the keynote speaker asked a rapt crowd gathered inside the Royal Palm Ballroom to hear him speak. The Soviet-born American entrepreneur was a hot ticket given his many successful ventures – including media companies VaynerX and Vayner Media.
Advice born of experience
Rooted in real-world experience, his presentation was fresh air given Vaynerchuk's relaxed demeanor and casual delivery that included its share of f-bombs that delighted an audience comprising mortgage brokers who had already talked shop the previous day at a series of panel discussions.
Vaynerchuk provided levity, with a measure of comic relief, while imparting valuable tips amid uncertain times in the mortgage industry. Yet between the jokes, he never lost sight of the reality of a softened housing market as the Fed fights to tame inflation.
"When Coca-Cola loses a little market share, it is what it is," the 47-year-old entrepreneur said. "When we lose 20%, 50% market share, it's a huge impact on our actual life."
He regaled the audience with stories from his childhood. "I grew up in a family business environment," he said. "I was born in the Soviet Union and moved to the States when I was a kid and actually worked for my dad's liquor store. He lived his American Dream by going from a stockboy to owning a liquor store."
He was living his own version of the American Dream as a pubescent entrepreneur himself until his father set his sights on him as potential assistant. "When I was 14, since I was the oldest, I got dragged into the liquor store. I was doing great if you were wondering. I was making $2,000 to $3,000 a week selling baseball cards in the malls of New Jersey in 1989. I don't know how many of you had $3,000 or $7,000 or $13,000 when you were 13, but when you have $3,000, $7,000 or $13,000 when you're 13, you're basically a f***ing billionaire," he said to spontaneous laughter from the crowd.
That entrepreneurial success would soon go kaput: "And one day I turned 14 and my dad dragged my ass to the liquor store and said: 'You work here now.' I asked him how much he was going to pay me, and he said '$2 an hour'. That's a far cry from making $1,000 a weekend selling baseball cards. I don't know how many of you have a Soviet father, but there wasn't much of a negotiation."
Those early business lessons have subsequently yielded further insights into the corporate world, he said. "At 14, I started going down the path of the context we share, which is a business that's in the realm of under $10 million. That's really the foundation of how I see the world when I sit here and think about multiple things that people here are going through."
Working the crowd to gain insight
Taking a quick survey from the crowd to determine who among them had brokerage shops of more than 10 people, he got to brass tacks: "So I come here today with a very practical energy of trying to hope that in a roomful of this many people, 3% hears what I'm saying."
He recalled first making similar presentations to groups in 2009, when his advice of getting on Twitter seemed "genius." Today, the options are so much more varied as it relates to developing a social media presence: "Nobody here today in 2023 is confused that human beings' attention sits on social media – at scale," he said. "The consumer you're trying to reach to sell your service to is really not super interested on your hot take of what 13-year-olds are doing on Tik-Tok. They're not super intrigued by how much you like or dislike on Facebook."
He asked the audience how many wanted to grow their business and surveyed the majority to raise their hand. "I'm a little weirded out by the couple who didn't raise their hand," he quipped. He then asked how many experienced the Great Recession, watching several hands go up in response.
He recalled the onset of the Great Recession, pointing to those who personally endured it as the real OGs of the industry: "2008 was a mother******," he said. "We know that, right? That was fun. When we go through up-and-down cycles, for a lot of people who went through it, they actually had less to lose – they actually used '08 to accelerate the growth of their business. The problem is it's now 2023, and it's difficult for those people who navigated '08. They're in a different life cycle; they're a little boujie; their investment is a little higher; they don't go to the Holiday Inn on their vacation anymore. Now they're caught because they're softer."
Lowering the boom
To counter that, he gave the crowd homework of sorts: "I don't think anybody here is going to like what's going to come out of my mouth. I, in the deepest of my heart with enormous compassion, deeply want happiness for everybody in this room - I want every single person here to post 12 different creative posts a day across five social networks. I want every person in this room after this talk to go home tomorrow and post between eight to 15 pieces of content on LinkedIn, YouTube shorts, Facebook, Instagram, Snap[chat] and Tik-Tok, and I want you to do it every day."
After such a heady task, he rallied the crowd: "The data is undeniable that the companies, humans and service businesses that are outposting their competitive set are picking up market share," he said. He likened the habit of posting on social media to his past battle with weight, forcing him to alter his diet and work out despite his dislike of both tactics.
There's no turning back to old tried-and-true methods, he noted. Even those tools upon which we've long relied are now being weakened, he added. "Unfortunately, we're not going back to the telephone the way we grew up if we're over 50 here," he said. "You're not going to the wall and spin the thing and call," he said, mimicking an anachronistic rotary dial telephone. "Even our precious Google that has been foundational to the way the world has worked over the last 20, 25 years is being challenged now with ChatGBT and artificial intelligence.
Inflation? High interest rates? The remedy: Get to posting!