But inconsistent safety guidelines will make it hard for guests to book their stays with confidence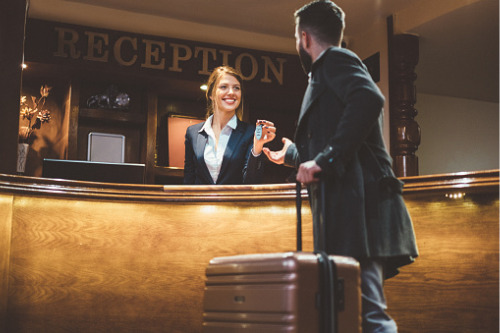 When COVID-19 grounded flights and made large crowds a no-no, one of the first commercial sectors to get flattened was hospitality. Hotel occupancy rates fell dramatically – nearly six out of 10 open hotel rooms were empty across the country as of June 10 – and revenue has evaporated. According to the American Hotel & Lodging Association, hotels have lost more than $33 billion in room revenue since mid-February. According to Tourism Economics, COVID-19's impact on the travel industry has been nine times worse than 9/11.
Ouch.
For hospitality properties that have survived the pandemic thus far, it's going to take an awful lot of bookings and overpriced Toblerones to make up those shortfalls. Luckily, the first part of that equation has been improving for the last three months.
According to hotel industry data firm STR, only 22.1 percent of available hotel rooms in the U.S. were occupied in March, the low point of the crisis. Approximately 37 percent were occupied during the week ending May 30. That's still a far cry from where occupancy rates were in May 2019, but it's almost a 50 percent increase from March's nadir.
According to recent research by Deloitte, Americans are slowly growing more open to staying in hotels and travelling by plane. Deloitte's Global State of the Consumer Tracker found that on April 9, 23 percent of Americans felt safe staying in a hotel, with 19 percent saying they felt safe flying. By May 15, those numbers had improved to 30 percent and 23 percent, respectively.
Deloitte found three additional signs that demand may be about to pick up in the hospitality space.
As of Mid-May, 31 percent of US consumers reported plans to stay in a hotel for leisure during summer 2020, up from 24 percent in mid-April.

Prior to the release of the report, hotel, airline and car rental spending had experienced four consecutive weeks of positive year-over-year growth.

Daily traffic to online travel websites is improving moderately. Traffic was down about 80 percent year-over-year in April. In May, it was down 73 percent.
Like residential real estate, the fundamentals fuelling the hospitality sector were strong prior to COVID-19. Despite the brutality of the downturn and the modest improvements seen in customer behavior, Marcello Gasdia and Anthony Jackson, authors of the Deloitte report, are optimistic about the space's ability to rebound.
"In the long run, many of the fundamentals behind [hospitality's pre-COVID-19] growth—global middle-class formation and a strong demand for travel experiences—are difficult to throw off course," they write. "For travel providers, success ahead will likely be determined by the ability to respond to the health and financial uncertainty ahead."
…one step back
Considering the amount of space hotel guests are forced to share with large numbers of other people, the hospitality sector faces a unique challenge in ensuring its customers' safety as they start emerging from their COVID-19 cocoons.
Some brands and industry organizations have worked together to create guidelines around safely operating in a COVID-19 environment where infections are on the rise in multiple densely populated states, including tourism-dependent states like Arizona and Florida.
But even the most well-intentioned, CDC-guided health standards are rendered worthless if properties don't feel they need to follow them. That appears to be the case at some hotels.
"Brands have recommendations and standards. But the managers can do whatever they want," Tim Dick, senior director of asset management and investment services at CBRE, told NREI last week.
Dick was alarmed after a recent visit to a nationally branded, reputably managed hotel in the Southwest. No hand sanitizer in the lobby. No mandating that guests keep their distance at the front desk. All the hotel had was a plexiglass shield.
"There is a segment of our population that apparently doesn't care," Dick said.
If hotel properties are serious about capitalizing on the recent improvement in demand, they must also be serious about providing the safest environments possible. Following guidelines like those released by the American Hotel & Lodging Association is a must.
"[These standards] not only provide a safe environment, but also give guests the comfort level of knowing items, areas, guest rooms and products are safe and clean," says Patrick Short, vice president of operations for Peachtree Hospitality Management.