Officials invoke Greek stone, fake trees among past client extravagances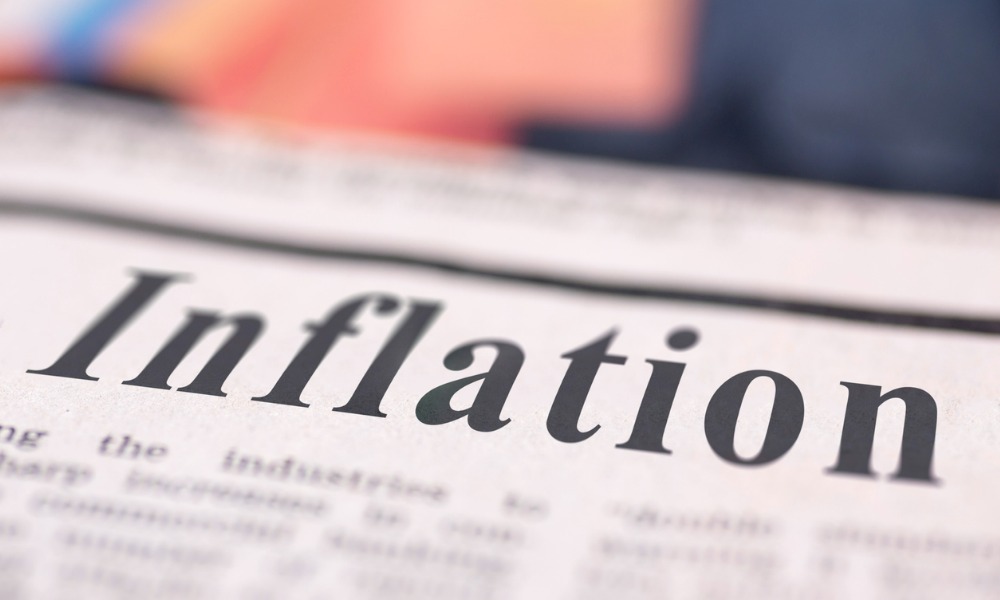 Commercial real estate officials gathered this week to discuss the impact of inflation on development and construction amid a backdrop of inflation.
"The big picture out there, certainly from a capital markets perspective, is difficult right now," Spencer Levy, global client strategist and senior economic advisor for CBRE, summarized during the company's weekly discussion. "Things are expensive. There's not a lot of labor, but at the same time, really busy."
How does inflation affect CRE?
Danny Monteiro, chief operating officer of the Reidy Contracting Group, concurred but noted how busy things are: "We have a good backlog into 2023 for the majority of the year," he said. "I would say that our challenge is right now our schedule. Understanding the budgets, I think is something that is manageable to a certain perspective, as long as the pre-construction period is over a year, where then you have to worry about the volatility of material costs going up or down. But then the scheduling as far as getting the jobs released and getting forward, moving on from a pre-construction perspective has been going pretty well. The challenge, of course, is you're entering into a market now where you have sub of subs per se that potentially are either going out of business or there's challenges with them. So managing that perspective, as well, is something that we're keeping on top of. But for the most part, I think it's busy out there right now."
The Reidy Contracting Group has been operating in the tri-state area since 2010, focusing mainly on interior construction.
The standard cost of construction per square foot
Panelist Nic McNamara, director of CBRE's Cost Consulting Group, which advises clients on everything from the pre-construction process to construction management, focused on the spectrum of cost per square foot that this year might bring. Levy noted seeing expensive interior jobs in New York City that cost $650 per square foot, and wondered if those were anomalies in the construction real estate landscape.
"Well, there was always that one or two, what you would call a unicorn – that $650," McNamara said. "And everyone would talk about that as the beautiful technology client that had everything. But now we're starting to see that $650 from a project spend. I'm not going to say it's the norm, but it's more frequent than what we've witnessed in years prior.
Levy pressed further: "So $650 isn't the number. So when people listen to say, 'Oh my god, $650' in New York, it's really – that's the high end of the market."
McNamara agreed: "Yeah, certainly the spectrum can be anywhere from $200, right. For a basic, and that might be you're reusing a landlord's original fittings into a project and you retrofit into the space. But a complete new build, I mean we're not barking at a price of $400 plus all in on a project."
What would one get for that extra $300 or so? "There is a wide bend. And I'd say once you're above that $650, you're talking about, either extremely small square footage in terms of scope of work or a completely different product: trading floor, hedge fund, etc.
"So for $300 you may be spending $200, $225 in construction and that's going to get you a high quality office fit out. It's going to get you a mixture of glass office fronts and then some back of the house areas for janitorial or mail services. It's going to get you conferencing and it's going to get you an open work area. Additional to that $225, you're going to be spending anywhere from $10 to $15 per square foot on professional fees, maybe a little more. And then for a furniture package, you're going to spend anywhere from $25 all the way up to $50. And then lastly, your technology products, which cost… anywhere from $10 a square foot up to $25 per square foot."
Monteiro largely agreed with the assessment: "If you're in the $225, $250, $275 construction cost range, even to $300, there's some trading floor elements to it, some higher end finishes. You're getting the meeting rooms, the breakout spaces, things of that nature. And then when you go completely above that, then you're starting to talk more custom spaces, you know, custom millwork, custom stone, more of like amenity feel space within the office space."
What does going all out mean?
Levy then turned the discussion to lighter fare, asking each of his guests to describe the most exorbitant element they've seen put into an office or other space.
"A few years back," McNamara recalled, "a financial client, to cover up the columns and their office space, they had the specialty millwork that looked like the trunk of a tree. So all the column wraps look like tree trunks going through. Just the cost to find the people to actually install this - we were fighting back and forth because we were having budgetary issues, but I think each one costs about a quarter of a million dollars to wrap the column."
That's a lot of money for a fake tree, Levy noted. He asked Monteiro the same question.
"It's actually a space that we just finished, and I think construction cost there was somewhere north of a thousand square foot. I mean, we flew in stone from Greece. We flew in millwork from South America. And again, that's a very custom amenity kind of space. But yeah, those are the kind of things that when you get into those kinds of projects, they look awesome when they're completed."