CoreNet's survey depicts a slow, uncertain return to "normal"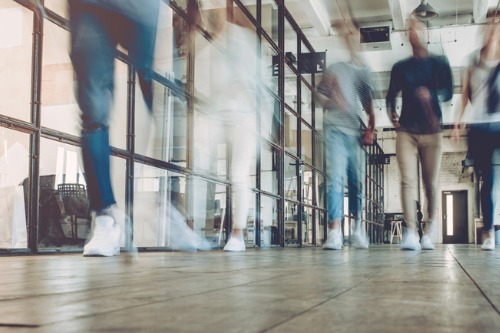 A survey conducted by CoreNet Global from April 8-13 found that corporate real estate professionals are anticipating a slow, multi-phase return to work for office employees that will complicate and lengthen companies' attempts to scale business back up to pre-COVID-19 levels.
Only 16% of survey respondents reported plans to bring all of their employees back at once. The remaining 84% said they will be opting to bring their workers back in waves.
Tim Venable, senior vice-president at CoreNet Global, thinks the gradual return to work will have little impact on companies' productivity and profitability, as so many employees have been working effectively from home for weeks.
"Much of the knowledge work that was taking place in corporate offices has simply relocated to home offices and kitchen tables," says Venable. "Of course, there's no substitute for actually coming together in the office for face-to-face contact and collaboration."
Just how employees will return to their workplaces remains a mystery. A variety of possibilities were suggested in the survey results:
Allowing those with the greatest need to be in the office to return first
Expanding work hours and shifts to allow for lower staff numbers at any time of the day
Bringing back 20% of staff two weeks after stay-at-home orders are lifted, adding a further 20% every two weeks
Alternating the periods when staff are in the office
Using every second seat to maintain social distancing
Encouraging high-risk staff to continue working from home
It's a thought-provoking collection of ideas. If employers are dedicated to spreading out workers to ensure social distancing, will that lead to a rise in demand for office space? Will employees agree to shift-work and expanded hours to ensure social distancing? How many companies, after transitioning so easily to remote work models, will simply decide that working from home is a safer, less expensive option compared to renting office space?
Venable feels the coronavirus will force companies to re-think the type and amount of space they will need in the future.
"With many companies facing cost pressures due to the economic and financial impacts of the coronavirus, chances are that many of them will try to avoid taking on new space in the near term," he says.
A more pressing question is when office workers will be allowed to scurry back into their pods. 65% of survey respondents said they will consider it safe for workers to return when government stay-at-home orders expire. 35% expect workers to return to their offices in May; 30% said June or later. Another 33% feel it's still, after two months of wall-to-wall COVID-19 triage, too early to say.