In a rare moment of agreement, the White House and congressional republicans both voiced opposition to a plan that could raise the pay of top execs at Fannie and Freddie. What do you think?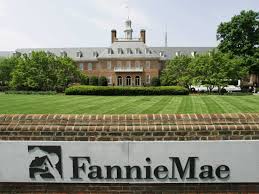 Hell has officially frozen over: Barack Obama and Republican lawmakers are agreeing on something. Obama's administration has sided with Republicans – as well as Democratic lawmakers – in attacking a plan that could result in potential pay raises for top executives at Fannie Mae and Freddie Mac, according to a Bloomberg report.

The mortgage finance giants have operated with government backing since being bailed out in 2008. Their regulator, the Federal Housing Finance Agency, has said that Fannie and Freddie could submit proposals for new pay plans for their respective chief executives, Timothy Mayopoulos and Don Layton. Mayopoulos and Layton each made $600,000 last year, while some senior employees at the companies made even more, according to Bloomberg. FHFA Director Mel Watt said the current compensation plans at Fannie and Freddie limit their ability "to promote retention of their CEOs, to develop reliable CEO succession plans, and to ensure continuity of operations and organizational stability."

But many lawmakers – and the White House – aren't happy about the idea of raising the pay of CEOs whose companies are propped up by taxpayer dollars.

"The reason these entities are different than some of the financial entities you see in the private sector is they benefit significantly from a backstop that is provided by the taxpayer," White House press secretary Josh Earnest said in a recent press briefing.

California Republican Rep. Ed Royce, meanwhile, said in a statement that the proposed change could potentially result in Mayopoulos and Layton making more than $7 million per year – an amount he called "absolutely unconscionable." Royce plans to introduce a bill that would prevent the pay increases, Bloomberg reported. Sen. Mark Warner, a Democrat from Virginia, is also against the plan, which he said showed that it's "long past time for Congress to fix this flawed business model and enact responsible reforms to our housing finance system."

What do you think? Should the CEOs of Fannie and Freddie be eligible for raises? Give us your two cents in the comments below!