Overhauling the mortgage finance system is 'very important' to President Donald Trump, says the Treasury secretary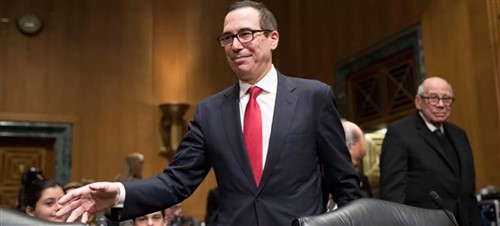 Treasury Secretary Steven Mnuchin said overhauling the mortgage-finance system is "very important" to President Donald Trump's administration and that officials are working with congressional leaders and other regulators to figure out what to do with mortgage-finance giants Fannie Mae and Freddie Mac.
"We are committed to working with the House and the Senate on having a reform package that makes sure that we promote necessary liquidity in the housing markets," Mnuchin said Friday during a briefing with reporters at the White House. The overhaul is not a focus in the first half of this year, he said.
The two companies, which have been under U.S. control since 2008, are the backbone of the American mortgage market. They buy loans from lenders, wrap them into securities and provide guarantees to investors in case of default. The government seized them during the financial crisis, eventually injecting them with about $187.5 billion in bailout money. The companies have since returned to profitability and paid the government more in dividends than they got in taxpayer aid.
Mnuchin has said more than once that a housing-finance overhaul is a Trump administration priority, but much more time has been put into other big-ticket items, including regulatory relief and tax reform. In the meantime, some lawmakers have begun to hold staff briefings and meet with authors of various housing-finance plans in the expectation of a renewed legislative push later this year.
Previous legislative efforts have been difficult, in part because any changes could have large ramifications on mortgage rates and home ownership, and in part because there's no immediate catalyst to make lawmakers focus on the issue.
Some advocates of preserving Fannie and Freddie, including investors in their private common and preferred shares, have urged the Trump administration and the Federal Housing Finance Agency to bypass Congress in favor of administrative actions that could release the companies from government control. FHFA, which oversees the two companies, has been involved in the discussions at Treasury, Mnuchin said.
--By Joe Light and Saleha Mohsin for Bloomberg
Related stories:
Lender optimism hits all-time high
Castle & Cooke Mortgage president joins Fannie Mae board