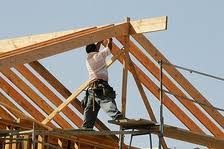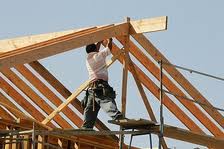 (Reuters) - Groundbreaking on new U.S. homes rose in June to its fastest pace in over three years, lending a helping hand to an economy that has shown worrisome signs of cooling. The Commerce Department said on Wednesday that housing starts rose 6.9 percent last month to a seasonally adjusted annual rate of 760,000 units. That was the highest rate since October 2008.
"Housing is clearly in recovery mode, although the sector is much less important than it used to be," said Jim O'Sullivan, an economist at High Frequency Economics in Valhalla, New York. The housing market, which began to collapse six years ago, has been a relative bright spot in the economy this year, although it remains hobbled by a glut of unsold homes. But since it makes up a smaller share of the economy than before the 2007-2009 recession, it can provide only a limited lift to the broader recovery.
In a cautionary sign for the housing sector, new permits for building homes dropped 3.7 percent to a 755,000 unit pace.
The Commerce Department said groundbreaking for single-family homes -- the largest portion of the market -- rose 4.7 percent, while starts for the more volatile multi-family homes segment rose 12.8 percent.
ECONOMY COOLING
On Wednesday, the Mortgage Bankers Association said applications for U.S. home mortgages jumped last week on a surge in demand for refinancing as the interest rate on 30-year mortgages fell to a record low. Other data in recent weeks has shown signed contracts for home purchases rose sharply in May and rising home prices. "Housing continues to be the one sector of the U.S. economy that is outperforming expectations," said Michael Gapen an economist at Barclays in New York.
Housing starts in June were above the median forecast in a Reuters poll of a 745,000-unit rate, and readings for April and May were revised higher.
Still, the broader U.S. economy has looked much more wobbly of late, and if the recovery fails and the country tips back into recession, housing also would suffer.