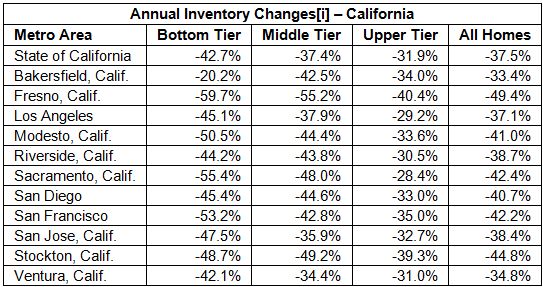 (TheNicheReport) -- Signals of a true bottom in American housing prices have sent scores of first-time home buyers looking for bargain listings over the last few months. Median home prices have mostly followed a downward path since 2007, but the record low mortgage interest rates and abundance of distressed properties attracted a good number of bargain hunters in 2012: real estate investors and first-time home buyers. High demand for rock-bottom deals in California has now caused a shortage of listings, a fact that may point to a regional price recovery.

According to data recently released by real estate analytics firm Zillow, affordable home listings in California have been reduced by more than 40 percent since September 2011. In some regional markets like Fresno, the number of low-priced homes dropped by almost 60 percent, mostly due to heightened purchase activity by real estate investors hungry for foreclosed and Real Estate Owned (REO) properties.

Current Situation Favors Investors

In a press release by Zillow, economist Stan Humphries remarked that the changes in annual inventory do not favor first-time home buyers. Real estate investors who arrive in housing markets flush with cash are more likely to get to the closing table sooner than a working-class family looking for their first home. If this trend continues at a fast rate, home values will appreciate -but this means that some families will once again be priced out of the housing market.

Across the United States, the inventories of bargain homes have been reduced by about 20 percent, but luxury real estate has sold faster. In metropolitan areas like Los Angeles, the bottom price tier of available listing has fallen by 45 percent over the last 12 months. In South Florida, the lower, middle and upper price tier inventories have fallen uniformly by about a third.

Real estate investors hold the upper hand in the current situation. They are more likely to arrive in neighborhoods flush with cash and can get to the closing table before first-time home buyers. For this reason, banks and sellers are more likely to hold investors in a more favorable light than first-time house shoppers.