One little symbol can make your message more visible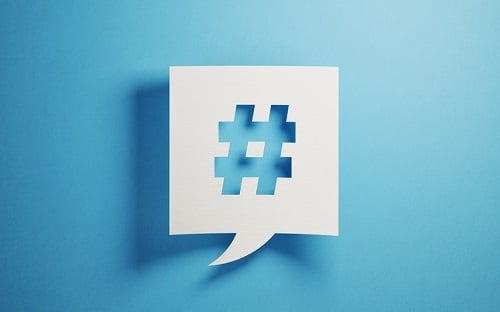 Social media marketing is the newest and most thriving strategy attaching itself to nearly every industry today. Specifically in the mortgage world, loan officers and other mortgage professionals are building their profiles across all social media platforms to not only grow their company but to also expand their network. One of the most difficult challenges you may face is getting potential homebuyers to see your posts. How do you make someone who doesn't follow you or even know who you are, see what you have to say? Thanks to social media, we can utilize the notorious hashtag.
What are you talking about?
If you're new to social media or marketing online, you may be asking yourself, "What in the hell is the significance of a hashtag?" What used to be a simple "pound" symbol has now evolved into something so much more complex. When you use a hashtag on social media, you have the ability to attach relevant words or phrases that other users may be using. For example, #Summer2018 is very popular right now. If I wanted to see what other active members on Twitter and Instagram are using, I could search "#Summer18" in my search bar and then view every post that includes that hashtag. Therefore, if someone is in search of the perfect loan officer, they may search relevant hashtags to see what you or other professionals have to say. Try adding these to your loan posts: #HomeLoans; #Mortgage; and #MortgageRates.
Why I need hashtags in my life
Hashtags have an endless abundance of benefits just waiting for you. How do you think social media platforms help individuals and companies make their names known? Social media marketing relies heavily on how well you can create engagement and connect with potential homebuyers through your content. The only way to get your content seen, is primarily through hashtags. For example, they have the ability to help build relationships by providing you with insights on what your homebuyers are looking for. If you click on a hashtag that is related to the mortgage industry, you can interact and become associated with homebuyers. This then will increase your visibility and help you to build relationships with potential buyers. You're now growing your circle, networking, and ensuring that clients will choose you when the time is right.
Relevant hashtags in the mortgage world
You may need help coming up with ideas if this is your first time utilizing hashtags or if you've never done it for work. A great resource you can take advantage of is Tweetdeck, which allows you to search a hashtag on twitter so that you can view the live feed of how people are using it. You can see how often that hashtag is being used as well as the way in which other professionals are using it. "#HomeOwnership" is a decent hashtag being used every 2-3 minutes, meaning that it is very popular and can get your posts more visibility. Simple hashtags like "#mortgage" is also extremely popular, being used every few seconds. It will be helpful to use this to make sure you're not utilizing irrelevant hashtags.
We live in a digital era where a majority of business is now primarily online. Due to this, it is crucial that we grow and expand at the same rate that our technology does. In order to be successful we need to stay up to date with the times, especially in terms of marketing, and that means utilizing hashtags with the rest of the world.
Joe Pekula is the Marketing Manager at WebMax. He has worked in graphic design, advertising, and marketing for over 10 years with exceptional experience in various industries. At WebMax, he brings the company's vision to life through content, design, and all of the brand's initiatives.
Related stories:
Email marketing: content that matters
4 simple ways to create engaging social media content