Builders confident as new home mortgages rise… Sun keeps shining on California's spring season… Ellie Mae updates mortgage management software…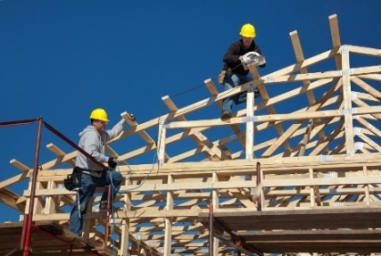 Builders confident as new home mortgages rise

The confidence of builders in the market for newly-built single-family homes remains solid this month as new figures show a rise in mortgages for new homes.

The National Association of Home Builders / Wells Fargo Market Index was down 3 points to 68 for April 2017 but that followed an unusually high reading for March.

"Even with this month's modest drop, builder confidence is on very firm ground, and builders are reporting strong interest among potential home buyers," said NAHB Chairman Granger MacDonald, a home builder and developer from Kerrville, Texas.

Meanwhile, new data from the Mortgage Bankers' Association shows that mortgages for new homes gained 6.7 per cent year-over-year in March and 23 per cent in the month from February.

"The pick up from a fairly modest February showing suggests that developers are finding ways to bring new product on line to help supplement otherwise low inventories of existing homes for sale in the US," explained Lynn Fisher, MBA's Vice President of Research and Economics.
"Looking at the full distribution of applications, nearly two-thirds of applications for new homes in our survey have loan sizes between $200,000 and $400,000," she added.

Most of the applications (67.5 per cent) were for conventional loans; 18.6 per cent were FHAs; 1 per cent were RHS/USDA; 12.8 per cent were VAs.

Sun keeps shining on California's spring season

Home sales in California were up 6.9 per cent year-over-year in March while prices saw an 8 per cent jump.

The spring sales season has started strong in the Golden State with key markets of Los Angeles and San Francisco near the statewide average while the Inland Empire gained 8.5 per cent.

"The spring homebuying season is off to a good start, as the economic and market fundamentals remain solid for the most part," said C.A.R. Senior Vice President and Chief Economist Leslie Appleton-Young.

"However, higher interest rates, a dearth of housing inventory, and slow wage growth will continue to have an adverse effect on housing affordability that is putting upward pressure on home prices, and is sure to hamper the market throughout the year," warned Appleton-Young.

Prices were up 6.8 per cent year-over-year and 8 per cent from February to a median $517,020.

Ellie Mae updates mortgage management software

The Encompass mortgage solution software from Ellie Mae has received a major upgrade including support for 2018 HMDA collection and reporting changes that expand data capture related to applicants, property and loan features.

"With this major release of Encompass, we're providing the innovative capabilities that enable our banks, credit unions and mortgage lenders to originate and fund mortgages with complete compliance, loan quality and efficiency," said Jonathan Corr, president and CEO of Ellie Mae.

"While data collection under the new Home Mortgage Disclosure Act (HMDA) begins in January of 2018, this release gives clients support in advance for the new fields to provide greater time to educate, train and prepare," added Corr.