Online abandonment doesn't just happen on dating apps. Here's how originators and lenders can help their borrowers tackle the digital application process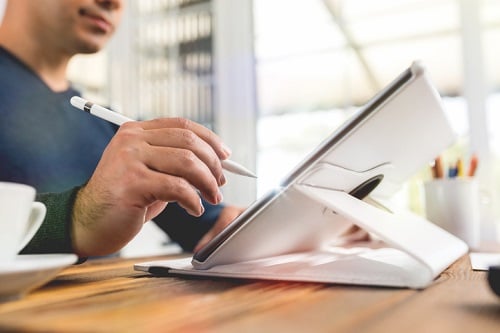 Borrowers love options and flexibility during the mortgage process, and that goes for everything from communication preferences to research to digital loan applications.
We often think of technology as being something geared toward the millennial set (and younger), but Ellie Mae's most recent Borrower Insights Survey shows that all generations favor that flexibility and the online application process, albeit for different reasons.
Among all borrowers, the top three reasons why respondents preferred the online application process were that it helped them close faster, it simplified the process, and that it made information more readily available. Millennials and gen Xers alike believed that the online application process resulted in a quicker time to close, while baby boomers' preferences differed from the younger generations in that they preferred the online process more because of its simplicity, greater flexibility, and no need to meet in-person.
"The most successful loan officers out there will all tell you, it's all about gaining trust: that you know what you're doing, you've been here before, you've helped people just like them to purchase a home and finance the largest investment they will make," said Nate Johnson, senior vice president, mortgage business leader at SLK Global Solutions.
"There's always going to be people who just want to talk to a loan officer, and they don't want to use technology, and then there's the people that, quite frankly, don't want to talk to anybody at all. They just want to use technology, and they just want the information sent to them, and that's it. But the majority of borrowers are in the middle, so the lenders who are going to be successful are going to use technology and automation to augment their clients' experience."
When offered electronic options, borrowers who got a mortgage within the last year reported using online applications, portals and mobile apps the most. Eighty-three percent used an online portal for electronically signing and notarizing documents; eighty percent used an online portal for uploading documents electronically; seventy-eight percent used a mobile app; and seventy-three percent used an online application, according to the survey. In fact, the use of an online portal was the most distinguishing factor when it comes to borrower satisfaction.
Once borrowers get into an online application, however, things can become a little murky.
The survey found that only about half of those borrowers who have used an online mortgage application have ever finished one in one sitting, the rest either returning over multiple sessions to complete it or abandoning it altogether. The number one reason for application abandonment is that it took too much time. Other reasons were that the applicant got distracted or needed assistance. Only a small percentage of those borrowers who abandoned the application did so because they weren't comfortable with sharing personal or financial information online.
There are a number of things that lenders and originators alike can do to prevent consumers from abandoning the application altogether.
For starters, originators could do a better job of setting expectations around the online application process itself, starting by better educating the borrower on the types of documentation required for completion. Johnson says that lenders need to ramp up their efforts when it comes to doing everything they can to make a borrower feel more comfortable in completing an online application.
"Having a loan officer or an agent available to answer questions via phone call or via chat with potential borrowers that may have questions during the application process—that goes a long way to build trust as well," he said.
The main reason that borrowers require multiple sessions to complete the application is that they need to gather missing information, which indicates that they don't have an accurate idea of what they're in for when they start the application. But they don't simply leave, gather the documents, and return where they left off. Twenty percent of those borrowers who abandoned their applications ultimately choose another lender for their mortgage.
An estimation of the amount of time required to finish the application would be helpful, either underscored by the originator upfront or even on the first page of the application itself. If a borrower knows what they're going to need and how much time the application is going to take, it will be easier for them to gather the required documents and set aside a block of time to complete the application.
The simple look and feel of the form can make a difference as well, as well as positive encouragement along the way.
"The progress indicators have seemed to help with a lot of online applications, where you've got timestamps and percentages shown right on the screen. So if they're 75% done, positive feedback goes back to the borrower. You also have instant online messaging that offers encouragement to help them complete the form. If the borrower has abandoned it, you can go back and say, 'hey Jon, you're 80% complete, you're almost there. We just need this information, please log back in.' And customers can always request a call back if they need some assistance," Johnson said.
"While you have to keep an eye on efficiency, putting the loan officers in a position where they'd be able to help the borrower complete the form is much more important."
Probably the easiest thing that lenders can do is to reduce the number of screens that a borrower has to go through, and consolidate a lot of the information, Johnson said. Another helpful addition would be reducing the amount of data entry that borrowers have to do, whether that information is auto-filled and/or obtained from third parties. Asking simple yes or no questions where the borrower doesn't have to input all of the information themselves can really help to speed up the process and ensure they don't feel that they've taken on a massive burden.