Company strengthens leadership structure with two promotions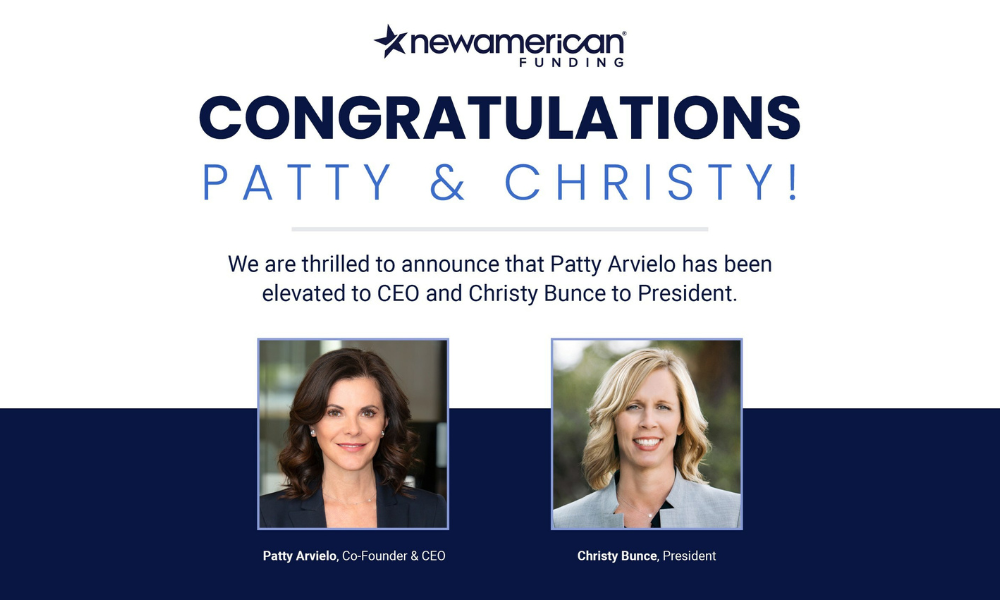 New American Funding, a prominent mortgage lender, has announced key changes to its leadership structure. Patty Arvielo will now serve as CEO alongside her husband, Rick. Succeeding her as president is Christy Bunce, previously chief operating officer.
Bunce's role at the California-based retail lender began in 2008 when she was appointed operations manager. Since then, she has worked with the Arvielos to expand the company's retail footprint, which now includes 170 nationwide locations and over 3,500 employees. In 2012, Bunce was named chief operating officer, and since then, the company has grown exponentially.
In her new role as president, Bunce will continue to manage the company's daily operations and help it expand into new lines of business and grow its suite of offerings. She will also work closely with government agencies and the GSEs to develop lending initiatives that serve typically underserved communities.
Rick Arvielo, the CEO of New American Funding, spoke highly of Bunce's contributions to the company over the years, calling her "invaluable" to its success. He also emphasized the importance of Bunce's experience and leadership as the company expands into new lines of business.
"Her leadership, experience, and insight will continue to be critically important as we expand into exciting new areas beyond mortgages and continue in our mission of helping deserving people achieve the dream of homeownership," Arvielo added. "These moves couldn't come at a better time as we look to the future of our amazing company. We couldn't be prouder to be continuing this journey together."
Under Bunce's leadership, New American Funding has become one of the leading lenders to Hispanic and Black communities. She has also pushed for the company to become a Fannie Mae, Freddie Mac, and Ginnie Mae direct lender, seller, and servicer.
Stay updated on the latest industry moves. Get exclusive interviews, breaking news, and industry events in your inbox by subscribing to our FREE daily newsletter.