Leaders appointed to help it address some of the industry's most pressing issues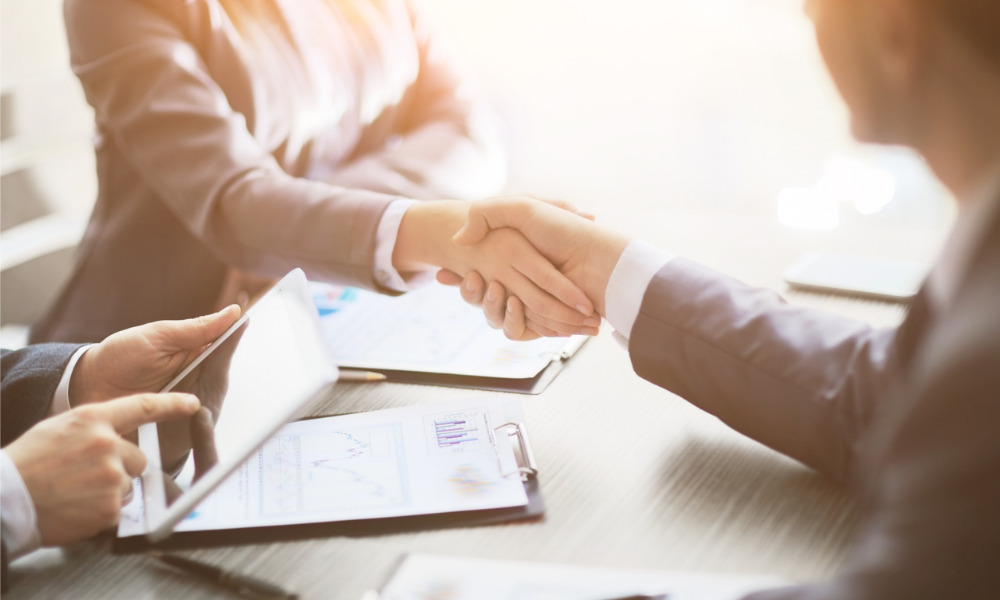 The Mortgage Bankers Association has appointed Kristy Fercho, head of Wells Fargo Home Lending, as its new chairman, the trade association announced during its 2021 Annual Convention and Expo in San Diego.
An active MBA member, Fercho currently serves as vice-chair of MBA's Diversity and Inclusion Advisory Committee, co-chair of the Affordable Housing Council, and a member of its Residential Board of Governors (RESBOG).
Matt Rocco, chairman of the board and CEO of Grandbridge Real Estate Capital, was named chairman-elect, and Mark Jones, CEO and co-founder of Amerifirst Home Mortgage, was appointed as vice-chairman.
"It is an incredible honor to serve as MBA's 2022 chairman," Fercho said. "I look forward to collaborating with Matt Rocco and Mark Jones to address the opportunities and challenges facing our industry, including developing strategies that will ease our nation's affordable housing crisis and close the racial homeownership gap. The mortgage industry has a responsibility to be part of the solution that levels the playing field and ensures all Americans have access to the American Dream of homeownership."
Read next: MBA launches initiative to tackle racial homeownership gap
Additionally, MBA has sworn new members and one ex-officio member, MBA president and CEO Bob Broeksmit, in its board of directors for 2022. The board of directors, which sets the strategic direction for MBA and oversees management of the association's affairs, includes:
• Mark Jones (Vice-Chairman), Amerifirst Home Mortgage
• Jack Gay, Nuveen Real Estate
• Christopher George, CMG Financial
• Sonya Luechauer, DHI Mortgage Company
• Jeffrey Majewski, CBRE Capital Markets
• Peter Norden, HomeBridge Financial Services, Inc.
• Gary Otten, MetLife, Inc.
• David Spector, PennyMac Financial Services, Inc.
• Joe Tyrrell, ICE Mortgage Technology
• Jim Wehmann, FICO
• Jeffrey Weidell, NorthMarq
• Kristy Fercho (Chairman), Wells Fargo
• Matthew Rocco (Chairman-Elect), Grandbridge Real Estate Capital, LLC
• Susan Stewart (Immediate Past Chairman), SWBC Mortgage
• Albert Blank, Union Home Mortgage
• Byron Boston, Dynex Capital, Inc.
• Patrick Carey, Bank of America
• Todd Chamberlain, Truist
• Christine Chandler, M&T Realty Capital Corporation
• William Emerson, Rock Holdings, Inc.
• Laura Escobar, Lennar Mortgage
• Matthew Galligan, CIT
• Eric Gates, Apex Home Loans, Inc.
• Nima Ghamsari, Blend
• Owen Lee, Success Mortgage Partners, Inc.
• Bill Lowman, American Pacific Mortgage
• Angela Mago, KeyBank Real Estate Capital
• Mary Ann McGarry, Guild Mortgage Company
• Claudia Merkle, National Mortgage Insurance Corporation
• Stanley Middleman, Freedom Mortgage Corporation
• J. David Motley, CMB, Colonial Savings, F.A.
• Mark O'Donovan, JPMorgan Chase
• Kurt Pfotenhauer, First American Title Insurance Company
• Jay Plum, Fifth Third Bank
• Christine Rhea, Mortgage Investors Group
• Debra Still, CMB, Pulte Financial Services
• Michael Tanner, Pacific Southwest Realty Services
• Jeffrey Taylor, Digital Risk, LLC
• Thomas Wind, U.S. Bank Home Mortgage
"I am confident that MBA members will be well served by the leadership qualities and passion that are instilled in every individual on this year's board of directors," Fercho said. "Together, we'll address some of our industry's most pressing issues, including housing affordability, minority homeownership, diversifying the industry, and regulatory and legislative activities."
The association also revealed the members of its Residential Board of Governors (RESBOG) and chairs of its Residential Committees for 2022. RESBOG is the governing body for MBA's single-family residential members, responsible for establishing legislative and regulatory policies and positions on residential lending issues. Al Blank, Union Home Mortgage, will be the RESBOG chair in 2022. Chrissi Rhea, Mortgage Investors Group, will assume the role of RESBOG vice-chair.
Newly elected members of RESBOG include:
• David Battany, Guild Mortgage
• Mark Jones, Amerifirst Home Mortgage (ex-officio)
• Steven Plaisance, Gateway First Bank
• Christy Soukhamneut, CMB, Flagstar Bank
MBA's returning members of RESBOG include:
• Danette Alfonso, Lennar Mortgage
• Patty Arvielo, New American Funding
• Al Blank (Chair), Union Home Mortgage
• Gary Clark, CMB, Sierra Pacific Mortgage
• Rose Marie David, Homebridge Financial Services
• Christopher Delfs, Truist
• Peter Diliberti, Wells Fargo
• Kristy Fercho, Wells Fargo (ex-officio)
• David Gansberg, Arch Mortgage Insurance
• Eric Gates, Apex Home Loans
• Rohit Gupta, Enact Mortgage Insurance
• Erik Hand, HomeStreet Bank
• John Hedlund (Immediate Past Chair), AmeriHome
• John Hummel, U.S. Bank Home Mortgage
• Chrissi Johnson, Rocket Mortgage
• Tawn Kelley, Taylor Morrison Home Funding
• Bill Lowman, American Pacific Mortgage
• Sonya Luechauer, DHI Mortgage
• Gene Lugat, PrimeLending
• Peter Macdonald, loanDepot.com, LLC
• Allen Maulsby, CMB, Colonial Savings
• Glen Messina, Ocwen Financial Corporation
• Sonu Mittal, Citizens Bank
• Willie Newman, Home Point Financial
• Mike Patterson, Freedom Mortgage
• Kurt Pfotenhauer, First American
• Aaron Pitone, Arvest Bank
• Jay Plum, Fifth Third Bank
• Chrissi Rhea (Vice-Chair), Mortgage Investors Group
• Matt Rocco, Grandbridge Real Estate Capital (ex-officio)
• George Taylor, M&T Bank
• Jack Thompson, Legacy Mortgage
• Winston Wilkinson, Pentagon Federal Credit Union
• Fowler Williams, CMB, Crescent Mortgage
• Rob Zellar, Old Republic
Residential Committee Chairs who serve as non-voting members of RESBOG:
• Steve Bovenzi, Caliber Home Loans: Residential Technology Forum (RESTECH)
• Pam Cooper, CMB, Citywide Home Loans: Accounting and Financial Management Committee
• Suzanne Garwood, Chase: Legal Issues and Regulatory Compliance Committee
• Kelley Grealis, CMB, Union Home Mortgage: State Legislative and Regulatory Committee
• Deb Jones, CMB, Citizens Bank: Secondary and Capital Markets Committee
• Brendan Kelleher, Rocket Mortgage: Loan Administration Committee
• Ali Vafai, The Money Source: Residential Loan Production Committee
"This year's RESBOG lineup represents a comprehensive collection of industry experts, who know what's best for the entire real estate finance industry," said Fercho. "I look forward to working with RESBOG as we continue to address top-line priorities for the industry."