Two runners approach a hill. One runner walks up the hill. The other runs up the hill. Which is a better strategy for a long-distance race?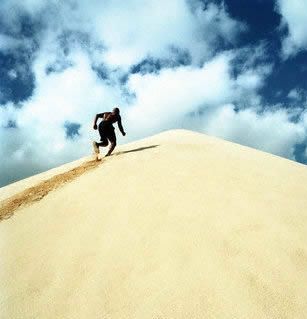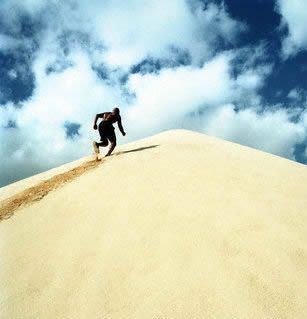 Two runners approach a hill. One runner walks up the hill. The other runs up the hill. Which is a better strategy for a long-distance race?
Let's ask the question a different way. Two businesses hit a downturn in the market. One business ceases all marketing activities. The other decides to invest more into marketing. Which is a better strategy for long-term business success?
The answer to that question comes down to understanding the value of the incremental gain earned while running vs. walking up the hill. In running, you expend energy to gain distance. In marketing, you spend money to gain customers. The big difference is that the energy spent running harder does not translate into more energy for the race. In fact, you'll have less energy to finish the race hard. In business however, the money spent on marketing translates to more customers now, which means more cash to invest in more marketing to get even more customers.
An unfortunate common practice for companies at the onset of a poor economy is to begin cutting operating costs. Even more unfortunate is the fact that marketing budgets are often the prime targets of those cuts. It's been proven time and time again that it's not a good idea to reduce marketing efforts during a recession. This short-term approach saves money but leaves your brand in a less competitive position when the economy recovers. And over the years, research studies have confirmed that the best strategy in terms of long-term return on investment (ROI) is to increase marketing efforts during an economic slowdown.
Most discussions of marketing are complicated by confusion about how it relates to the sales function. While sales are the results of good marketing, they are not at all similar disciplines. While sales ultimately make the company money and keep the machine working, marketing tells us who to sell to, why they want our product, and what salespeople must say to get them to close. The company-centric (or supply-side) "Four P's of Marketing" (Product, Place, Price & Promotion) now need to be accompanied by, if not replaced with, the customer-focused "Four C's of Marketing": Customer value (product), Cost to the customer (price), Convenience for the buyer (Place) & Communication (Promotion).
Beyond that, marketing is the machine that keeps future borrowers on the line until they are in the "buy zone" and ready to sign an application. While agents know they must maintain these databases and stay connected to these prospects, it can be very difficult to do so on a regular basis. Without that kind of marketing support, sales become much more difficult, referrals are harder to get and customer loyalty goes out the window.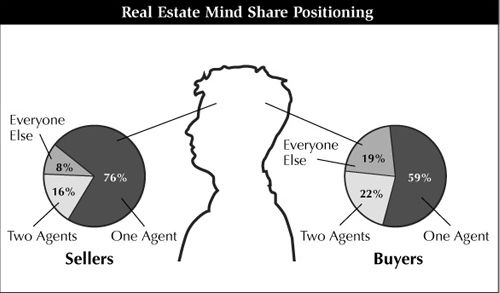 So what do we do?
Gary Kellar, Dave Jenks & Jay Papasan wrote a game-changing book entitled The Millionaire Real Estate Agent www.kellerink.com. Their research into what they call "mindshare" illustrated that 92% of Sellers will list their home with either the first or second agent they meet with, and 81% of Buyers will sign a contract with either the first or second agent they meet with. That means that you'd better be number one or number two or you're not even in the game!
We see the same lack of loyalty from customers in the mortgage industry today as well. While both industries have worked hard to increase customer satisfaction, it is not translating into customer loyalty. We're still seeing almost every borrower go to a different lender for their next loan and a different agent for their next purchase. I believe this is because no-one in our industry is taking control of the marketing process.
Who owns the marketing process?
I strongly believe that marketing should be owned and managed by the company so that agents can focus their time, energy and money on selling and building relationships. Sounds great, but there is one big problem. For companies to "own" marketing they have to pay for it, and where will they find that money? For too many years, Real Estate companies competed for top talent through the promise of high commission splits. Over time, as those splits continued to rise, they eroded profit margins, leaving less and less money available to spend on supporting, training and developing the agent. In the end, not only was the agent left with the task of selling, but they also now had to spend their own money to implement marketing systems. Not to mention we are now asking them to be experts in two completely different skill sets, sales and marketing.
We all know that dollars spent on an individual basis go a lot less far than collective dollars. 100 agents individually spending $250 per month on marketing with no cohesive message generate a pretty weak impression on the market. But, if you pool the $250 you can now spend $25,000 per month into a cohesive message and effort. Much more powerful!
As you might imagine, those agents that did the best job of marketing to their prospects on a regular basis closed the most deals and earned the most commissions. The top-producing agents do a few important things consistently. After years of training and consulting with some of the nation's top producers, I can tell you that when it comes to database building, mining and maintaining, these guys are experts – and they spend a lot of time and money to do it. They have teams of people whose sole job is to execute marketing best practices similar to Keller Williams' 8 x 8 (8 touches in 8 weeks) and 33 Touch (33 touches per year) programs. The ROI on campaigns of that nature has been proven and easily justifies the expense of a full-time person. Sadly, the amount of work and expense to properly execute those campaigns on a regular basis prohibits the majority of agents from being able to enjoy the benefits of such activities.
eMail Marketing to the Rescue...NOT!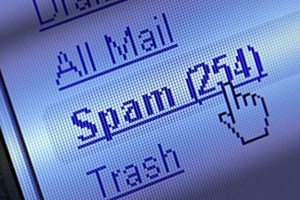 I'm not saying that I don't like email marketing, because I do. What I am saying is that the days of uploading your e-mail marketing list to an online service that kicks out an e-mail a few times a month are over. In the beginning it was a very powerful tool, but the influx of automated spam messages and the continued abuse of people's personal information have forced E-mail spam filters to tighten up. I personally know of several owners of e-mail marketing systems who are constantly testing to see if they receive the email they send out – and some of the marketing messages they send out don't get through their own spam filters!
Even when the e-mail does get through to us, we've all seen so many e-mail marketing messages that they don't even register on us before we've clicked the delete button. It's like the check engine light in our car, if nothing bad happens right away by ignoring it, we eventually learn not to take it very seriously. After a few weeks we don't even see it anymore. It's not news to any of us that there's very little power in solely using email as your communication and marketing tool.
Today, it takes a combination of touches from different channels (or media) to keep prospective borrowers engaged. Borrowers are alerted to messages in one medium, say e-mail, but will respond and engage with companies that approach them through multiple avenues, such as e-mail combined with social networking sites, YouTube videos and a personal phone call. The problem, of course, is that a lot of agents don't have the time, expertise and money to do this type of marketing, much less generate the content it takes to provide the messages for those media. Some outsource it, but most cross their fingers and do nothing in hopes that maybe the statistics won't apply to them.
Marketing responsibility falls to the company
In the end, it's up to the company to provide the marketing that will provide a steady stream of sales leads to the agents. In fact, it makes good business sense to do so. But here again we run into the challenge of recruiting the nation's best producers and paying the high commissions required to get them to come aboard. There is little money left for marketing.
Soon, many brokerages are going to be forced to rethink and restructure how they compensate agents, which will inevitably lead them rethink how they are going to retain top talent. Herein lays the opportunity. Companies that are able to find ways to offer ancillary value that agents are able to monetize are going to be the big winners. Most likely the agent's compensation will be perceived as going down, but if done correctly, brokers will be able to successfully reduce the cost of business to agents by taking on such expenses as marketing. The positive result will be more business generated at a lower cost to the agent. While there isn't a magic compensation formula yet, I can guarantee you that we are going to see strategies like this pop up all over the place.
Success Story
The best example I've seen in the execution of these philosophies comes from a small boutique shop in downtown Minneapolis called the Downtown Resource Group (DRG). Joe Grunnet founded the DRG in the heart of the crash (2007) and serves as a perfect example of what a commitment to a cohesive marketing effort can produce. Joe's philosophy is simple:
Focus – Focus – Focus on your career and chosen market.
You're in business for yourself but NOT by yourself.
Surround yourself with people smarter than you.
The DRG offers its agents, in essence, a business in a box. The brand is clearly laid out, the marketing is executed every month, and there is continual agent development and training to ensure they stay sharp. He sponsors monthly happy hours at new restaurants and bars where clients come and experience the downtown lifestyle. They take an annual trip together as a team to keep the culture close. But Joe's big secret is, he is consistent in everything he does and everyone knows it. "We will continue our marketing efforts every month no matter what the market condition are…especially during downturns because that is where we see our biggest gains…" Joe says. His agents, clients and surrounding community count on his consistency, which is why they love the DRG.
So what are the results? The numbers speak for themselves: 21% of all condos, lofts and town homes are purchased through the DRG. That's second place for market share with only 7 agents, as compared to the #1 office (in market share) which has over 300 agents! The turnover at the DRG is something I've never seen before. The same core group of agents has been there virtually since day one. Here is the best part – Joe will be the first to tell you that he didn't build the DRG, his agents did.
Is it worth it? Enter Database Math
When Gary Keller looked into the habits of the most successful real estate agents in their industry, he learned that marketing was less about the particular sales messages that the salesperson used and more about the different ways the prospect was touched and how often.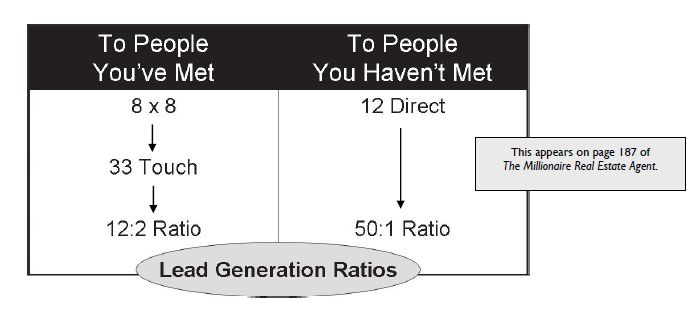 Their research indicated that the nation's best agents had two databases. One was made up of past customers and people they knew (their "met" list). The other consisted of a targeted group of prospects, typically a purchased list in a specific area code or neighborhood (their "not-met" list). The agent would systematically farm both lists. It turned out that if the agent sent a postcard to every person in the "not met" database once each month for 12 months (Keller Williams calls this approach the 12 Direct program), they would earn 1 new transaction for every 50 contacts they mailed to. In other words, they got a 2% response rate.
When it came to marketing to their "met" database, Keller's book recommended a two-stepped approach. Step one would be to touch every new prospect 8 times in 8 weeks, then follow up with a total of 33 touches throughout the year. Those touches consisted of emails, postcards, drop-offs, gifts, etc. That strategy yielded 2 deals for every 12 people they marketed to (or a 17% response rate). The value of this research is realized when you utilize these metrics not only to accurately determine what your marketing activities should be to reach your desired income level, but also to calculate the cost of not marketing to your clients.
For example, if an agent has a database size of 500 people, that means that there are 85 opportunities to make a sale – but the question is, will they buy with you? According to the research we mentioned above on mindshare, if you are the first or second agent they meet with, the chances of those deals coming to you is pretty good. Not that I need to twist the knife any further, but if the average fees on a sale are $6,000, then that means there is over $464,000 of opportunity in a 500-person database! Even if we are half right with these numbers, it still translates into a huge opportunity for those who can execute. That's what we call database math.
Other results that the nation's top agents were enjoying came clear after the research, but they all said basically the same thing. Once the metrics were worked out and the agent knew how many touches were required to produce a sale, the marketing function was reduced to a numbers game –and the most successful agents keep doing the work.
It falls to the company to seek out these marketing opportunities and make sure that prospects are getting attention regularly. This will require firms to either staff up their marketing departments to handle the content generation, media buying and database maintenance responsibilities, outsource it to a firm that can handle it for them, or invest in a technology to help them streamline and execute their marketing. Those firms that keep the work in house must be prepared to play a numbers game.
Many say that we are living in the information age, but I don't think that's true anymore. We're in the implementation age now. You can do a quick Google search and receive any information you want, but that data alone benefits you little. It's what you do with it that matters. The very same is true of marketing. Many know that it's the number and quality of prospects that lead to future business. Few have the wherewithal to implement a practical marketing program that works. I hope this information will help shift focus away from the worry of upfront marketing costs to the real question of what is it costing you NOT to market.
# # #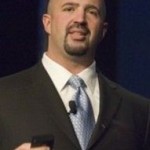 Rene F. Rodriguez is Chief Executive Officer of Volentum (www.volentum.com), a Management Consulting Firm that specializes in sales system creation, sales training, & change management, with significant expertise in applying brain research to improving results. A captivating, high-energy speaker, Rene is in high demand for annual events, conventions, and keynote speeches. His clients include Leadership and Business Teams at Wells Fargo, Bank of America, Coca-Cola, Liz Claiborne, Daimler Chrysler, Microsoft, and other major corporations. Rene's mission is to lead the Resurgence of the Sales Professional. To inquire about speaking engagements or for more information on improving your sales process, please visit www.Volentum.com or call 612-310-4010.