Unless you've been living under a rock for a few years, you already know how important video has become on social media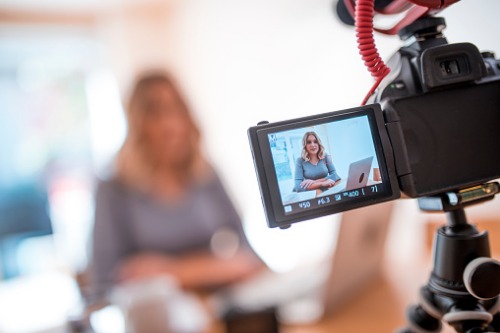 Unless you've been living under a rock for a few years, you already know how important video has become on social media. The problem is, many still aren't making videos because they think it's too difficult to execute, but the truth is that the challenge is more psychological than practical.
Gone are the days of hiring large film crews, building expensive sets and taking time out of your busy schedule to create professionally shot and edited videos. Not only are they not necessary, but your audience likely prefers lower production value than all that. The more in-the-moment and natural your videos are, the more authentic and trustworthy you'll be to them.
With your smartphone camera, a few extra low-cost accessories and tools, and a basic videography course, you can make some great videos that your social media audience will love. In fact, if you have the right tools, you can even skip the smartphone camera, gadgets and knowhow.
The only thing missing is knowing what to capture and share, and that's where this list comes in. Here are a few top trends that real estate professionals are using to capture attention and grow their followings daily.
1. The 360-degree digital open house
Open houses are the lifeblood of real estate. That moment where the potential buyer can clearly see the space in full detail is when they go from, "Maybe?" to "This is it!" As a realtor, you want to maximize the possibility of that happening in the most efficient way by showing the home to as many buyers as possible at the same time. So why not go digital?
By sharing an interactive home tour online, you get to show the home to many folks who may be interested in the house but aren't able to attend a live showing.
Amp up the value of that video by getting a low-cost 360-degree video camera that will allow your visitors to virtually walk through or spin around to get a true feel of the space. The Samsung Gear 360, for example, retails at under $130.
2. Reactions and announcements
Nothing says "successful realtor" like hearing about all the homes they've sold to happy customers. Even better than hearing about it is seeing it happen. Instead of being in sell mode all the time, amplify your reach by sharing big announcements or reactions to great news you've received.
If you're not comfortable being on video yourself just yet, no worries. You can use Yala's libraries of quick, emotional clips to make snappy videos perfect for social media.
Yala's authentic, human-centric reaction snippets are great for commanding attention amid the noise of social media, and the tools can even automatically pull in your brand's color scheme, so your videos will always look professionally done. The best part is that they take less than five minutes to make.
3. Quick home tips and tricks
As a real estate professional, you're a wealth of information when it comes to buying and selling property. Just a few tiny things here and there can make a huge difference for your customers. By sharing this knowledge with your wider audience online, you not only build their trust, but you establish yourself as a key industry expert in your area, so that whenever someone's ready to use your services, you'll be the first one they call.
Whenever you go to check out a home, or you're stopping by a favorite spot in the neighborhood, turn on your smartphone's video camera and share a few words with your social media fans. In just 30 to 60 seconds, you can share a quick tip or trick to stage a home or what to look for when buying. Putting people at ease about the big life decision that is home ownership can go a long way.
If you really want to crank things up a notch, host a live Q&A every now and then, and answer burning real estate questions from your audience, or tell them a story about a home you've sold, so they can get used to your style and feel more comfortable with hiring you when they're ready.
Don't get left behind on social media
Want to know just how important social video is? All the major social media platforms - Facebook, Instagram, Twitter, YouTube and even LinkedIn - have launched capabilities for quick video and/or live video posts in the past few years. They saw clearly that video is the one thing that stops scrollers in their tracks and gets them to pay attention for a relatively extended period of time.
Capitalizing on the opportunities outlined above is the best way to jump in on this trend and get the attention your brand deserves. All you have to do is start with one.