To truly see, you must first have vision, and these women have been named true visionaries by 20/20 vision for Success Coaching and Mortgage Women Magazine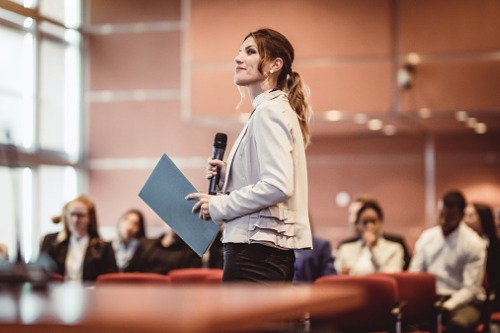 The complete list of 2019 Women with Vision award winners has been released, and the field features visionary leaders from all corners of the mortgage industry.
These women are industry trendsetters and visionary leaders who have broken ground in numerous ways over the course of their careers, and who have a proven track record of inspiring growth in others. The winners were chosen by 20/20 vision for Success Coaching and Mortgage Women Magazine, and will be featured in the November issue of Mortgage Women Magazine.
One of the winners is Jane Mason, founder and CEO of Clarifire, a privately held, women-owned corporation that is a leader in workflow automation for the mortgage and healthcare services industries. She led the development of award-winning software that automates workflows for financial services organizations, enabling them to work more efficiently and cost effectively, and gain competitive advantage. Mason's vision has always been to take organizational chaos and figure out how to solve problems efficiently using simple technology that the business can own and make changes as needed.
"My vision is giving organizations a way to think differently, and to understand a process is a process, but you've got to keep your customer at the heart of it. At the heart of that is that trust and a transparent relationship," Mason said.
Mason sits on the board of the University of South Florida and mentors students, and her team at Clarifire is very hands-on when it comes to participating in disaster relief efforts.
Another recipient of the Women with Vision award is Dana Fortin, chief marketing officer at Embrace Home Loans.
"I am delighted to be recognized with this award," Fortin said in a statement. "I'm supported by a great team at Embrace, and would like to share this recognition with all of them."
Fortin has launched several ground-breaking initiatives at Embrace Home Loans. She came up with the idea of using geolocation to target homebuyers when they are most engaged in looking for a home and then worked with her team to execute it, a first in the industry.
"Dana is a great innovator, as well as a skilled marketer, and has helped to develop Embrace Home Loans into the top independent mortgage banker it is today," said Embrace CEO Dennis Hardiman. "She is an extraordinary leader, and seeks to draw out, inspire and develop the best in people from the inside out – a true servant leader."
Mason said that this is an exciting time for women entrepreneurs, especially since technology affords so many opportunities to improve the mortgage industry specifically.
"I'm pursuing an increased awareness of women in business as a way for me to give back," Mason said. "It doesn't matter if you're male or females—you can be an entrepreneur, and you can make this happen."

Other winners include:
Megan Anderson, MBS Highway, Business Development National Director
Valerie Ausband, Arch Mortgage Insurance, Senior VP, National Field Sales
Joelle Baez, Culture Estate & Hard Money Project, Manager & Brand Ambassador
Jessica Barron, First Option Mortgage, VP of Human Resources
Christina Bartning, National MI, VP of Marketing and Product Development
Cynthia Berman, Freedom Mortgage Corp., SrVP, CCO, and Regulatory Counsel
Laura Brandao, AFR, President
Tricia Brouwers, Wintrust Mortgage, Area Manager
Courtney Keating Chakarun, Roostify, Chief Marketing Officer
Marcia Davies, MBA Chief Operating Officer, Founder of mPower
Molly Dowdy, Next Mortgage Events, Co-Founder
Michelle Dugan, MS Lending, LLC, Owner/Mortgage Broker
Kerry Fitzpatrick, AnnieMac Worx, Co-Founder at
Jennifer Folk, Planet Home Lending, Senior VP Operations and Ops Support
Maria Fregosi, Home Point Financial, Chief Financial Officer
Dana Galiano, National Mortgage Insurance, Business Development Manager
Summer Gell, Partner Engineering and Science, Inc., Principal
Cathy Haddad, Atlantic Home Loans, Senior Mortgage Consultant
Kristi Harris, PrimeLending, EVP National Operations
Cheryl Hayes, PrimeLending, SVP Marketing
Debbie Hoffman, Symmetry Blockchain Advisors, Inc., CEO & Founder
Kim Hoffman, Envoy Mortgage Ltd., EVP, Chief Operating Officer
Cari Jacobs, Unison Home, Chief Marketing Officer
Elizabeth Karwowski, Get Credit Healthy, CEO
Tawn Kelley, Taylor Morrison Home Funding, President
Loretta Kirkwood, QuestSoft, Vice President, Compliance
Melissa Langdale, Fidelity Bank/Right By You Mortgage, Director of Mortgage, SrVP
Leesa Logan, Computershare Loan Services, Senior VP, Head of Compliance
Lisa Lund, Lund Mortgage Team, Owner
Cheryl MacNally, Mortgage Assets Management LLC, President
Jennifer McGuinness, Mortgage Venture Partners, Co-Founder, Head of Aggregation & Structured Finance
Joyce Morgan, First Option Mortgage, Regional Production Manager
Heather Olson, Walker & Dunlop, Vice President
Desirée Patno, Women in the Housing & Real Estate Ecosystem (NAWRB), CEO
Jessica Peterson, Simply WOW Agency, Founder
Jen Du Plessis, Kinetic Spark Consulting, CEO
Rocio Portella, Mint Mortgage, Senior Loan Originator
Stacie Rankey, Full Circle Solutions, Founder/CEO
Kelsey Rauchut, AnnieMac, National Business Development Manager
Leora Ruzin, Guaranteed Rate, VP of Secondary Marketing
Judy Ryan, Credit Plus, Inc., Vice President of Corporate Sales
Ana Maria Sanin, PRMG, Business Development National Director
Michelle Sapit, CMC Funding, Vice President
Lisa Schreiber, NewRez LLC, Senior Vice President, Correspondent Lending
Faith Schwartz, FormFree, Board Member
Natallia Shastak, City Wide Realty Inc.
Lakshmi Stockham, TD Bank, SVP, Technology Retail Product Customer Acquisition
Corey Tess Trujillo, Synergy Maven, LLC, Chief Maven
Melinda Wilner, United Wholesale Mortgage, COO and Chief Risk Officer
Sue Woodard, Total Expert, Chief Customer Officer
Suha Beidas Zehl, Guidance Residential, LLC, Chief Information Officer