Jump to winners | Jump to methodology | View PDF
SCALING NEW CAREER HEIGHTS
Starting out and making a mark in any profession is always a challenging experience – and this is certainly true in the mortgage business. A sector that often involves intensive workloads, this field may initially seem too daunting for many young professionals at the cusp of their careers.
Despite the inherent nature of the profession and the burden of having to adapt their business model to account for the ongoing COVID-19 pandemic, this year's MPA Rising Stars met the challenge head on.

Not deterred by competing workplace demands nor by the short-term difficulties caused by the pandemic, the 26 winners have shown a level of enthusiasm that deserves admiration from those who have more years of experience in the business.

With an impressive array of achievements already under their belts, the Rising Stars are pushing the sector toward an exciting future.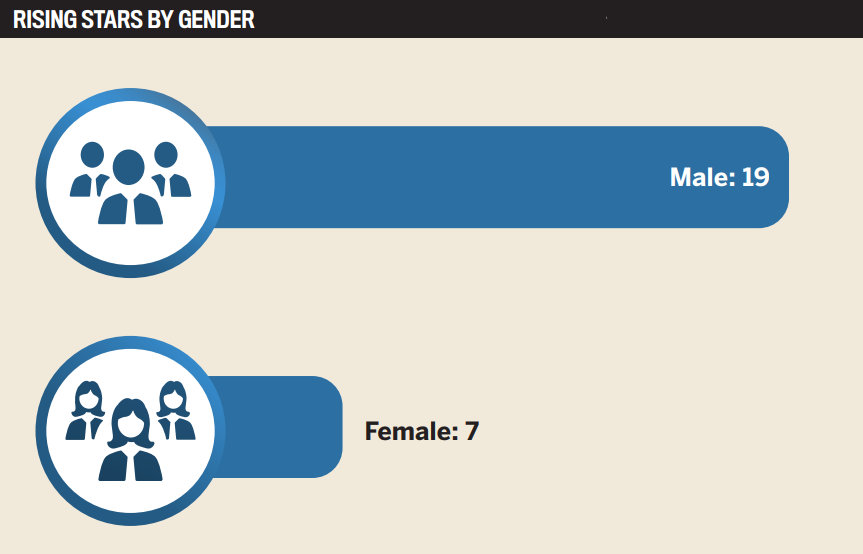 Different paths to the same goal
Motivations to enter the mortgage field vary among the Rising Stars, and each of them fulfills different capacities in the profession.

For instance, one of the winners hit the road running on the marketing side. She reached career heights early on by knowing what firm she wanted to work for and devoting long hours to achieving results.

"I have poured so much time and effort into the things I do for my job and the general contributions I have made to the industry," Erica LaCentra, chief marketing officer for RCN Capital, tells MPA.

"I started in [this space] right out of college and had very little background in [it], so I wasn't necessarily drawn to the industry so much as drawn to the company. RCN was still relatively new in the industry."

The company's focus appealed to LaCentra and continues to motivate her work every day.

"Now, after eight years, I would say what motivates me to stay with the industry is still RCN's vision and being able to provide folks in the industry with the products and resources they need to take advantage of and benefit from trends," she says.

Another Rising Star who has taken an unusual path into the mortgage field is Jesse Perrone, loan officer at NFM Lending.

"I knew nothing about it at all. I was waitressing and working as an in-house counselor when a regular introduced me to the idea of working in a mortgage capacity. I thought I would give it a shot and started working on the front desk and, with a few marketing assignments, found that I absolutely loved it. I never thought I would end up in the mortgage sector, but it turns out my background could not have set me up more perfectly for working in mortgages," Perrone states. The skills that Perrone had utilized in waitressing and in-home counseling – namely communication skills and the ability to consistently manage competing demands – enabled her to thrive in her new career.

"Working on mortgage files is kind of like being a waitress," she says.

"Making sure that people are taken care of. All day long you are making sure you are talking to people like agents, clients, and lenders and dealing with people when they are in transition."

Her favorite aspect of the business, she says, is getting people into their new homes. "Helping first-time homebuyers and knowing how impactful that is in their life, getting their foot in the door. It is so rewarding – and then to see that same first-time home buyer buy their second home with us, and to then seeing how much their life has improved having gotten their foot in the door to homeownership [is great]."

Managing a tech transition
For another Rising Star, David Spektor, chief technology officer at LodeStar Software Solutions, the main area of interest is using mortgage technology to help streamline the broker and lending process. According to Spektor, he knew very little about the industry but had the technical knowledge and skill to enter a new business area.

"One of my business partners was starting up a company to deal with new mortgage disclosures and he looped me in to help with development … this is how it all began."

Receiving the Rising Stars award, Spektor says, is a "great feeling after doing it for eight years in a completely different industry. It is truly amazing to be recognized for the technological developments in this area. We worked hard to develop a high level of service".

The winners agree that COVID-19 has played a crucial role in how technology is applied in their overall business dealings. Remote processing of applications stands out as the primary technological transition to tackle.

"COVID-19 has taught us that people are going to do more online files. As we move forward, loan applications are being done over Zoom versus old school meetings in person. We will also keep utilizing e-closing," Perrone says.

Spektor chimed in with similar views. "The pandemic is a bad thing but, in our industry, and where we are headed, we are now in a streamlined and digitalized world. COVID-19 has pushed the lenders to accept the further automation of the business," he says.

"There is a massive explosion of innovation and technology, and the pandemic just gave the push the mortgage industry needed – it kickstarted the entire industry."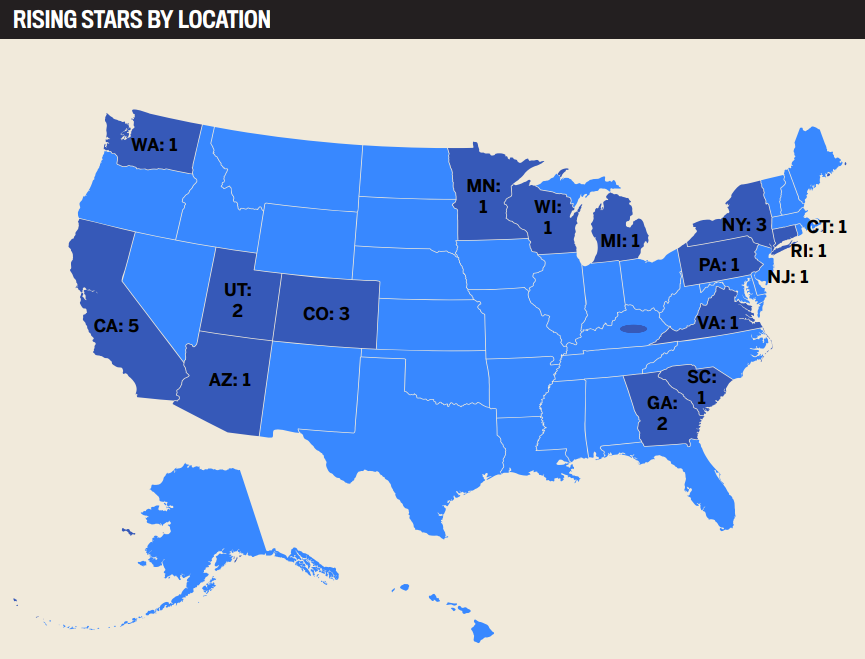 Making their mark
The Rising Stars displayed many similar characteristics. Working with clients effectively, as well as caring about their needs, were instrumental to being a leader and thriving in this competitive business.

Coby Matush, home loan advisor at GO Mortgage, exhibits these attributes.

"I actually got into the business, or rather fell into the business, after graduating from college in 2016," he says.

"I wanted to get into a job involving numbers and involving people. I was going on a bunch of interviews, and nothing stuck out and then one of my buddies that got into the mortgage business at this same time connected me to my first job in the field. I was offered my first mortgage job as the firm that hired me wanted to get younger people in the industry."

Wanting to make a splash in his newly chosen profession required a move from Pennsylvania to Minnesota.

'"I wanted to work with people and know that I am doing a service for them," Matush says. When asked about his favorite aspect in his current role, he didn't hesitate to answer.

"Working with numbers and being able to help people realize that they really can afford a home. I am doing a service for them. This really is the perfect fit," he said.

Evidently, this year's Rising Stars from across the country make up a group of ambitious young men and women. Despite their different geographical locations and the diversity of their roles, all the winners that MPA spoke to agreed on one thing: further efforts are needed to educate and inspire other talented young professionals to enter the mortgage business.
Alex Baren


Managing director, Finance of America Companies

Anthony Carillo


Mortgage advisor, Finance of America Mortgage

Benson Pang


Founder, NestMade Mortgage

Brian Dyer


Operations specialist, LHM Financial

Brian Hugo


Senior director, sales, SitusAMC

Charles Jimenez


Loan consultant, New American Funding

Chris Franquemont


SVP of mortgage lending, Guaranteed Rate

Coby Matush


Home loan advisor, GO Mortgage

Dane Pavlik


VP and residential loan officer, First Foundation Bank

Danny Enright


Senior trader, Vice Capital Markets

Darcey O'Neill


Senior project manager, Promontory MortgagePath

David Spektor


Chief technology officer, LodeStar Software Solutions

Emilio Estrada


Account manager, IDS

Erica LaCentra


Chief marketing officer, RCN Capital

Jesse Perrone


Loan officer, NFM Lending

Karissa Stiglic


Digital product manager, Finance of America Mortgage

Kevin Wheeler


Director, back-end engineering, Promontory Mortgage Path

Koorosh Farzad


Mortgage broker/Owner, Masihi Financial Group

Kuhuk Goyal


Product manager, Nomis Solutions

Laura Graben


Account manager, FormFree

Michael Middleman


Executive vice president, Freedom Mortgage

Oliver White


Producing branch manager, Fairway Independent Mortgage

Robert Zitting Jr


Chief operating officer, MonitorBase

Sarah Tavares


Closing manager/Team leader, Embrace Home Loans

Taylor Winkler


Loan consultant, New American Funding

Tyler Borland


Managing director, Homepoint
According to the criteria, nominees must be 35 years old or under as of July 1, 2021, and must demonstrate dedication and enthusiasm for their profession. Details of the nominees' current role and responsibilities, as well as their main achievements over the past 12 months, were gathered. Recommendations from managers and senior mortgage professionals were also taken into account.