Jump to winners | Jump to methodology | View PDF
COMMITTED TO SERVICE AND INNOVATION
Who are the wholesale lenders that provided top-notch customer service, showcased great innovation in technology and software, and impressed originators with their breadth of product offerings and in a host of other areas amid challenging times?
MPA found out by compiling this list of the top wholesale lenders in the US for 2021, following an extensive reader survey.
To discover the wholesale lenders who had left their mark – whether in Colorado or California, Idaho or Iowa, New Jersey or New York, or beyond – MPA reached out to readers across all 50 states. The respondents were asked to provide the name of their favored wholesale lender, as well as an overview of the services, criteria and benefits that made the particular lender great to work with. MPA received a phenomenal response from a huge number of respondents – meaning that the competition for a place on the list was very tough indeed.
The end result? A selection of 15 deserving winners who were delighted to be among such good company.
"We are proud to be featured on this list," says a spokesperson from the United Wholesale Mortgage (UWM), "and it is an honor to be recognized by MPA and the broker community for our unwavering commitment to our clients and the entire wholesale channel.
Laura Brandao, president of American Financial Resources, adds: "We are both honored and proud to be able to serve the wholesale community working hand in hand with our partners to bring families home."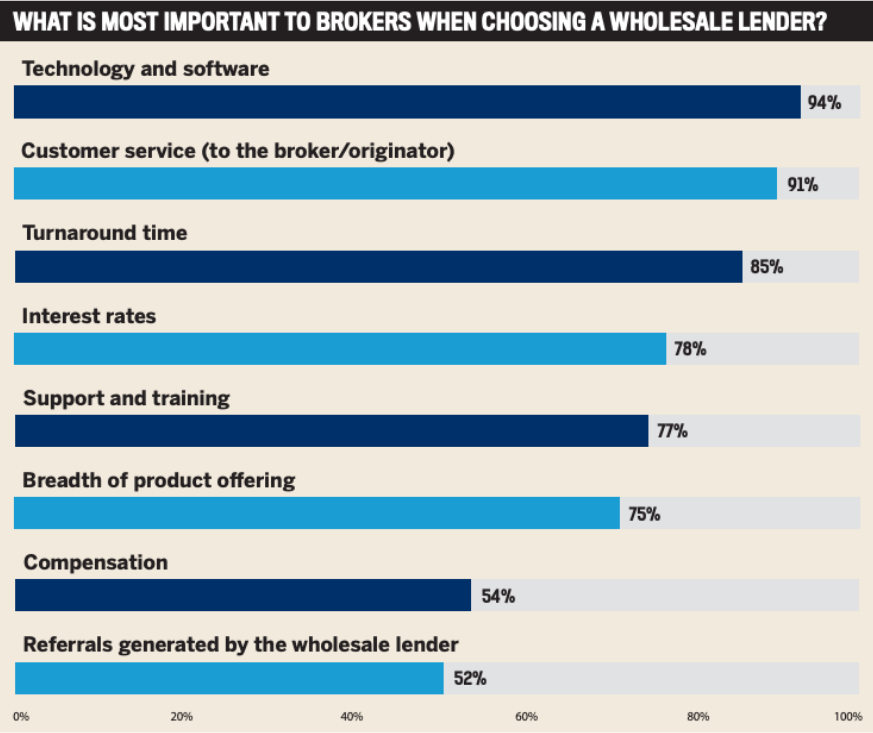 Top marks for service, product range
When respondents were asked to rank their chosen wholesale lenders based on a range of criteria, the total scores for technology and software and customer service were virtually neck and neck, at 94% and 91% respectively. Ultimately, customer service was ranked as the most important factor by 85% of respondents, and technology and software followed at 71%.
In an industry in which technology is becoming ever more essential, these two categories almost go hand in hand. Few know this better than UWM. With a 20% market share and 35 years in the business, UWM has honed its approach to service, which has enabled it to maintain resilience in the face of pandemic-related challenges.
"UWM's approach has always been to be an advocate and true partner to mortgage brokers throughout the nation," says the company's spokesperson.
"We are in tune with our clients' businesses and their needs, and we build tools, technology and resources specifically designed to help grow their businesses while also educating consumers and realtors on the benefits of working with an independent mortgage broker. UWM succeeds only when brokers succeed, and we will continue innovating and finding new ways to support and grow the wholesale channel."
Coming close behind customer service, turnaround times and interest rates of the winning wholesale lenders were given high importance by survey respondents, at 85% and 78% of the votes, respectively.
Winners were also ranked highly for their breadth of product offering, which won 75% of total votes for importance in choosing the lender; 17% of respondents said it was the most important factor to them.
Among those getting well-deserved recognition in this area was American Financial Resources, an organization established in 1997 and based in Parsippany, New Jersey. The organization has evolved throughout the years to add both B2B and B2C residential mortgage channels to its markets.
"As a specialized lender, we are able to serve many different types of markets," says Brandao, "including manufactured housing, renovation, construction-to-permanent, and those who need down payment assistance. We are committed to providing our originators with these niche programs so they can continue to serve their communities in any rate or inventory environment."
Embracing the unknown
A changing global landscape and the specific industry climate have had a huge knock-on effect on working practices. Remote working and border closures have become the norm, creating major challenges for a sector in which face-to-face communication is so highly valued.
"We embraced all the challenges. Going 100% remote, people not being able to get permits, different counties being closed and so on. With a positive attitude we were able to thrive through them," Brandao explains.
A can-do attitude in the face of adversity arguably mattered more than ever in 2021.
Survey respondents were keen to highlight that people-focused methods of support for brokers – that is, the 'support and training' factor – were vital. This factor won 77% of total votes for its importance in choosing a wholesale lender, and around a third of respondents said it was the most important factor to them.
While the above criteria ranked highly in terms of importance, it was clear which factors were of least concern to respondents – at least in 2021. Although 'referrals generated by wholesale lenders' was considered important by 52% of respondents, only 8% of them rated it as the most important factor overall.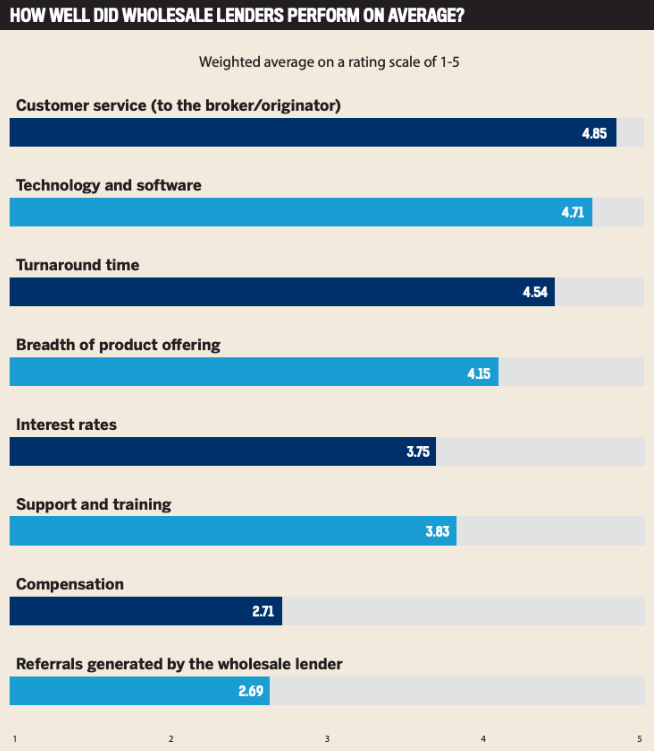 Managing unpredictability
What do these takeaways from the 2021 survey say about the future of the wholesale lending sector and the factors that future survey respondents will value most highly in their top choices of lender?
What do these takeaways from the 2021 survey say about the future of the wholesale lending sector and the factors that future survey respondents will value most highly in their top choices of lender?
"There is no question that mortgage brokers provide borrowers the fastest, easiest and cheapest loan option," says the UWM spokesperson. "As more and more consumers and real estate agents become educated on the widespread benefits of working with an independent mortgage broker, wholesale will continue to grow market share."
Moving forward, AFR plans "to continue to make our originators and partners experts in the specialized products we offer, like construction-to-permanent, manufactured housing, and renovation," says Brandao.
American Financial Resources
Angel Oak Mortgage Solutions
BCF Wholesale
Caliber Home Loans
Finance of America
Homebridge Financial Services
Home Point Financial Corporation
Kind Lending
MiMutual Mortgage
NEXA Mortgage
Paramount Residential Mortgage Group
Plaza Home Mortgage
Rocket Pro TPO
BluePoint Mortgage
United Wholesale Mortgage
The wholesale lenders' performance was measured on the strength of their customer service, technology and software, turnaround time, interest rate, support and training, breadth of product offering, compensation, and referrals generated by the wholesale lenders.