Latest data shows a cooling housing market amid higher interest rates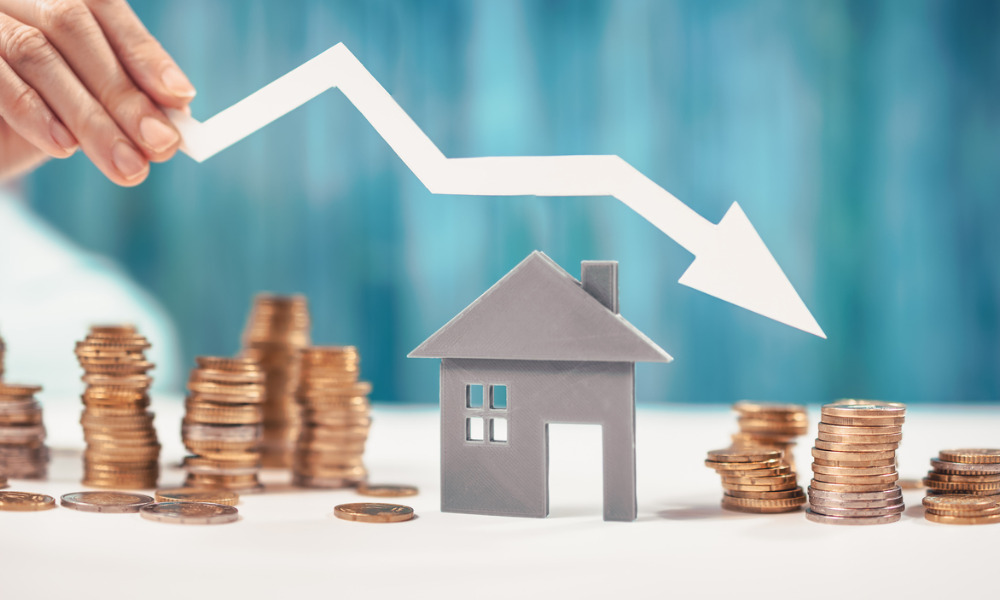 House prices fell to £285,932 in June, down by around £7,500, or 2.6%, compared with the same month last year, recording the largest year-on-year decrease since June 2011, according to mortgage lender Halifax.
Compared with the previous month, the average house price in the UK also decreased slightly by around £300, or 0.1%. This was the third consecutive monthly fall recorded by Halifax.
"With very little movement in house prices over recent months, this rate of decline largely reflects the impact of historically high house prices last summer – annual growth peaked at 12.5% in June 2022 – supported by the temporary Stamp Duty cut," Kim Kinnaird, director at Halifax Mortgages, commented.
"To some extent the annual growth figure also masks the fluctuations we've seen in the market over the past 12 months. Average house prices are actually up by 1.5% (£4,000) so far this year, with most of that growth coming in the first quarter, following the sharp fall in prices we saw at the end of last year in the aftermath of the mini budget."
Kinnaird added that the figures, shown in the latest Halifax House Price Index, suggest a degree of stability in the face of economic uncertainty, as the volume of mortgage applications held up well throughout June, particularly from first-time buyers.
"That said, the housing market remains sensitive to volatility in borrowing costs," she said. "Concerns about persistent inflation have led to a significant increase in the cost of funding. Coupled with base rate rising by another 50bps, this contributed to a big jump in typical mortgage rates over the last month."
Alex Lyle, director at Richmond estate agency Antony Roberts, like Kinnaird, pointed out the noticeable shift in pricing compared with a year ago, saying the depth of demand from buyers is no longer the same.
"The balance of power has shifted more towards those keen to purchase," Lyle explained. "An ultra-ambitious price a year ago could well have been achieved, but now that property could stick.
"There is still lots of activity in the market and a fair amount of stock under offer, although chains are long, and some deals are taking longer to go through than any parties would wish."
Paul Welch, chief executive at London-based LargeMortgageLoans.com, believes there is still a long way to go before a housing market crash.
"Good properties in attractive locations will always sell," he said. "Houses may stay on the market a little longer than before and owners may need to review the price, but chances are that if it's a sound property in a solid location, then it will sell."
Nicky Stevenson, managing director at national estate agent group Fine & Country, agreed, saying that while mortgage rate rises were hitting buyer affordability and cooling house price growth, sensibly priced properties continue to attract high demand.
"The homes attracting the most interest and offers are those that look reasonably priced and take account of reduced household buying power," she reiterated. "Buyers are also looking at properties where there is scope for negotiation, and the prospect of securing a good price on their next home is incentivising them to the market.
"The agreement between the banks and government that struggling mortgage holders will be supported will play a big role in underpinning the strength of the housing market in the coming months."
Kinnaird echoed this sentiment, explaining that the recently announced Mortgage Charter provides important reassurance that mortgage holders have a range of options if they're concerned about making repayments, and that lenders will be flexible when supporting anyone in difficulty.
"Extended terms, affordable repayment plans and alternative fixed rate deals are among the choices for existing borrowers seeking to mitigate the impact of higher interest rates," she said.
Any thoughts on the findings of the latest Halifax House Price Index? Let us know by leaving a comment in the discussion box at the bottom of the page.