The Mortgage Mum shows how it is something to be embraced in order to benefit your business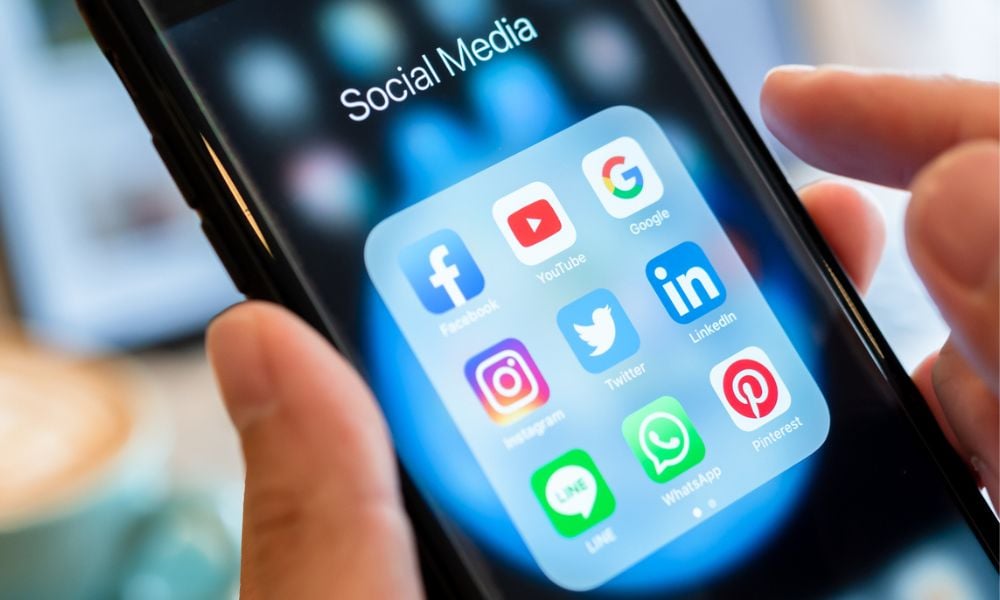 It seems that the mortgage industry has been reluctant to embrace and utilise social media in the same way that other industries do. Sarah Tucker, aka The Mortgage Mum, is bucking that trend and has embraced social media for her business after seeing how people connected to her and others sharing their lives on social media. With just under 1,500 in her Facebook community, 4,200 Instagram followers and a podcast with almost 30,000 downloads; Tucker is clearly using social media to her advantage.
Tucker initially used Facebook live to connect with her audience as a way to easily reach people.
"I was at home doing mortgages and I had to find a way of marketing myself while being able to have the balance that I was looking for and pick my children up and actually service my clients well - so it was about efficiency," she said. "Or, more importantly, let people get to know me in the most time efficient way possible, and so, to me, social media just made sense because I could have one conversation, but it could potentially be translated to 100 or more people with just that bit of time in the day and that's how it began."
Social media is a large part of The Mortgage Mum training - all brokers have their own Instagram page that utilises The Mortgage Mum branding and colour scheme.
"We teach them how to create a brand of their own that has the mechanics and the recognisable traits of The Mortgage Mum, so the values behind the businesses," Tucker explained. "It's like family, it's your life... let people see who you are, what you like, what coffee do you drink, do you have a dog? You know, let people into a place that you feel comfortable sharing."
This has a very effective impact in allowing people to build trust within the brand and the brokers themselves, even before an initial call has been made. "We encourage our team to develop their own flair within the brand, but to keep the core values within their individual pages and it works brilliantly!" she said.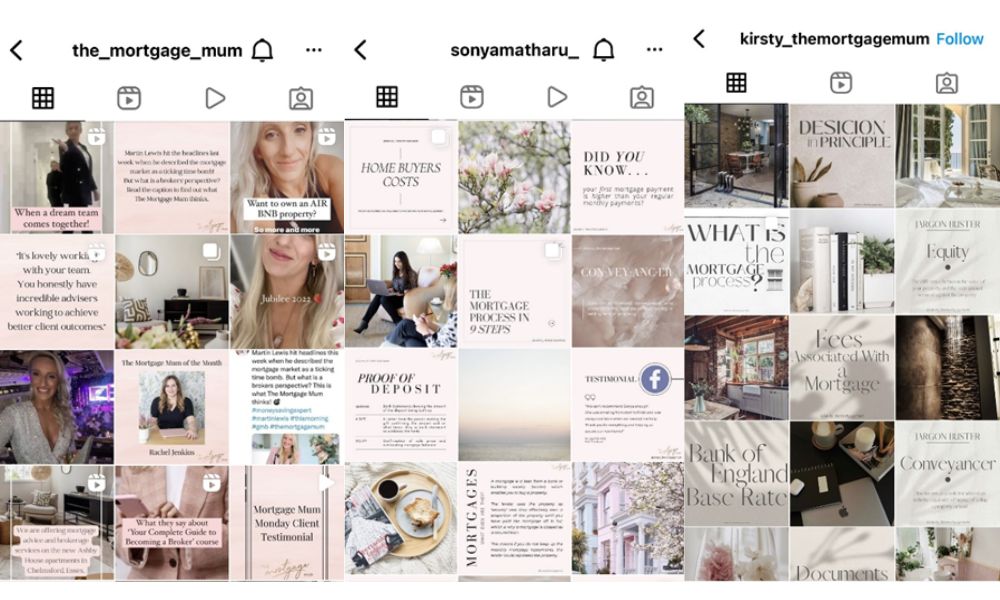 Screenshots of the Instagram feeds of Sarah Tucker, Sonya Matharu and Kirsty Doherty showing the mix of business and personal posts along with the linear colour scheme solidifying the Mortgage Mum brand.
Interaction with potential clients and customers at their own leisure has been something that Tucker has felt was important from the off. She quickly recognised that people are more open to receiving information in their own environment than being caught off guard - and that the more you share about your own life, the more people are open to listen to what you have to say in a business capacity.
"When they're ready, [they] will watch me and take an interest in what we're saying about mortgages," she said. "And so I just started to recognise the psychology behind it, and I thought you can connect with people that you've never even met because absolutely they meet a need of yours at the exact moment you need it - and a lot of my mentors or people that I really look up to or have changed my life, I've never met. They're people who have shared their vulnerability, and they're people that have spoken openly about their own life and experience, and that's then gone on to make my life better. So, I'm kind of driven by that really, the more I share them, the more influence I can potentially [have]."
After seeing first-hand how powerful a reach social media can have and after using Facebook as part of launching The Mortgage Mum off the back of her appearance on The Voice, Tucker wanted to further that for her business and in a way open up the industry to people who were looking for information.
Read more: Feminine does not mean making mortgages pretty
Her podcast has dedicated topics, such as bad credit mortgages and property investment, and offers guidance as to how things seen in the news, such as the Bank of England base rate, will affect people. It aims to offer insight into areas that can often seem daunting to a layman. Tucker appreciates that for some within the industry, this can seem like giving away information for free, however.
"So, a lot of the time, some brokers may think that that's mortgage advice that people would charge for, but I don't subscribe to that," she said. "I do get why people may feel like that, but it's so helpful to people to learn in their own time and to learn in a way that suits them in a time that suits them, because sometimes someone can be talking to you, and at that moment [they're] not ready to hear it."
Tucker admits that using social media can be daunting, especially with new trends and mediums constantly changing, but that by putting yourself out there, the connections made with people can be invaluable to growing your business.
"The world has changed and I have come into the industry at the cusp of that so I have the luxury of not having ever had to do [anything] to fit in here, so I don't know what it's like for somebody that's been kept in a box that would suddenly go, 'I'm not gonna do that anymore. I'm just going to do what I want'. So many people say to me 'how are you allowed to share what you share, don't compliance shut you down?' And I'm like 'no, they don't, because we had that conversation from the outset'. But you have to keep putting yourself out there. You have to be willing to celebrate what you do and forget what other people think. You have to set the example that it is OK for you to share your wins and rate yourself online and talk about yourself online."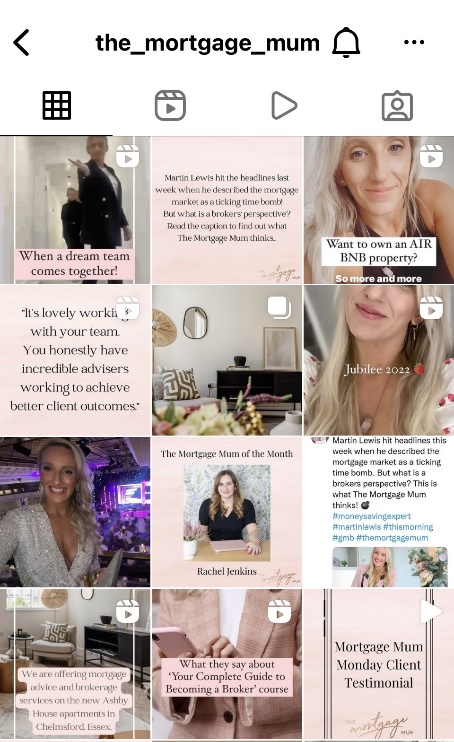 A screenshot of Tucker's reels page on Instagram showing the number of views on each post.
Tucker's top tips for using social media
Tucker posts daily on Instagram and Facebook with posts being planned a week in advance, but additional posts being added on an ad-hoc basis.
"Consistency is key across the board"
"You have to stay on top of the changes in each social media app as much as you can!"
"Instagram stories are always off the cuff and organic"
Instagram reels are posted 3-5 times a week "as this performs best with the current algorithm".
"LinkedIn [posts are made] whenever I feel like sharing something that comes from the heart"