"It had come true in a way I would never have imagined"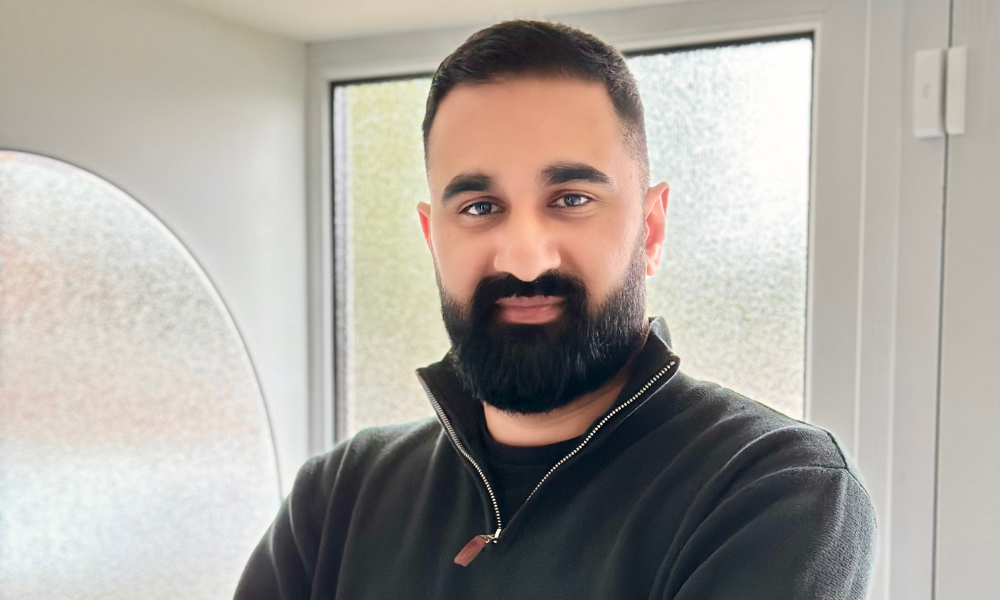 At a young age, Gaurav Shukla – now the owner and chief executive of mortgage startup home me – already knew what he wanted to be when he grew up.
"As a young kid, from around 10 or so, I wanted to be a business owner," Shukla (pictured) told Mortgage Introducer. "It was probably the movies I used to watch like 'Wall Street', and seeing them with the flashy cars, nice suits, and mobile phones – those big bricks back in the 90s growing up. I wanted all of that when I was younger."
Shukla also preferred a career in finance as he was good at maths. He went to university, but when the 2008 global financial crisis hit, he had second thoughts about continuing his studies, knowing that companies were then looking for new hires with experience rather than the best results in their chosen degrees. So, he looked for jobs in finance, but due to the financial crash, there weren't many for someone inexperienced like him.
Starting in sales
He eventually landed his first main job, as a sales consultant at a mobile phone retailer in Windsor. There, he learned the skills for sales.
"This was hard sales and taught me to never give up," Shukla recalled. "As I gained a couple of years' experience, I moved to Santander as a personal banker. This was my first step into financial services, and it was only after a really short period of time that I enjoyed it and felt this is the sector I want to be in."
After a couple of years at Santander, he moved to London & Country Mortgages.
"To date, this is still one of the main experiences I am very fond of," he remarked. "I was a young 22-year-old when I joined, worked in their London office when it first opened, and made a name for myself in the industry.
"My manager at the time, Rahul Nath, was unbelievably supporting of everything I did, and taught me everything he knew. We still keep in touch now 10 years later!"
Shukla said he was put in the deep end at L&C, learning everything about mortgages and protection as if he had been doing it for many years already.
"It was a crazy challenge but one I loved. I wouldn't have changed anything, but after two years, for personal family reasons, I had to leave to be closer to home," he related. "During the next five years, I worked at an estate agency brokerage, which I ended up not liking.
"I was shortly approached by a fintech startup, Dynamo Mortgages, which was a joint venture with Blenheim Chalcot and Countrywide. This was an amazing experience and taught me how to build a mortgage business from scratch, as I was their first broker they took on. We launched the business five months after I had joined, but as it typically goes with startups, it didn't last long at all. I was made redundant from Dynamo Mortgages and subsequently moved to a proptech startup, followed by a wealth management firm."
Pandemic
Then, the COVID-19 pandemic had hit, and everything had changed for Shukla. He ended up having more free time in the evenings, by working from home, and weekends were free. So, he decided to get a Diploma for Financial Advice. At the time, he didn't want to do anything with it, but felt it may come in use in the future.
"During the pandemic, I had thought about where I was in my career, where I wanted to be, and how this would pan out with my wife," Shukla said. "I wanted to become a self-employed adviser as a one-man band, with the plan to grow the business and hire more people after a year or two.
"I was eager to do this without real thought, and my wife quickly sat me down and discussed everything. It wasn't the time for me to do it. I wanted more for myself as I had helped two startups already and helped hundreds of clients with their mortgages. I was very good at what I do, but it wasn't the time."
The home me opportunity
In October 2021, Shukla was approached by a recruiter he knew, who mentioned a new mortgage company was looking for a team leader. He took the job the minute he was offered the role of sales manager. He thought the opportunity would benefit him hugely for his career and his goal of one day setting up his own mortgage firm.
The company he joined was called home me. It was owned by Bulent Kandemir, who is also the owner of Intra Private Finance, and Proportunity, a private equity loan lender. Shukla was reporting directly to the owners, but also had a lot of influence into how the process would work.
"I helped create the sales process for the business and how we should operate, so we can help more customers that come our way," he recounted. "There wasn't any marketing done for home me, as we relied on the relationship with Proportunity and self-generated leads.
"However, around June 2022, I handed in a business plan to the owners of the business and explained where I would like to see home me go. A few months later, I was offered the chance to take ownership of the business and take over Proportunity's majority share in the business."
Shukla said he knew he wanted to do it as he had already helped set up the business, and they had a good process in place. He added that it was vital for him that if he took over, they would remain as an appointed representative of Intra Private Finance, but that Kandemir also remains as a director – whose experience and guidance he always considered invaluable.
"My dream of one day setting up my own mortgage business had come true in a way I would never have imagined," he said. "I worked hard my entire career for this moment, and was eternally grateful for the opportunity."
Taking charge
Since taking over the business, Shukla has changed a few things at home me – a new website and a new logo to signify a change in ownership and direction, but the existing staff remained during the changeover.
As Shukla lives in Maidenhead and is a huge football fan, the company became sponsors of Maidenhead United Football Club. They help the staff, both playing and non-playing, with their mortgage and protection needs, as well as offering services to the local community in Maidenhead and Berkshire.
"The vision is to focus on local areas, and not become too big, as I never want to lose focus of the service we are able to give to all of our clients," Shukla stated. "I want the employee to feel part of a family, and as equally important, I want our clients to feel at home when they speak to us."
He said that he had taken the parts he never liked in his career and vowed that they wouldn't be happening at home me. He wanted to bring good culture to the company and make it a respected brand within the community.
"My main goals at home me are to provide a safe and fun working environment to all our employees, maintain a close relationship with all our clients, and continue to give back to our local communities," Shukla shared. "So, when you need mortgage advice, you know you can come to home me, and we will look after you."
Are you a mortgage broker who also has a story to tell? Leave a comment in the discussion box at the bottom of the page, and you might get your story featured here too.