LendingPad streamlines the loan origination process, improving real-time collaboration and reducing costs. Read our LendingPad review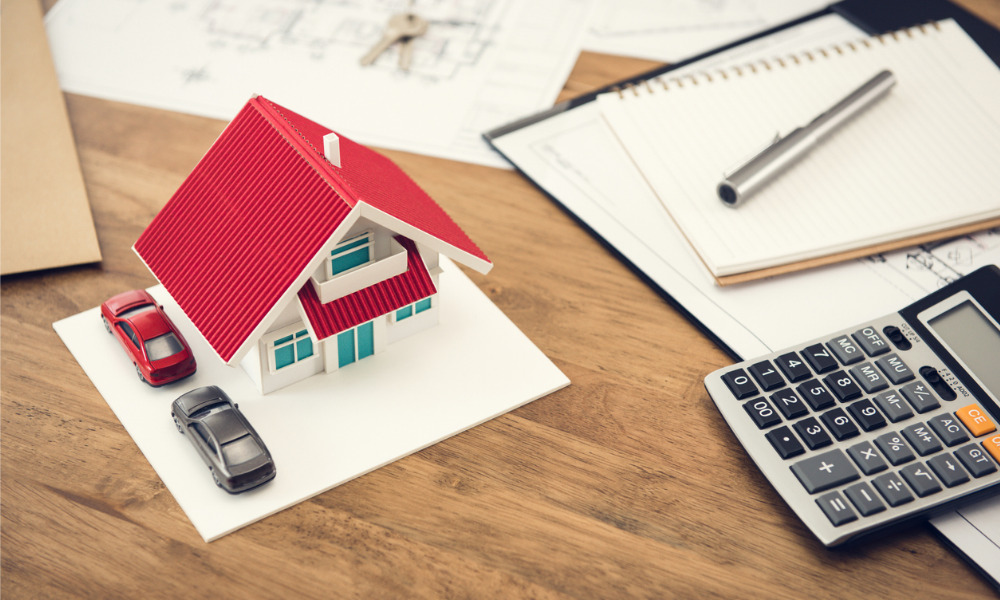 LendingPad, an innovative loan origination system, was created by residential mortgage professionals in 2015 to improve user experience, inspire better lending decisions, and further enhance originators' abilities. Since then, LendingPad has become a top-tier, end-to-end innovative LOS which offers unique features like same-file multi-user edit capabilities and real-time pushed updates, among many others.
With specific editions for mortgage lenders, brokers, banks, credit unions, and other financial institutions, LendingPad's goal is to improve real-time collaboration while saving money on the cost of operations. It also features an in-built customer relationship management (CRM) tool. For the purposes of this review, we will be focusing on it as a loan origination software tool only.
But there is more. In this LendingPad review, we will look at what LendingPad is, its key features and benefits, the company the makes it, as well as its costs.
LendingPad is a mortgage loan origination system (LOS) that enables mortgage companies to manage and streamline the loan origination process, as well as drastically improve customer experiences. LendingPad offers specific editions for lenders, brokers, banks, credit unions and other institutions, aiming to improve real-time collaboration on tasks that, ultimately, reduce costs.
LendingPad, which is cloud-based, offers numerous features that include the following:
Customer relationship management (CRM) tool
Document archiving
Compliance check
Custom workflows
Real-time updates
Loan tracking
Service level agreements
Lead and campaign management
LendingPad also allows mortgage brokers the ability to initiate home loan processes from anywhere in the world, as well as add unlimited numbers of branches and users to improve flow and manage leads.
Not only that, but LendingPad allows bankers to manage warehousing activities, perform post-closing audits, track loan inventory, and handle secondary tasks with investors. LendingPad's centralized portal gives institutions a dashboard to monitor multi-user application processing and omnichannel pipelines. LendingPad also integrates with several third-party applications, which further enables businesses to facilitate home loan processes. Here are those as they feature on their website: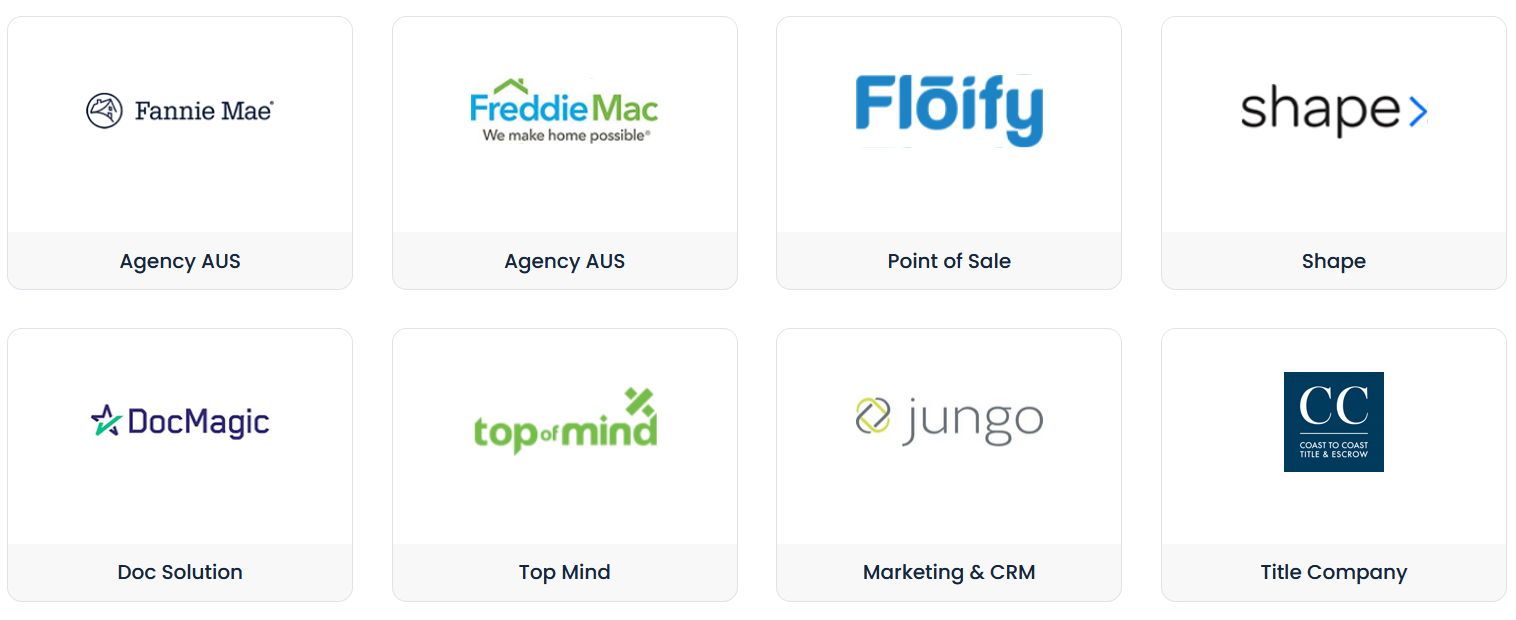 LendingPad offers a unique web-based, end-to-end innovative loan origination software (LOS) for residential mortgage lending. One of LendingPad's key strengths is that everything is built-in, providing real-time updates and collaboration across departments, as well as insightful analytics and management.
Among LendingPad's key features are specific solutions for each of the following:
Brokers
Lenders
Processing Centers
Let's take a closer look at each to give you a better sense of what is specifically on offer:
Brokers
LendingPad allows mortgage brokers to originate home loans at any time, from anywhere, and on any device. Through LendingPad, brokers can increase efficiency and shorten the lending cycle in the following ways:
Intuitive screens to review home loan information efficiently and quickly
Real-time notifications and multi-user processing that simultaneously updates files
Connectivity options to numerous lenders and vendors, which eliminates redundancies within the system
Integrated document management creates paperless loan files
Lenders
LendingPad also allows mortgage companies to scale their business to the next level. The following is included in LenderPad's lenders edition:
Enterprise API for flexible and synchronous exchange of data
Capabilities to perform warehousing activities and banking functions
Funding, secondary, and post-closing functions with any number of users
Third-party channel administration as well as complete secondary tasks with institutional investors
Processing centers
With LendingPad, you will be able to equip contract processing teams with the ability to serve more clients—and at larger volumes. Here is a look at how LendingPad can benefit processing centers:
Centralized source system to limit data transfer issues
Focus on team functions with numerous role definitions, such as processor, manager, closer, funder, and post closer
Single sign-on access as an extension of any customer's existing back-office team
Efficiently streamlined multi-client pipeline management with task segmentation
LendingPad was created by mortgage professionals to optimize the loan origination process. LendingPad was designed for brokers and bankers and is fully integrated with vendors, offering the ability to customize. Brokers can use LendingPad to originate home loans from anywhere—so long as there is an internet connection.
Here are some of the key benefits of using LendingPad:
Manages compliance. LendingPad offers licensing compliance configuration and standard compliance rules, ensuring data is protected with security measures.
Control day-to-day tasks. LendingPad features customizable workflows, forms, and business logic, which can be configured.
Access to service providers. Through the LendingPad network, you can gain access to numerous service providers and third-party partners like lead providers and secondary market investors.
Real-time connection. LendingPad will also connect you to lead providers, campaign management tools, loan tracking, and real-time loan pushed updates.
Business metric insights. LendingPad offers insights into business metrics with real-time, customizable reporting and dashboards for an at-a-glance look at all channels.
LendingPad costs $40 per month per user and offers a single plan entitled Broker Edition. Here is what LendingPad's Broker Edition will buy you:
Retail channel
Email support
Free Weekly Live Training
Broker's Feedback Forum
Unlimited Document Management
LendingPad Network Access
Integrated Service Providers
Standard Support Hours
Optional features: Disclosures with e-sign; custom e-sign documents; phone and extended support

LendingPad review: Company overview
Headquarters: McLean, Virginia
Number of employees: 27
Industry: Mortgages and LOS/CRM
Revenue: $5.5 million
Key people: Wesley Yuan, Founder and CEO
Competitors
Newgen Software Loan Origination System
LendingPad
i-Apply
Encompass360
NetOxygen Enterprise
Is LendingPad a CRM?
Yes. LendingPad's loan origination system fulfills the role of a CRM, or customer relationship management. LendingPad also operates as a point-of-sale (POS) system, an electronic document management system (DMS), and workflow management, among others. In other words, LendingPad has an intuitive design that creates a cloud-based digital mortgage experience for financial institutions to optimally run their mortgage lending operation.
The CRM functionalities of LendingPad allow for lead nurturing from traffic to close—and beyond. Mortgage lenders can gather leads from several sources, such as with lead generators and mortgage brokers. This function increases efficiency through a streamlined lead management program.
Is LendingPad cloud based?
Yes. LendingPad is cloud based. This LOS software enables businesses to improve the customer experience and manage and streamline the mortgage loan origination process, with specific editions for lenders, brokers, and banks, among others.
LendingPad streamlines the complex and interconnected loan origination process. How? By allowing real-time collaboration between mortgage brokers, lenders, borrowers, and service providers.
As mortgage loan origination software, LendingPad offers numerous integrations and features that can instantly make life easier for all involved in the mortgage loan origination process. Even better, you can track your teams progress in real time. Your choice on whether it will work for your company will come down to how connected you want to be through every step in the process.
If you are not quite sure that they are the right fit, we invite you to pay attention to our mortgage broker software reviews section as we will continually be adding new pieces of software for you to choose from.
Do you have experience using LendingPad? Do you think it is an effective tool to stay connected throughout the mortgage loan origination process? Share your LendingPad review in our comments section below.