Jump to winners | Jump to methodology | View PDF
The broker channel is becoming an increasingly important part of the core business of Australia's banks.
Mortgage brokers wrote 66.5% of all new residential loans last year and are also showing their value proposition in the growing asset finance and commercial sectors.
Faced with a confusing and stressful world of COVID lockdowns and restrictions, and the major economic shockwave that the pandemic brought upon homes and businesses, it was only natural that people turned to brokers when times got tough.
But it wasn't all about struggle – there were plenty of clients who wanted to make the most of an incredibly low interest rate environment and forced savings to buy property, refinance and renovate. Brokers were perfectly placed to navigate the myriad of finance options out there and find the best solutions.
The banks that invested in the broker channel by offering speedy loans at the best rates and with the best technology to make the process streamlined and stress-free were rewarded with the top spots in the 2022 Brokers on Banks rankings.
The annual survey asked brokers across Australia to score banks' performance in the last 12 months across 10 criteria: credit policy; brand trust; communications, training and development; commission structure; diversification opportunities; turnaround times; online platform and services; interest rates; BDM support; and product range.
While many of the banks that have ranked highly in the past few years are again among the place-getters, some have dropped out of the top three altogether. One of the major banks has leapt into a top spot – a great result given that the big four copped a lot of criticism last year over turnaround times.
There's a new Broker on Banks winner this year, which shows just how competitive the sector is and how willing banks are to lift their game to attract one of their most important customers – brokers.
Read on to discover which banks were voted the best and for a full analysis of the results. Thanks to all the brokers who took part in this highly valuable survey.
PRODUCTS AND PRICING
A low interest rate environment has supercharged the number of people seeking to enter the property market or wanting to refinance for a better home loan deal, so it's little wonder that brokers are looking at banks' rates and product ranges.
Nobody has a crystal ball and can predict just when the Reserve Bank of Australia will finally lift interest rates, but many financial commentators are putting their money on August.

While the RBA contemplates raising the official cash rate for the first time in 12 years, over the past year brokers have focused on achieving the best loan value for their clients.
The 2022 Brokers on Banks survey reveals that CBA is regarded as having the best interest rates. It has taken the number one spot in this category from Bankwest, which won in both 2020 and 2021. Macquarie was ranked third, while NAB dropped out of the top three this year.
CBA also came out on top for its credit policy, the third year in a row that the big bank has won the nod from brokers. As they have done over the last two years, Bankwest and Macquarie took second and third places respectively.
Credit policy is the most highly valued factor for brokers in this year's survey: the majority of respondents said it was very important, ranking above brand trust, communications, training and development, and commission structure.
When ranked on product range, which was least important to brokers, Macquarie tied with CBA for the gold medal, while Bankwest came second and ING third.
In terms of diversification opportunities, which were of equal importance to brokers as turnaround times, CBA took the spoils, followed by Macquarie and Bankwest.

2022 has been a particularly strong year for CBA – it has won the interest rates, product range, credit policy and diversification opportunities categories. This is an improvement on last year when it received a gold medal for credit policy but came second in diversification and third for product range.
"My clients choose what is best for them," one broker said. "However, CBA seems to be a popular choice, and this is mainly around credit policy, technology, turnaround times and having 100% Australian employees with no need to offshore parts of the business."
While in the 2021 survey brokers said bank product ranges and pricing had improved 44.27%, in 2022 this fell to 25.27%. Half of all brokers said there had been no change, while the number who said they had worsened doubled from 8.85% to 17.74%.
When asked about the banks' pricing, one broker said: "No one is better than another. All seem to make profit off of their existing clients while giving better deals to new business."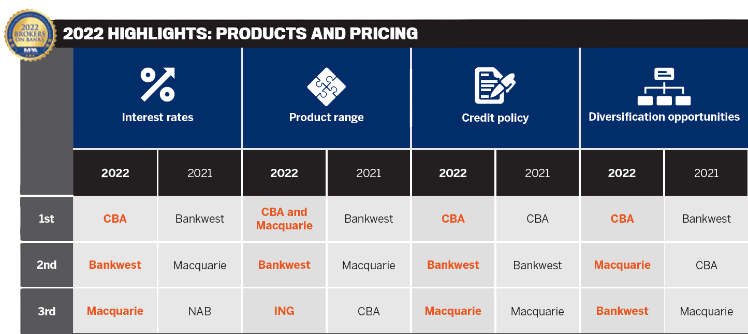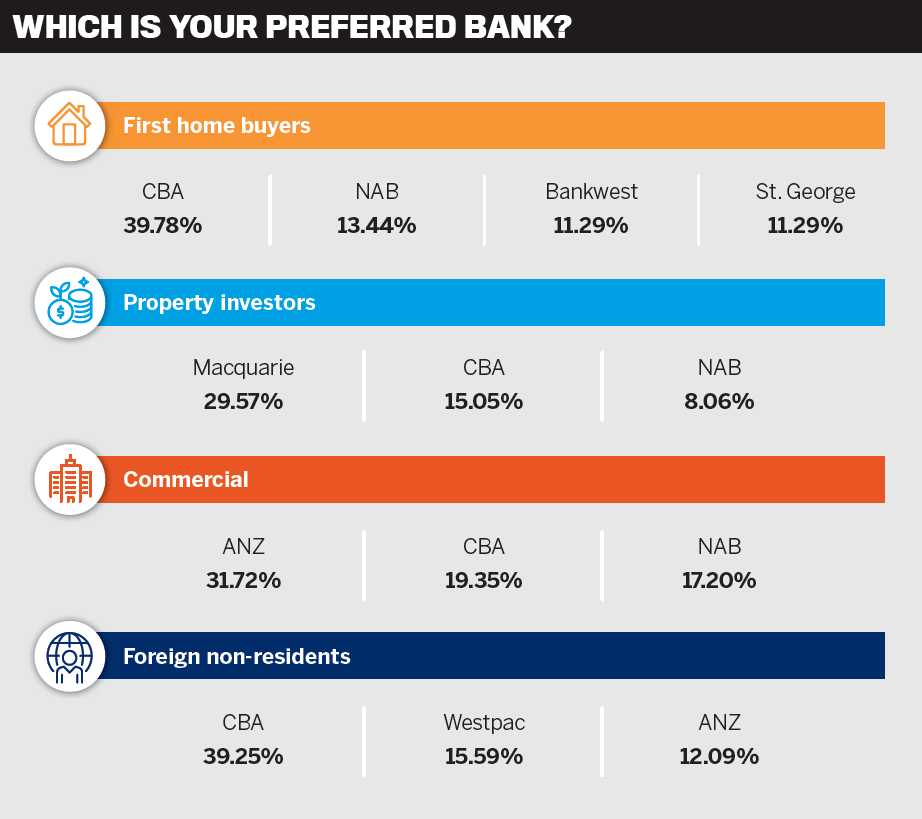 SUPPORTING BROKERS
It's no surprise that, with major growth in loan volumes, brokers are placing heavy emphasis on lenders' commission structures.
When you run small businesses as brokers do, you want to make sure you get paid for the work you do and promptly.
While turnaround times and diversification opportunities were important to brokers when it came to judging lenders in the Brokers on Banks 2022 survey, commission structure was more so.
In 2021, commission structure was well down the list in terms of broker priorities, but its relevance has risen as brokers have pumped out a stunning number of loans this year.
More and more Australians are turning to brokers to help them navigate the increasingly diverse and complex array of finance options on offer, whether for homes or businesses.
While the latest MFAA figures show brokers enjoying almost 67% market share, many in the mortgage finance industry believe it won't be long before brokers hit 70% and beyond.
Bankwest held the top spot for commission structure in 2022 for the third year running. Macquarie jumped from third place in 2021 to second place this year, with ING in third. It was the second survey in a row in which no major banks featured in the top three for commission structure.
Macquarie also won the communications, training and development category, after Bankwest dominated that area in 2020 and 2021. CBA took second place, while Bankwest was voted third.
It's clear brokers value learning and education. In a finance industry facing ever-changing regulations, the open banking revolution, a wider array of loan products and providers, as well as new technology, professional development is vital.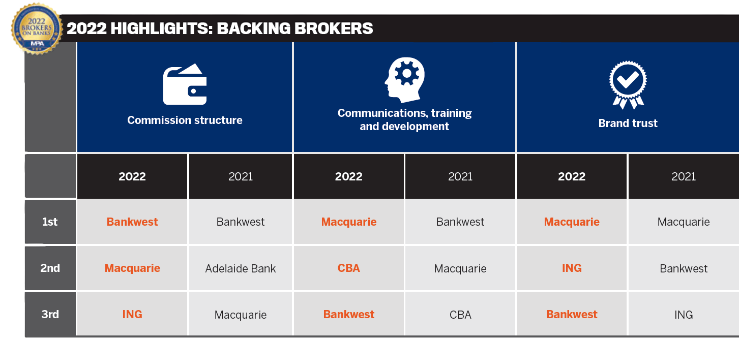 Brokers constantly highlighted banks, particularly BDM teams, that were easy to communicate with and provided good levels of support.
Commenting on giving CBA their vote, one broker said it was "due to policy, turnaround times and open lines of communication within all departments of the bank. CBA are very proactive in picking up the phone in a bid to move the fi le on, as opposed to other lenders who tend to pend a file and send a MIR at the drop of a hat because you forgot to include the date the applicant's grandfather climbed out a trench at Gallipoli and the color of his underpants he wore on that day".
Finally, brand trust was the second most important factor for brokers when choosing a bank. With so many lenders and products available, brokers want to know the banks they work with have a solid reputation.
This year's top three banks for brand trust are Macquarie, ING and Bankwest respectively. ING and Bankwest have swapped places in 2022, with ING climbing one spot to take second place.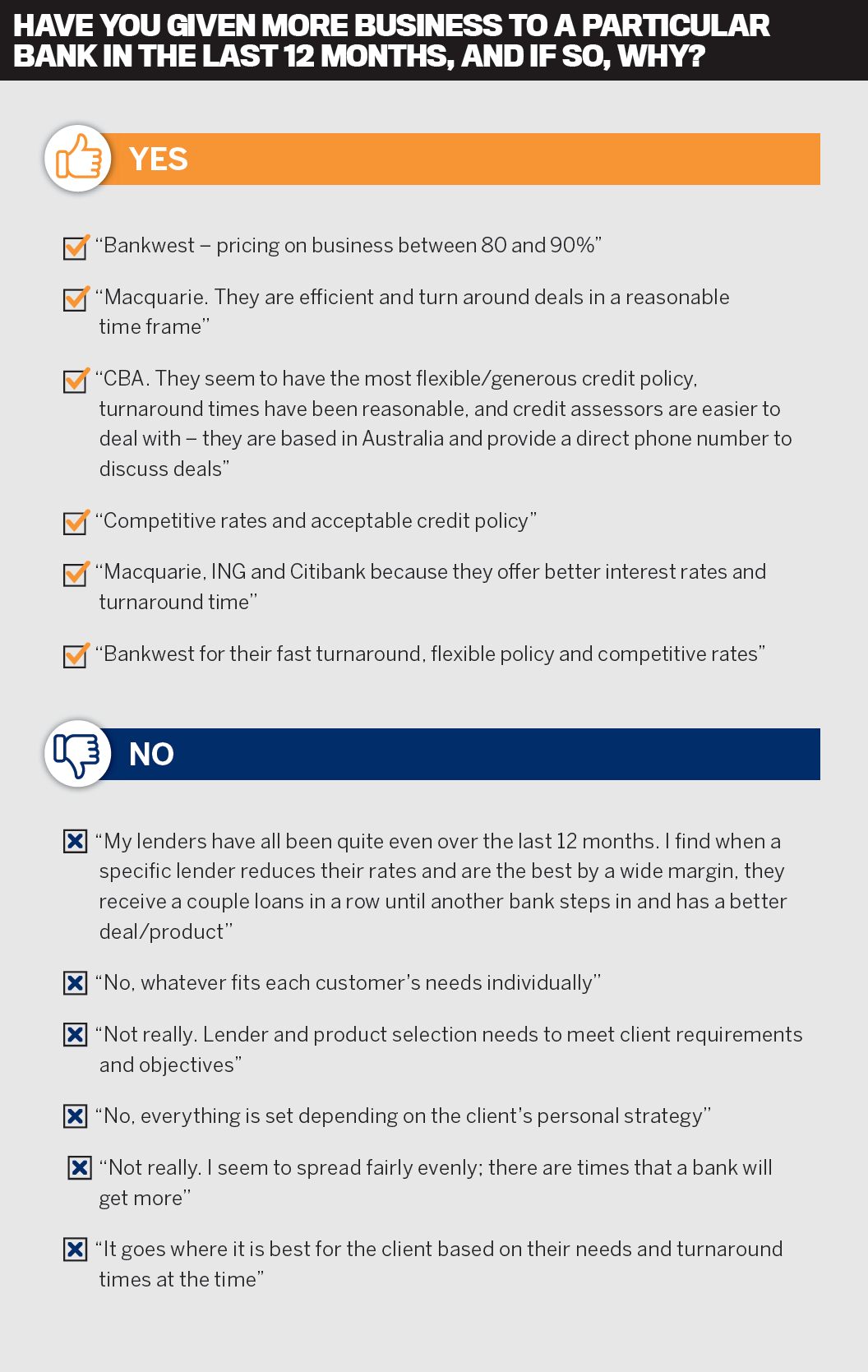 TECHNOLOGY, TURNAROUND TIMES AND SERVICE
In a repeat of the first year of the pandemic, the most frustrating and pressing issue for brokers has again been slow turnaround times, but concerted efforts by lenders have seen these improve recently.
Mortgage brokers have been caught between a rock and a hard place when it comes to turnaround times. They have experienced incredible loan growth, with clients demanding fast loan decisions so they can take advantage of an extremely hot property market. On the other side of the loan equation, brokers have been hampered by lengthy delays when it comes to decisioning and processing.
Some of the bigger banks – particularly those with large offshore back-office operations – have struggled to cope with the massive surge in loan volumes and have suffered bad publicity as a result. However, with concerted efforts on their part, including hiring more credit staff and using digital tools such as DocuSign, and spurred on by the lobbying efforts of the MFAA, banks started improving their turnaround times on the back end of 2021.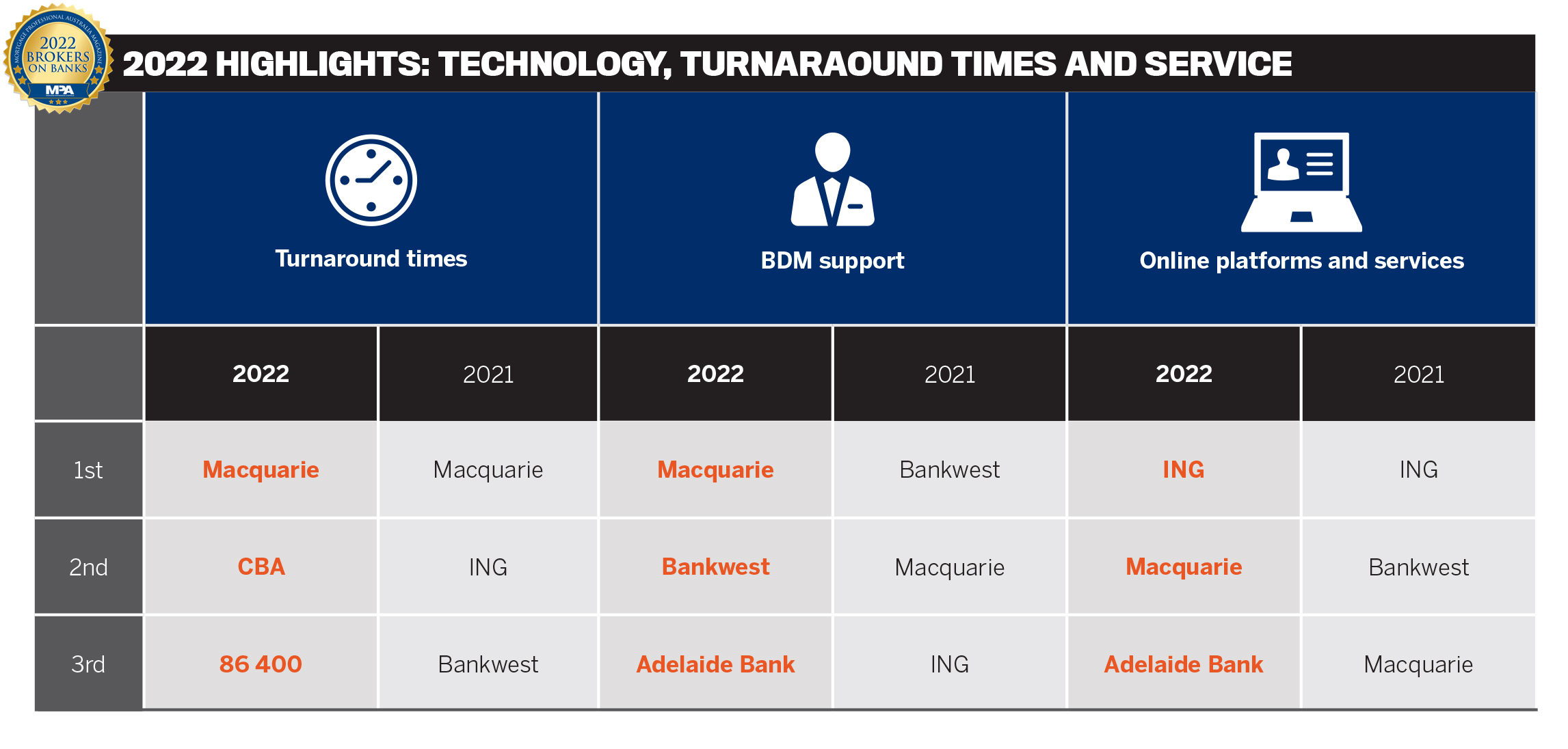 In MPA's 2021 survey, 70.83% of respondents said banks' turnaround times had worsened significantly, but this year that figure dropped to just 14.52%.
Almost 39% of brokers said turnaround times had improved in 2022, while 25.81% said they had worsened, an increase of six percentage points from 2021.
Brokers liked the fact that a number of lenders have invested significantly in technology, upgrading lending platforms and making greater use of electronic documents and digital verification of identity. They also appreciated banks that used comprehensive credit reporting to speed up the process.
"Adoption of IDYou for VOI. It's even easier than ZipID. Increase in use of digital signatures for application forms and loan docs," said one broker.
Another said, "CCR has reduced supporting documents and subsequently reduced approval SLAs."
For the third consecutive year, Macquarie was ranked first by brokers for its turnaround times. CBA and 86 400 placed second and third, respectively, in this year's survey.
BDM support is also important to brokers. Macquarie topped that category this year and Bankwest placed second, with Adelaide Bank third.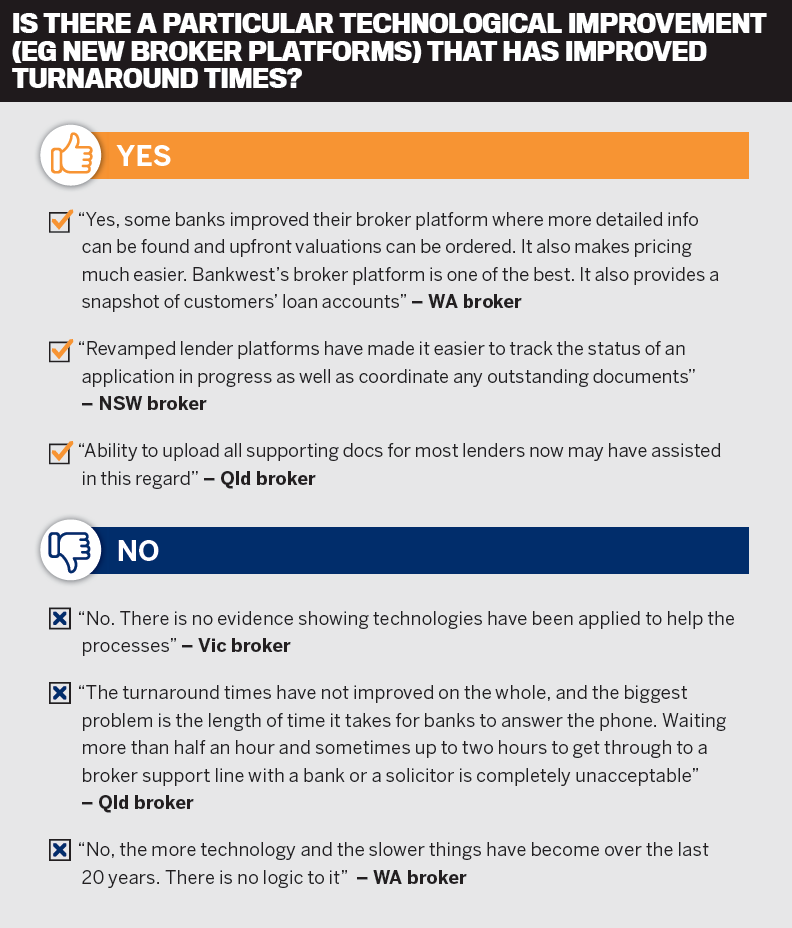 WHAT YOU'RE SAYING
It's been a roller-coaster ride for brokers over the past 12 months. Here's what they had to say about COVID-19, channel conflict, responsible lending changes, and the assessment of living expenses by banks.
Brokers haven't had a moment's rest in the past two years.
They have had to adjust to pandemic lockdowns forcing them out of the office and away from face-to-face meetings with their clients.
COVID-19 has brought about a revolution in terms of work-from-home arrangements and the use of digital technology to communicate with clients and enable them to sign documents and verify their identities.
When asked in the survey whether the pandemic had improved the lending environment or made it worse, brokers were mainly positive about the changes it had brought. This included the ability to grow their customer bases beyond their traditional physical locations, as well as streamlining of the loan process.
An unprecedented property market boom has provided a major shot in the arm to broker businesses. But banks have been chasing these loans as well, often through first-party means, raising concerns about channel conflict, with some brokers experiencing long loan turnaround times compared to in-branch response times.
While the federal government wants to scrap responsible lending laws to speed up credit fl ow and strengthen the economic recovery, the proposal has yet to make it through Parliament. Already operating under their own best interests duty regulations, brokers have mixed views about the move. Some support the removal of responsible lending laws, calling them an unreasonable burden, while others say they should stay to protect clients.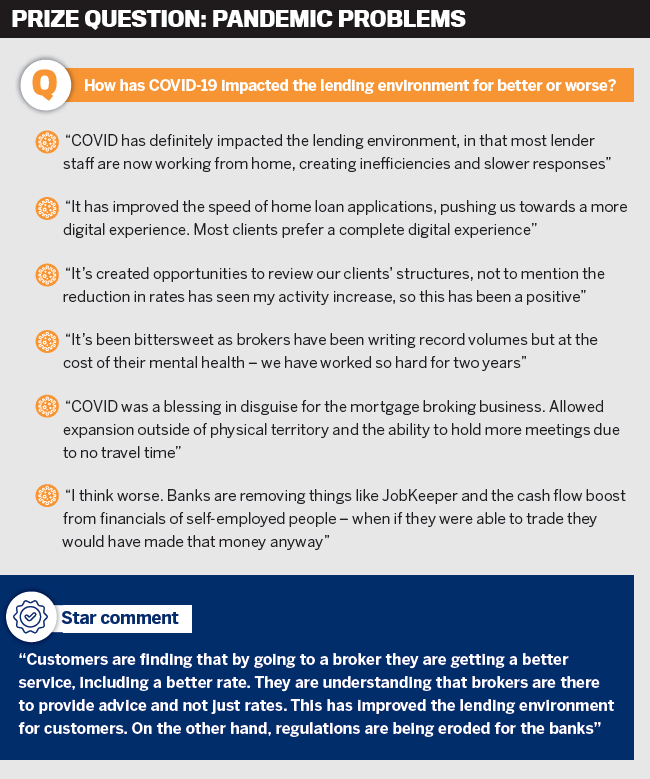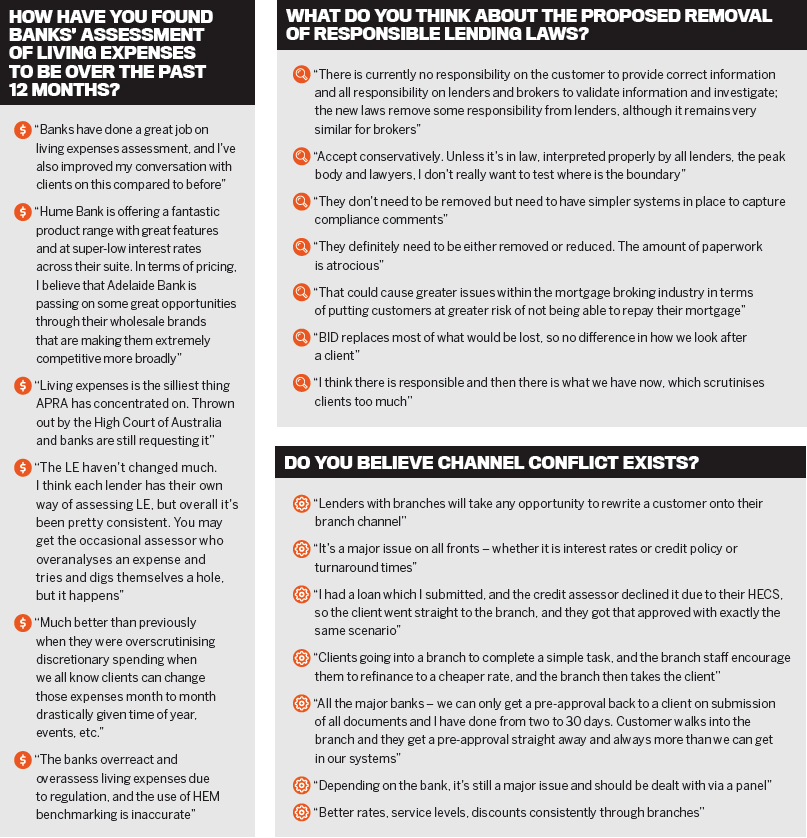 FINAL RESULTS
MPA presents the overall winners of the 2022 Broker on Banks survey, highlighting the areas these banks excelled in and why brokers favoured them above the rest of the pack.
1st - Macquarie

2nd - Bankwest

3rd - CBA
4th - ING


Overall Score: 3.66

5th - NAB


Overall Score: 3.48

6th - Adelaide Bank


Overall Score: 3.42

7th - Westpac


Overall Score: 3.31

8th - 86 400


Overall Score: 3.27

9th - ANZ


Overall Score: 3.20

10th - Suncorp


Overall Score: 3.20
Note: Scores go from 1 (very bad) to 5 (very good)

MACQUARIE
1st
Position in 2021: 2nd
Position in 2020: 2nd
After finishing runner-up in the last two years of MPA's prestigious Brokers on Banks survey, Macquarie has finally earned the ultimate accolade as brokers' number one bank in 2022.
The bank has reinvigorated its strong focus on the third party channel, and its efforts are clearly bearing fruit. The bank won the top ranking this year in six of the 10 categories voted on by brokers. It won gold medals for turnaround times, BDM support, brand trust, and communications, training and development, and placed equal first with CBA for product range.
Macquarie also topped the brand trust category in 2021, and this year's gold medal for turnaround times – which brokers rank as very important – was its third consecutive win in this category.
Macquarie also grabbed second spot for its commission structure, online platform and services, and diversification opportunities in 2022. Communications and training and BDM support have been particular areas of strength.
It's been a rapid rise for what is now one of Australia's largest banks by capitalisation. Just four years ago, Macquarie could only manage ninth place. It then jumped from eighth in 2019 to third in 2020 and second last year and has now surpassed Bankwest to come out on top.
The bank's challenge will now be to cement its top spot in future surveys.
Macquarie has reinvigorated its strong focus on the third party channel, and its e orts are clearly bearing fruit

BANKWEST
2nd
Position in 2021: 1st
Position in 2020: 1st
Bankwest has been at the top of its game for the past two years, taking the title as the best bank in 2020 and 2021.
While Macquarie has overtaken Bankwest this year to win the number one spot, the performance by the Perth-headquartered bank with a national presence has been incredibly strong. For the third consecutive year, Bankwest's commission structure – a feature brokers rate as important – was voted the best, winning gold. The bank also won second spot for BDM support, credit policy, interest rates and product range and third place for brand trust and diversification opportunities.
Bankwest has slipped slightly in areas it previously ranked at the top, such as communications, training and development (which it won in 2020 and 2021) and also product range, in which CBA and Macquarie dominated this year.
But Bankwest continues to be ranked highly as a broker's option for first home buyers.
It was also mentioned by a number of brokers who were asked which banks they had given more business to in the last 12 months. Bankwest was praised for its consistent and helpful policies for the self-employed.

CBA
3rd
Position in 2021: 7th
Position in 2020: 3rd
CBA has lifted its game when it comes to engaging with brokers and meeting their needs.
In perennial third place from 2017 to 2020, Australia's biggest bank fell to seventh place in 2021, most likely on the back of pressures arising from the massive growth in loan demand and a blowout in turnaround times. But in 2022, CBA is in the winners' circle again, leaping back to third position. Brokers liked its excellent performance in four areas – CBA won gold medals for credit policy, interest rates, diversification opportunities and product range, sharing the spoils with Macquarie in this last category.
Its turnaround times have also majorly improved in the eyes of brokers, with CBA getting the nod for second spot in this category, as well as in communications, training and development.
CBA outshone other banks when it came to brokers choosing a bank for first home buyers or foreign non-residents. It was also ranked second choice for property investors and commercial clients.
In terms of sending more business its way, brokers commented on CBA's flexible and generous credit policy, attractive rates and good customer service. They also liked its turnaround times and communication.

ING
4th
Position in 2021: 3rd
Position in 2020: 4th
ING has dropped one spot this year, from third to fourth place.
One of Australia's biggest banks, ING has always had a strong digital offering – it introduced the country's first high-interest, fee-free online account 21 years ago.
For the second year in a row, ING has won a gold medal for its online platform and services.
Brokers also rated the bank highly in a few other areas, placing it second on the ladder for brand trust and third for product range and commission structure.
The also liked ING's excellent rates and clear credit policies.

NAB
4th
Position in 2021: 5th
Position in 2020: 7th
Australia's third-biggest bank has maintained its fifth-place position in 2022, achieving a slightly higher score to keep that spot.
While it didn't win any categories, NAB was rated highly by brokers as a good bank for their first home buyer, property investor and commercial clients.
In terms of how brokers ranked NAB by category, its brand trust came top, followed by product range, then commission structure.
Like the other big four banks, NAB had some difficulties with turnaround times, but a few brokers commented that its SLAs had improved and its BDM support was good.
BROKERS' PICKS
As well as ranking the banks in 10 categories, brokers were asked to name their favourite mortgage products of the last 12 months. Here are the top four
Macquarie

CBA

Bankwest

Westpac
MACQUARIE

Off set Home Loan Package
This year Macquarie Bank has knocked Bankwest o the top rung with this popular product, which was ranked the second most popular mortgage product in 2020 and 2021. Brokers praised Macquarie for its competitive rates, fast turnaround times and great BDM support. They also liked the fact that it allowed up to 10 o set accounts per package and featured an "excellent banking app".
"Cheap rates, consistent credit policy, good BDM, good internet banking and client services and quick turnaround times," said one broker, while another said, "They are very quick, consistent and easy to deal with. They also provide sharp rates."
One broker also liked that the o set offering suited investors building portfolios, and another commented that the loan was easy to manage and track post-settlement, including retention pricing.
"It suits high-net-worth clients demanding fast turnaround and multiple o set accounts," a broker said.
CBA

Mortgage Advantage Home Loan Package
CBA's MAV loan has certainly gained favour with brokers in 2022. The loan package did not even feature in the top four in 2021 and was in fourth spot in 2020.
Credit policy, versatility, being simple and easy to use, the ability to split products, and pricing discounts were among the reasons brokers gave for picking the MAV package.
DocuSign was a big motivating factor for one broker. "CBA moving to DocuSign for clients in these times has assisted with fast settlements. The delays with paper processing during the pandemic caused poor service, and I was happy that CBA came to market with DocuSign," they commented.
Another broker said, "Product was competitive and also made the product value more due to good turnaround at that time as well."
Cheap rate-lock fees and the inclusion of credit cards also won brokers' backing.
BANKWEST

Complete Home Loan Package
While it's not in the number one spot it has enjoyed for the past three years, Bankwest's Complete Home Loan Package is still a broker favourite, winning third most popular loan product.
Flexibility, highly competitive rates and quick turnaround times were mentioned by brokers rating Bankwest's offering.
"A lot of first home buyers cannot save a large enough deposit to go 95% inclusive – this gives them an option outside of Keystart to get in and change to a lower rate after 12 months," one broker said.
The ability to set up multiple o set accounts also impressed brokers. Other comments included: "This is a great offer with an o set option and competitive rate", and "Guarantor loan is an excellent product and easy to understand".
WESTPAC

Flexi First Home Loan Package
The major bank only came in seventh in the Brokers on Banks survey overall, but brokers clearly like Westpac's Flexi First offering, voting it the fourth most popular bank product.
So, what did brokers say about what Westpac had to offer? They highlighted the product's low rates and flexibility.
"Sharp rate, low maintenance costs, flexible for multiple purpose," one broker said.
In the words of another: "Lowest rate for almost any product, but still available for first home buyers at 95% LVR. Low fees and lifetime discount on a basic variable product."
Flexi First also won points from brokers for being easy to use and understand and, as one said, "self-employed customers love it"