"Is this the death knell for the property market?"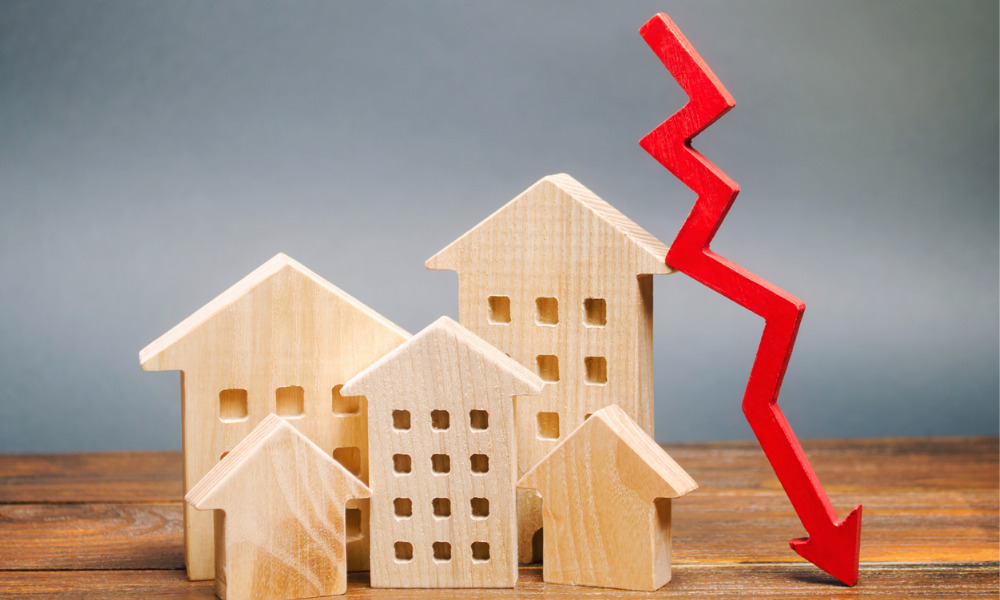 House prices dropped by 2.1% in early December, posting the largest monthly house price fall in the last four years, according to property listing platform Rightmove.
Its latest house price index reported that the average price of property coming to the market fell to £359,137 from £366,999 just a month prior. Prices dropped for the second consecutive month after reaching a record £371,158 in October, which means that houses are now over £12,000 cheaper on average than they were just two months ago.
Rightmove noted that while prices usually go down weeks before Christmas with sellers offering discounts, its latest data shows a bigger drop in asking prices than usual at this time of the year.
"Though we would always expect prices to drop in December, as motivated sellers try to capture the attention of a buyer before Christmas with a competitive price, this monthly dip is the largest we've seen for four years," Tim Bannister, director of property science at Rightmove, said.
"It's an understandable short-term reaction to the economic turmoil and unexpectedly rapid mortgage rate rises and reduction in availability of mortgage products that we saw in late September and October, before things began to settle down."
Halifax also reported falling house prices last week, the largest drop it has recorded in 14 years. Earlier this month, Nationwide recorded the highest month-on-month drop in house prices since June 2020.
"Is this the death knell for the property market?" Chris Hodgkinson, managing director at real estate consultant House Buyer Bureau, asked. "Consecutive analyses from a number of house price indices are now pointing in the same rather negative direction and the picture is bleak.
"On an annualised basis, we could be looking at drops in value of double figures by the spring and, while this will be blood-curdling for homeowners, particularly those that only bought recently, it should sound the starting-gun for all those first-time buyers that have sat in the wings bemoaning high prices for years.
"Now is the time to jump in and grab a bargain," Hodgkinson stressed.
Despite this price fall, Bannister predicted that the year would end with average asking prices still higher by 5.6% than at this time last year, with price growth only slightly lower than the 6.3% in 2021.
"Our data suggests that there are many ready-to-go movers out there waiting for what they feel to be the right time to enter the market in 2023," he said.
Rightmove predicted a 2% drop in property prices next year as the market heads "towards a more even balance between supply and demand."
"Those that understand markets know that cyclicality always prevails," Iain Crawford, chief executive at Alliance Fund, said. "Any asset goes in both upward and downward directions, and the current dynamic is surely an adjustment, yet, over the long term, we all know that property is a safe investment. Some of us will see the current market decline as an opportunity rather than a problem."
James Forrester, managing director at estate agency Barrows and Forrester, added that "the silver lining in the cloud here is that sellers are responding to signals that buyers are demanding lower prices and are prepared to sit things out while the market adjusts to recent economic woes."
"The fact that those that are selling have re-thought their asking prices in line with buyers' lower expectations is at least a good thing for estate agents in that this means the gap between buyers' and sellers' pricing is now narrower and deals will still be struck accordingly," Forrester said.
Marc von Grundherr, director at Benham and Reeves, pointed out that while the wheels may seem to be coming off the UK property market with the biggest fall in home asking prices in quite a while, the Rightmove House Price Index is one that reflects sellers' asking prices.
"Much of this angst is sentiment related and may well be restored as we begin to see the peak of inflation and interest rates," he remarked. "In other words, this is a reaction to the prospect of a property market decline rather than a decline in itself, albeit we are in danger of that becoming a self-fulfilling prophecy if we are not careful."