Housing starts have dropped in Q3.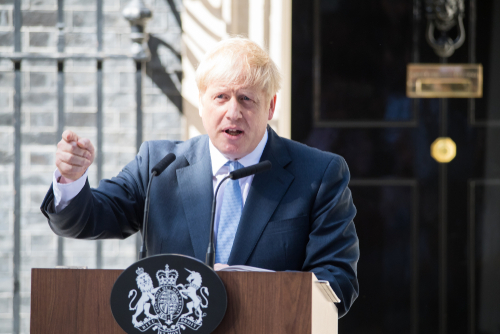 With Brexit uncertainty continuing to weigh on the construction industry, Prime Minister Boris Johnson needs to take action to remedy the issues facing the sector, Phil Harris, director at BLP Insurance has warned.
Construction PMI figures showed building activity fell at the second-fastest rate since April 2009, only narrowly outpaced by June's decline.
Meanwhile, housing starts have dropped from 40,040 in Q2 to 36,630 in Q3.
Harris said: "With figures showing little forward momentum after a fifth consecutive month of industry contraction, the Brexit squeeze continues to take its toll.
"The summer malaise has endured into the autumn as major projects continue to be hit by delayed starts, refinancing and tweaks in planning.
"After an injection of infrastructural promises following the change of government, inertia has crept back in and progress is back on ice.
"We mustn't lose sight that the UK construction sector is at its core robust and built on solid foundations. The industry is poised and elastic, ready to snap back into action but waiting for the green light from government. Whitehall and market leaders need to set the tone and lead by example."
Harris added: "If PM Boris Johnson (pictured) can carve out the legislative space to make good on the flurry of infrastructural commitments, this could provide the vital dose of confidence needed to kick-start growth.
"HS2 continues to serve as a litmus test of what could be. If the promised review results in cancellation then the shockwaves are likely to hurt both the residential market and general sentiment.
"At the same time, the established players can share the burden by pushing ahead on new projects and granting assurance to the wider sector that not all is doom and gloom.
"While losses from Kier last month will stir memories of Carillion, its situation is far less tenuous and no reason for the market to stay bogged down in caution."
Gareth Belsham, director of the national property consultancy and surveyorsNaismiths, said that demand from investors and brutal, margin-slashing competition among contractors have sent confidence skittling.
Belsham said: "Many contractors are now fighting on two fronts, and are being squeezedby rising input costs just as new orders fall sharply.
"With order books for the coming months getting steadily thinner, the slide in confidence is forcing some to cut costs wherever they can – and staffing levels are now being reduced at their sharpest rate since 2010.
"Through bitter experience, Britain's construction sector has become adept at riding out both feast and famine. But even by its volatile standards, the rapid slowdown in demand is causing concern.
"After more than three years of gnawing uncertainty, the prospect of a Brexit deal – any Brexit deal – is still glistening like a mirage. Whether the coming weeks will miraculously deliver one is still open to question.
"What is beyond doubt is that the confidence-sapping inertia has led many developers to freeze investment, and the steady fall in new orders is inflicting ever greater pain on Britain's builders.
"But there is only so long moth-balled projects and deferred investment decisions can be held back. The priority for the industry now is to ride out the storm and retain enough capability to cope with the day – whenever it comes – that demand snaps back to more normal levels."