Charlotte Harrison knows only too well what it feels like to be renting and desperate to buy your own home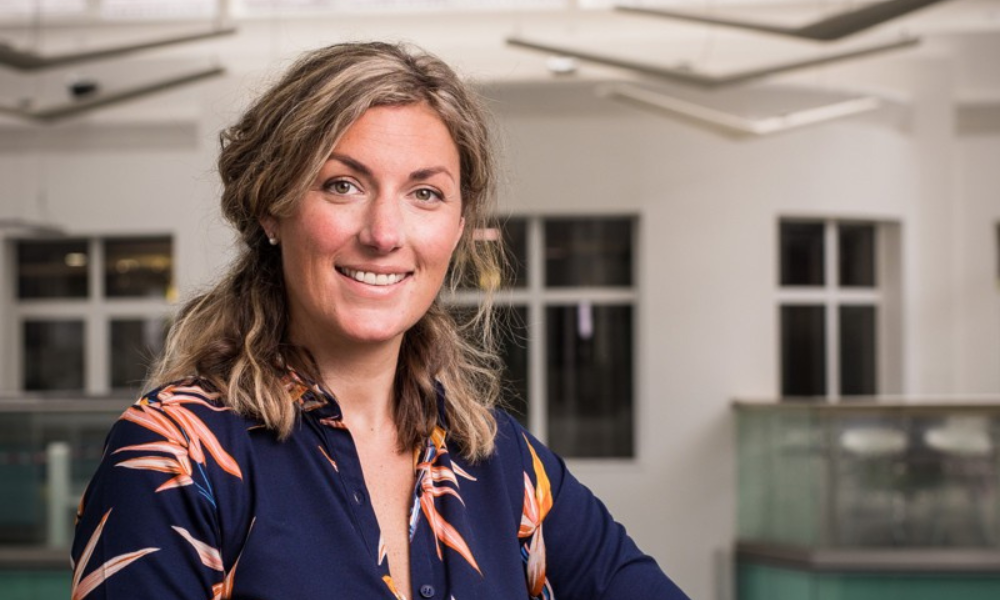 As Charlotte Harrison unveils Skipton Building Society's new up to 100% loan to value Track Record Mortgage, to help tenants buy their own home, she recalls her own tentative, first steps on to the property ladder, at the age of just 22.
"It was so stressful," shared Harrison, Skipton's chief executive of Home Financing. "I actually moved out of home when I was 16, so I'd paid rent and bills since then. I wanted to put my stamp on something, I wanted to be able to create a home. In my mind, owning my own home equated to financial security and I found it in a small, two-bedroom, cottage.
"I'd accumulated my deposit, which by the way, was supported through the Bank of Mum and Dad, and I scrimped and saved my own savings. I put everything into that deposit, so if I had known that there would be some flexibility, I would have snapped my lender's hand off."
Harrison's empathy for the plight facing those living in rental accommodation, who feel as if they will never own their own home, is clear. That understanding of the frustration and – in some cases, hopelessness – of tenants, underpins the thinking behind Skipton's new product.
Track Record Mortgage will enable eligible renters, aged 21 and above, to obtain a mortgage, free of application and completion fees, to buy their first property, without a deposit or guarantors – which is heartening for those who may not be fortunate enough to have parents or other cash-rich figures in their lives, who can provide them with a down payment.
Tenants who can prove affordability for a mortgage, and can evidence at least 12 months of rental payments within the last 18 months, can borrow up to 100% of the property's value, with Skipton's new 5-year, fixed rate mortgage. And if they have managed to save a small deposit to put down, they would still be eligible, as long as it's less than 5% of the purchase price. It will ensure that the monthly mortgage payment for each applicant is not more than the average of their last six months' rental costs.
Innovative ideas
Noting the 4.6m households renting privately across England, which is more than double (+127%) the number recorded in 2000, Skipton believes it's developed an innovative market solution.
With the cost-of-living crisis tightening its grip, rental research from Skipton reveals how eight in ten tenants feel 'trapped' in the rental cycle, paying rents that are higher than a mortgage, which then prevents them saving a deposit to buy their own home.
This is at a time house prices for first-time buyers have risen by an average of 5.5 per cent in the 12 months to February 2023, an increase of £16,000.
"The way that much of the mortgage market is set up today – though not completely – is that by giving you a mortgage, we reward individuals who have access to wealth," Harrison observed. "Now, some of that is from accumulated wealth in terms of their savings, some of it is inheritance, some of it is inter-generational wealth, and some of those individuals might still be living at home with mum and dad, with no proven track record."
She continued: "We will do an affordability assessment, so it will always responsible lending, but previously we were almost leaving behind a generation of would-be first-time buyers just because they didn't have that access. But we should be rewarding that they're demonstrating they're paying their rent, on time, every single month and that they're managing the household finances that go alongside it.
"If they can prove that they've got a really strong ability to pay, why wouldn't you support them? And that's at the very heart of it, that is what we're trying to do. We are wanting to create a new population of future homeowners."
Harrison added: "The main challenges of getting onto the property ladder are affordability and the deposit. There's been innovation in the market over the past number of years, but in recent years there hasn't been anything that's really full-on tackled the inability to save five or ten per cent for a deposit. Now, if this didn't exist, then what you would end up with is a future state, that's a perpetual recycling of properties, where wealth transfers to wealth.
"We're trying to create a more level playing field, we're giving responsible access to people that perhaps hasn't existed until today, and now they could start to build their future wealth accumulation. This isn't going to fix the housing problem completely, we need more supply of affordable houses, we need more buy-to-let reforms, making sure that there's appropriate tenant and landlord protection on both sides. But this is a step forward and we believe it's an important innovation. It's been a real labour of love."
Breaking free
Skipton was, in part, inspired to develop its Track Record Mortgage, by the social media messages it read citing the difficulty that tenants faced in breaking free of the rental market and calling for government housing reforms. It is confident there will be high demand for the product – and certainly, it says, the response from the vast majority of brokers and potential applicants has been positive, with a high degree of enquiries immediately following its launch.
There has been concern voiced that the initiative could potentially leave some first-time buyers in negative equity, given uncertainty in the property market, but Harrison remains confident.
"First, and foremost, this is a risk that we have paid careful consideration to and that's why we're not going short term on this," she emphasised. "This is a five-year fix and we've shortened the maximum mortgage term from our standard 40 years to 35. Looking at our internal view of house prices, and a number of external views on house prices, we believe that customers won't be in negative equity at the end of that deal period, and actually they should have paid down enough of their capital that they can switch freely between lenders with product availability in the market.
"But ultimately, even if they go into negative equity at periods of time, they are not buying an asset where they're trying to generate future capital wealth by flipping and selling a property. This is about long-term security and a mortgage is a long term contract."
Harrison says she would have welcomed the Track Record Mortgage when she was renting. It's thirteen years since she bought her first home, but she vividly recalls the feeling when the sale was completed.
"Oh, wonderful," Harrison reflected. "I was very proud to be a property owner and proud to be on to the property ladder – it was a real sense of achievement."
1 English Housing Survey
2 Skipton Building Society & One Poll research with 2,000 UK renters in March 2023
3 ONS House Price Index