RBH fires boss days after damning inquest and mounting government pressure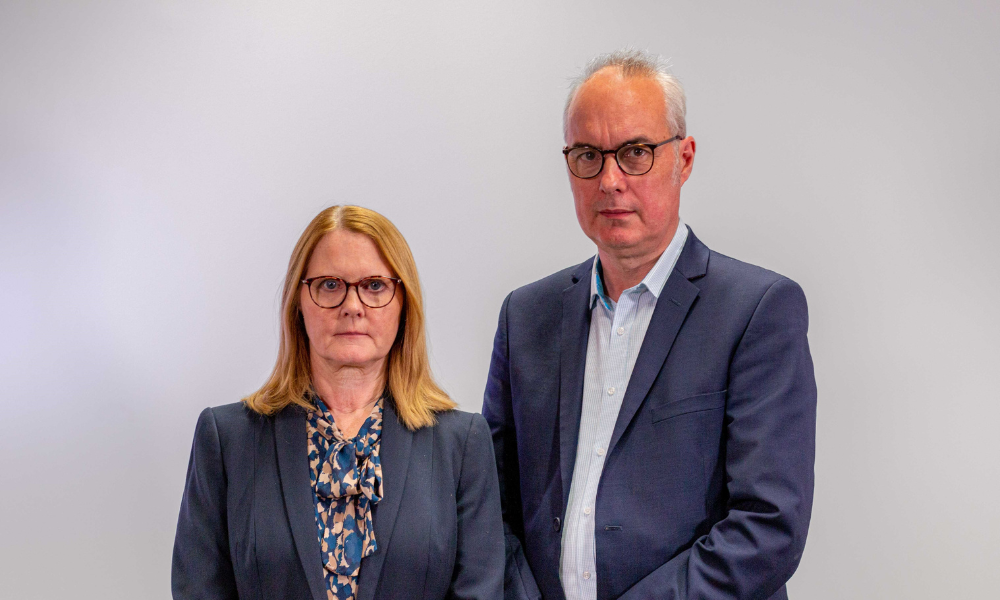 The CEO of a housing association, that rented a flat to the family of a two-year-old who died following prolonged exposure to mould, has been sacked.
The board of Rochdale Boroughwide Housing (RBH) issued a statement, saying it had taken the decision to remove Gareth Swarbrick (pictured right) from his post as chief executive of RBH "with immediate effect".
His sacking, just three days after he refused to resign, followed an inquest into the death of Awaab Ishak, which found that the toddler died of a severe respiratory condition in 2020, brought on by continual exposure to mould.
Coroner Joanne Kearsley said that the boy's death should be "a defining moment" for the housing sector, while the government described the landlord's failure to remove the mould as a dereliction of duty.
Following the inquest, Swarbrick, who was reportedly earning £157,000 a year at RBH, apologised but refused to step down. At the time, RBH's chair, Alison Tumilty (pictured left), said the board had "full confidence in Gareth's leadership", explaining that he had "extensive knowledge of the sector and the communities of Rochdale".
Read more: Toddler's death "a defining moment" for the housing sector, says coroner
However, pressure to remove Swarbrick intensified after the inquest, which heard that Awaab's father had lodged numerous complaints about the issue of mould - the first time in 2017 – but that no proper action was taken by RBH. It reportedly attempted to blame the parents' lifestyle for the problem.
Housing secretary Michael Gove told parliament there were "systemic problems in the governance and leadership" of RBH, which manages more than 12,000 homes in the Rochdale area. Gove expressed surprise that Swarbrick had remained in his post, while fellow Conservative MP Chris Clarkson, branded RBH "modern-day slumlords".
England's housing ombudsman, Richard Blakeway, reportedly invoked powers to allow inspectors to interview staff and board members at RBH after discovering three other damp and mould-related complaints in homes run by the association.
Meanwhile, claims of racism were also levelled against RBH, first from Awaab's father and more recently from a former employee, although the association has refuted the accusations.
The ex-worker told Sky News that the culture at RBH "was horrible". Speaking anonymously, he was quoted as saying: "All the staff were advised to tell anyone ringing up to just open up your trickle vents on your window - make sure you ventilate your property and put heating on, and they would fob people off.
"The total disregard for the tenants and cost-cutting was so obvious and it's really sad to be honest. It's not fit for purpose at all. It's meant to be run as a charity for the focus of the tenants [but] nothing could be further from the truth."
For its part, the National Residential Landlords Association (NRLA) also weighed in. Its policy director, Chris Norris, said that tenants "should rightly expect that wherever they call home is safe and secure".
On Saturday, RBH reconsidered its position and fired Swarbrick, saying it would now work to appoint an external interim CEO.
Read more: Landlords blame government over shrinking rental market
In a statement, RBH said: "Our original instincts were for Gareth to stay on to see the organisation through this difficult period and to make the necessary changes, but we all recognise that this is no longer tenable.
"The Coroner noted that RBH had made changes as a result of the tragic death of Awaab. Under new leadership RBH will continue to embed these changes and to continue to drive further improvements to our homes and to our communications with tenants.
"We are committed to sharing what we have learnt about the impact to health of damp, condensation and mould with the social housing sector, and to supporting sector wide changes. We will work with other agencies local and national and with central government in implementing the wider changes recommended to them by the Coroner.
"As an organisation we are deeply sorry for the death of Awaab and devastated that it happened in one of our homes. We must ensure this can never happen again. His death needs to be a wake-up call for everyone in housing, social care and health.
"We support the Coroner and Housing Ombudsman's call for the government's Decent Homes Standard to be strengthened to include damp and mould."