Borrowers face stark choice as monthly mortgage repayments set to double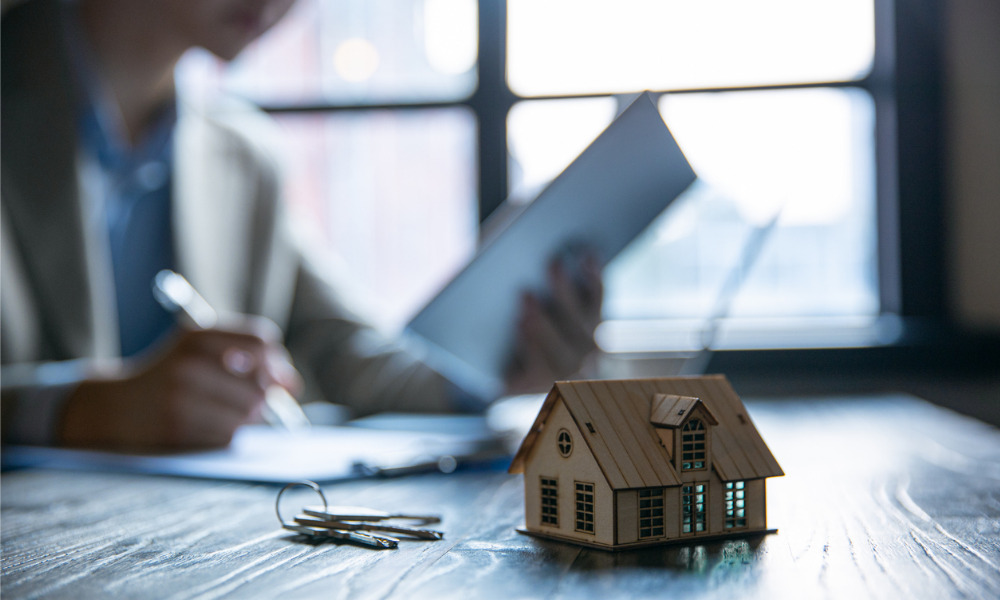 The mortgage sector was thrown into further turmoil on Tuesday after many lenders withdrew products at fixed rates, just as the Bank of England hinted that it would be raising interest rates even higher.
Banking giants Santander and HSBC joined a growing list of lenders hurriedly withdrawing deals (the former set to temporarily remove its 60% and 85% loan to value (LTV) products), while the Nationwide Building Society announced rate hikes of between 0.90% and 1.2% for its two-, three-, five- and 10-year fixed rates. Existing customers hoping to switch to new deals were told they would face lower increases.
Virgin Money and the Skipton Building Society had earlier announced that they had pulled their entire mortgage product range.
In total, the vast majority of banks and building societies have withdrawn about 300 mortgage deals.
Read more: Mini budget response - "Lenders have pulled all their rates"
Meanwhile, the BoE's 2.25% base rate could rise to 4.5% by December and peak at 6% by next year, according to traders, meaning borrowers will face a massive increase in their monthly mortgage repayments, with estimates saying that they could rise by up to £800 per month, or £9,600 annually.
According to a report by the BBC, fewer than two million households have variable rate mortgages, while most mortgage holders – roughly about six million – are on fixed rate deals.
Quoted by the BBC, Julie-Ann Haines, chief executive at Principality Building Society, said lenders would have to "stress-test" mortgages once the BoE increased the base rate to ensure customers would still be able to afford their payments - but there is already speculation that many borrowers will be forced to sell their homes to avoid falling into debt.
Independent mortgage broker Matt Stevens, from The Mortgage Genie, told the BBC that mortgage inquiries were "absolutely through the roof".
Much of the work related to providing advice for "people who really need a lot of help".
He advised borrowers to engage with their mortgage provider for support and guidance.
Keith Barber, director of business development at the Family Building Society, told Mortgage Introducer (MI): "From our viewpoint it's the reaction of financial markets that is driving lenders' actions – the cost of interest rate swaps for fixed rate mortgages moved significantly on Friday and then kept going up yesterday and today.
"That shift in pricing makes the competitive fixed rates on sale last week financially unviable now for many lenders, including ourselves. Hence the mass product withdrawals that we've seen. This is undoubtedly making brokers' lives difficult as they try to secure a competitive rate for their client, and it may take a few days for markets to steady enough for lenders to re-price and re-launch products. Inevitably these new products are going to be more expensive, resulting in higher monthly mortgage payments on new deals and perhaps lower loan sizes."
Paul Broadhead, head of mortgage and housing policy at the Building Societies Association (BSA), told MI that the current volatility in financial markets was making it challenging for lenders to price fixed rate mortgages.
He said: "Each lender will be taking an individual view on pricing and the product range available to new applicants. Right now, while products and prices may change we have no reason to expect mortgage availability across the market to dry up, or for those with existing mortgage offers to be unduly affected. Borrowers nearing the end of their current fixed rate should also continue to reach out to their broker and/or current lender as normal.
"Anyone who is worried about being (able) to pay their existing mortgage, particularly on top of energy and food price rises, should get in touch with their lender who will do everything possible to help them. The sooner they get in touch the more tailored options the lender will be able to offer them. More holistic free debt advice is available from a range of organisations including National Debtline and Stepchange."
Read more: Very few offerings under 5% by next week - broker
Vadim Toader, co-founder and CEO of Proportunity, said that first-time buyers would be hit worst. "With last night's news that mortgage products will be withdrawn for new customers, it is yet again first-time buyers who are being hit hardest by the UK's economic woes," he said.
"The weakening of the pound and increasing interest rates has put lenders in a tough position, where it is not viable for them to offer the mortgage rate deals we were seeing only last week. This means, to access a decent rate, home buyers will need significantly higher deposits.
"It couldn't come at a worse time either, with Help to Buy applications set to end in just over a month, many potential first time buyers will see homeownership as an impossible dream. While the government has recently reduced stamp duty fees, in today's market conditions it only really benefits those already on the property ladder, leaving first time buyers high and dry."