This decision was made amid speculation as to whether Canada would finally lower rates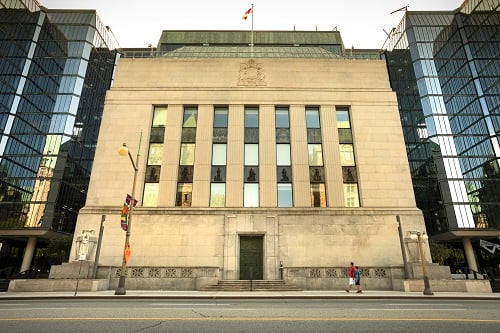 The Bank of Canada (BoC) announced today that it would keep the overnight rate at 1.75%.
The Bank Rate is correspondingly 2% and the deposit rate is 1.5%. The BoC has maintained the current overnight rate since last October, when it was raised from 1.5%.
No one really expected the central bank to raise rates, but there was speculation that the rate would drop back to 1.5%, even though a recent survey indicated a "near certainty" of a rate hold, This lack of movement makes Canada somewhat of a holdout among other central banks around the world that are dropping rates to help their local economies in an uncertain global economic climate.
"There is nascent evidence that the global economy is stabilizing, with growth still expected to edge higher over the next couple of years. Financial markets have been supported by central bank actions and waning recession concerns, while being buffeted by news on the trade front. Indeed, ongoing trade conflicts and related uncertainty are still weighing on global economic activity, and remain the biggest source of risk to the outlook," the central bank wrote.
Growth in Canada slowed as expected in the third quarter of 2019 to 1.3 percent, and stronger wage growth led consumer spending to a moderate expansion. Housing investment was also a source of strength, supported by population growth and low mortgage rates. Consumer spending and housing activity are important sources of resilience in the Canadian economy, and the BoC indicated that it would continue to be on alert for any financial vulnerabilities that may affect the household sector.
"Future interest rate decisions will be guided by the Bank's continuing assessment of the adverse impact of trade conflicts against the sources of resilience in the Canadian economy – notably consumer spending and housing activity. Fiscal policy developments will also figure into the Bank's updated outlook in January," the BoC wrote.
The overnight rate is the interest rate at which major financial institutions borrow and lend one-day (or "overnight") funds among themselves; the Bank sets a target level for that rate. This target for the overnight rate is often referred to as the Bank's policy interest rate.
Changes in the target for the overnight rate influence other interest rates, such as those for consumer loans and mortgages. They can also affect the exchange rate of the Canadian dollar.
The next interest rate announcement is January 22nd.