This inactivity will be a prelude to a possible cut by early 2020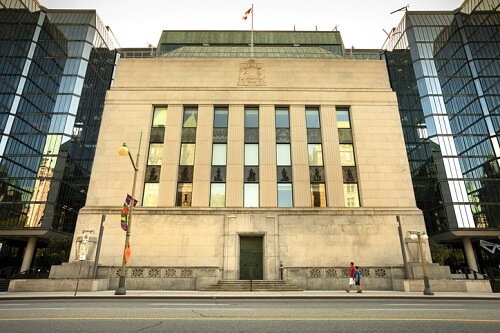 The Bank of Canada will keep its rate flat this month, and then a cut by early 2020, according to a consensus of experts polled by financial think-tank Finder.
Around 92% of economists surveyed stated that next week's meeting will lead to a rate hold, while 36% said that lower rates would come about in December. Around 58% stated that a cut would take place in January.
Of those polled by Finder, Senior Canada Economist Stephen Brown and Dalhousie University Economics Professor Lars Osberg are among those who think that the BoC should consider cutting the rate.
"We expect the economic data to weaken from here and, given that changes in monetary policy take a long time to have their full effect on the economy, think that it would be prudent for the Bank to enact a couple of insurance cuts," Brown said.
Meanwhile, RBC senior vice president and chief economist Craig Wright is predicting a BoC rate hold on October 30, but a different scenario south of the border.
"For the first time in almost 20 years, the U.S. Central Bank and the Bank of Canada meet on the same day. We think the U.S. Central Bank, the Fed, will cut rates by 25 basis points; they got rates up and then they were recalibrating and they're doing this mid-cycle adjustment, so we think the Fed will cut rates. We think the Bank of Canada will leave interest rates where they are—so 1.75% for the Bank of Canada, and a cut of 25 basis points from the Fed."
The C.D. Howe Institute's Monetary Policy Council (MPC) called on the central bank to keep its rate at 1.75% in its announcement next week, "before lowering it to 1.50% by April 2020."
"Growth in domestic activity is moderate by historical standards, but that weak business investment and productivity growth mean that the Canadian economy's productive potential is also likely growing relatively slowly," the MPC stated.
"With the overnight rate below the inflation rate – negative in real terms – and continued concerns about the housing market and household debt, there is no convincing case for more monetary stimulus at the moment."