Find out what Canada's real estate experts anticipate for the year ahead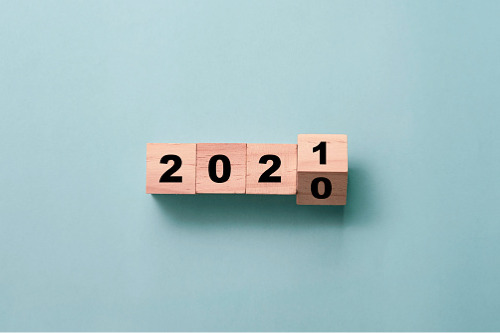 2020 was a year like no other. As it comes to a close, many Canadians are wondering what real estate trends 2021 will bring. Will housing prices continue their upward march or head into a dive? Will today's near-record low mortgage rates hold steady or creep up, impacting affordability? Read on for our experts' homeownership predictions for 2021.
2021 PREDICTION #1: Canadian real estate prices will go down
Opinion is split on where prices are headed in hot housing markets like the greater Toronto and Vancouver areas, and for the country at large, which saw a booming summer real estate market carry its momentum into fall.
At publication time, the national average home price had crept up to $607,250 in October 2020, a 15.2% year-over-year gain from October 2019.
Paul Taylor, CEO of Mortgage Professionals Canada, sees the potential for prices to dip in 2021: "There is still uncertainty about the market as COVID-19 numbers continue to climb. The vaccine likely won't be widely available for at least 12 months, and continued business restrictions persist. Government support programs are offsetting the economic damage significantly at the moment. Should they be reduced or withdrawn, there's potential for a larger portion of mortgage holders to default or be forced to sell. It's the unknown elements in these projections that spur the Canada Mortgage and Housing Corporation to predict 9 to18% overall property value declines, while Royal Lepage suggest something closer to a 7% decline is realistic. Most are sure there will at least be price stagnation for a while beginning next year," he explains.
2021 PREDICTION #2: Canadian real estate prices will go up
But Shaun Cathcart, senior economist with the Canadian Real Estate Association, doesn't see price stagnation or decline on the horizon. He expects prices to continue their upward trend:
"Even before COVID-19, we were expecting this. The reason is on the supply side: if you go back five years, there were a quarter of a million active listings available in any given month in Canadian MLS systems [through] the mid part of the last decade. But what's happened over the last five years is it has dropped down and down and down. The millennials have turned 30 and that's a big [homebuying] cohort. There have been major increases to international immigration at the same time, both of which have caused a lot of existing supply to get absorbed to the point where we were almost looking at some of the tightest national market conditions ever, in February [2020]. So we were expecting very strong price growth this year," explains Cathcart.
"On the surface a lot of things are different, but we are still seeing a lot of people looking to buy and not a lot of supply. There's a lot of competition for listings, where you are getting multiple offers and those prices are being bid up. Things aren't necessarily the same as it would have been without COVID – people are going after different types of homes – but overall, price growth was expected because there's just not enough listings for the number of people looking to buy," he explains.
Bottom line: Even the pros aren't sure yet where the market is heading, so just stay focused on your own homeownership goals and don't be swayed into panic buying or selling. Talk to a Realtor to learn more about market conditions in your area and for the type of home you are interested in.
2021 PREDICTION #3: Mortgage rates will stay low
You may have heard rumblings of interest rate hikes in the future, but these forecasts are long-range, so don't let them worry you.
"The Bank of Canada has signalled that interest rates will be low well into 2022 and possibly even 2023. As such, mortgage interest rates will also stay low – although perhaps not at today's record-breaking lows," says Taylor.
Upshot: If you're due for mortgage renewal or you're interested in refinancing in 2021, go for it. But if your mortgage matures in 2022 and prepayment penalties have you concerned, don't sweat it – you've got plenty of time to renew.
And if you are getting ready to buy a home in 2021? "Speak to a mortgage broker before arranging any home financing. The banks, credit unions and other lenders will each respond differently to [the pandemic's] economic fallout, so speaking to an expert who understands multiple lenders' thoughts will be more important than ever," explains Taylor.