Comprehensive guidance helped borrowers absorb the shock of interest rate rises, says duo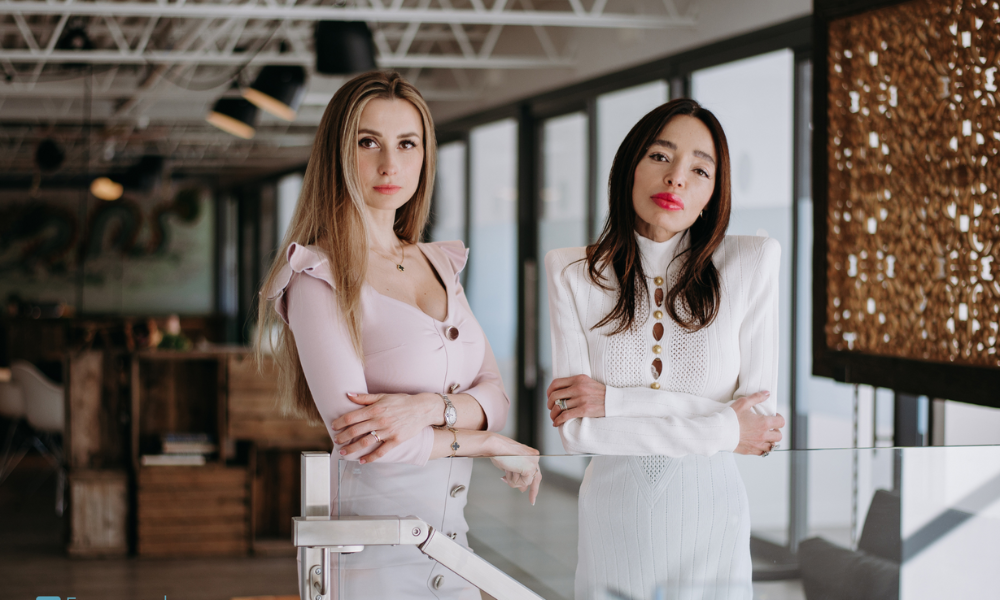 As Canada's mortgage and housing markets continue to shift, many borrowers who purchased a home during the pandemic-era boom are having to contend with interest rates dramatically higher than when they initially signed for their mortgage.
That simply underscores how crucial it was for agents and brokers to emphasize to their clients during that period of unprecedented low rates that borrowing costs would likely spike upwards in the future, according to the co-founders of a Toronto-based brokerage.
Inna Bogdanov (pictured top right) and Katerina Markevich (pictured top left), of IK Financial, told Canadian Mortgage Professional that educating their customers on the likelihood of rate increases had been among their main priorities during the days of rock-bottom rates and frenzied buyer activity during the past two and a half years.
"The mortgages were [lower] than 2% and we had those low interest rates and multiple offers on the property," Markevich said, "but it wasn't normal. Even at that time, we were preparing the clients [and telling them] the interest rates will go up.
"No matter if you were to take the fixed rate at that point and lock it [in] for five years – once the renewal will come, you will face completely different interest rates and you have to be ready for it."
The Bank of Canada kept its trendsetting interest rate at a resolutely low 0.25% throughout nearly two years of the pandemic but has now introduced five consecutive rate hikes since March totalling 3%.
Read next: Revealed – how much Canada home prices will fall this year
Still, comprehensive advice in times of low rates meant IK Financial's clients were largely prepared for this year's rising-rate environment and had factored higher borrowing costs into their budget. At present, the duo's guidance is mainly focused on reminding clients that the real estate market moves in cycles – and today's high-rate climate won't last forever, according to Bogdanov.
"We are true firm believers, and understand very well, that the markets are cyclical, and everything takes turns," she explained. "We remind our clients that while we enjoyed the low interest rates for a while and everything was booming, it was great. But even back then, everybody knew this was unsustainable, it wouldn't last forever and there would come a point when the market would take a dip.
"Whether it would be a gradual dip or more of a severe fall, more like what we're experiencing now, that was unknown… But when it reaches its ultimate lowest point, which we [either] may have already reached or are about to reach, it will start to slowly go back up again."
It's important to remind clients that the market has seen worse times than it's currently experiencing, Bogdanov said, and that mortgage professionals and their clients alike worked through those challenging conditions regardless.
The current market has also highlighted the importance of adopting a tailored approach to each client, with the suitability of specific options depending on the personal circumstances and risk tolerance of each client.
Read next: Fixed vs. variable: What's in store for the rest of 2022?
Borrowers' needs, goals, and plans for the next year to five years are some of the central factors that IK Financial said it takes into consideration when recommending a path for clients, with recommendations for variable rates only made to those individuals who have room in their budget for possible future variations in their payments.
"Of course rate variations matter and we do adjust what we tell clients based on the current rates that we're looking at today," Bogdanov said. "However, the general strategy never changes for us and our approach with clients."
As for the outlook for the remainder of the year? The prime rate is likely to continue rising further, the duo said, which will probably contribute to a further fall in home prices. Still, they indicated that a healthy market should persist, driven in part by strong forecasted levels of immigration in the coming years.
The federal government has said it aims to welcome 431,645 new permanent residents this year, followed by 447,055 in 2023 and 451,000 in 2024 – meaning upwards of 1.3 million new Canadians are expected to have arrived in the country by that point.
"Realistically speaking, we have lots of immigrants and we have many people who are coming – especially to Toronto [and] Ontario," Markevich said. "So we have huge, huge demand on property right now."