This broker is learning how to empower his team to grow the business without constantly relying on him to drive it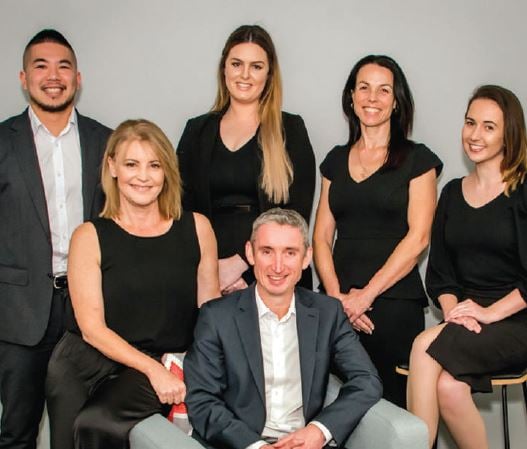 This broker is learning how to empower his team to grow the business without constantly relying on him to drive it
Before joining the mortgage industry, MoneyQuest Wollongong owner Paul Wright earned a living as an employee of CBA and the Bank of Queensland. His career took a turn when he was working as a BDM in BOQ's broker market and someone suggested he would make a good broker. That comment prompted some thinking, which later kickstarted a new chapter for Wright.
In 2002, just as the broking industry was evolving, Wright took a leap of faith and finally became a mortgage broker. He had the full support of his wife, Julie.
"The decision was definitely the right one," he tells MPA.
Wright initially operated under his own brand and then moved across to Choice Home Loans for a few years. When Choice Home Loans merged with realestate.com.au, he took it as an opportunity to review his business direction.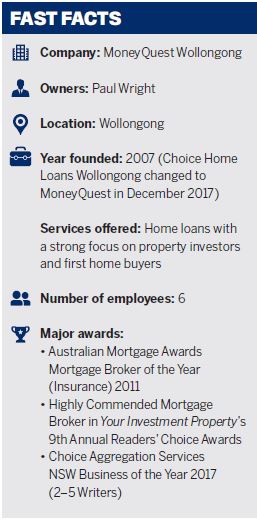 Finding the right brand
Wright launched a new MoneyQuest franchise in December 2017. Having known MoneyQuest founder Ross Begley and managing director Michael Russell for many years, Wright was confident that this was the brand he wanted to be associated with in the long run. He knew Begley and Russell would provide the support and guidance he needed to grow his business.
Wright is an accredited property investment adviser and mortgage consultant, and a member of Property Investment Professionals of Australia and the MFAA. His extensive finance and property knowledge enables him to provide professional services and practical advice.
MoneyQuest Wollongong specialises in home loans, investment loans, and selfmanaged super funds.
With Wright's wife Julie as operations manager, the brokerage has a number of finance specialists who manage its various loan segments and help first home buyers get onto the property ladder.
"We take pride in the number of clients who we have helped build wealth by educating them on how to build a property portfolio," Wright says. His team puts great effort into understanding every client's situation so they can get the right loan for their particular needs.
Wright considers his business to be advice-based, rather than transactionbased. His team remains in constant contact, communicating with every single client and prospect at least 17 times a year. This regular and ongoing communication allows Wright's team to keep existing clients updated on market conditions to ensure that their loans meet their changing requirements.
By continuously developing his systems and procedures, and by having a team of investment-savvy mortgage brokers under his tutelage, Wright is confident his business will remain at the top of its game.
"I always work on a yearly target, and I increase it by a minimum of 10% each year," he says.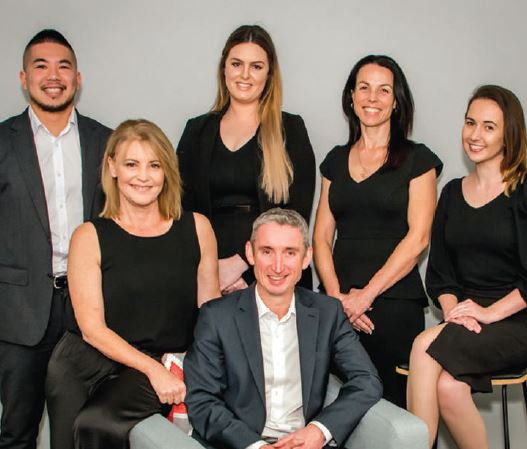 Letting go
On a personal level, Wright's biggest challenge is letting go in order to enable his team to grow the business without being totally reliant on him. "I've learned that you cannot do it all by yourself. And, quite often, other people can do the job just as well as you do, if not better," he says.
By developing his team and empowering his brokers to grow their individual outputs, Wright hopes to double the business's yearly volume over the next three to five years. His team also includes experienced support staff who handle non-income-producing tasks.
By developing his team and empowering his brokers to grow their individual outputs, Wright hopes to double the business's yearly volume over the next three to five years
Apart from consistent year-on-year growth and positive client feedback, Wright takes pride in how his team develops and retains its members. They recently recruited two additional brokers who share the team's drive, and Wright is keen to equip them with the necessary knowledge and tools to fulfil their ambitions.
Wright knows the financial market is tricky to navigate, especially as a newcomer. To help promising brokers begin their professional journey on the right track, he instils in them how important it is to develop a business plan and know what to aim for early on.
"Specialise in what you enjoy and are good at," Wright says. "Develop policies and procedures, and follow them religiously. Keep developing them as the market changes and your team grows."