Also named finalist in all five MFAA State Excellence Awards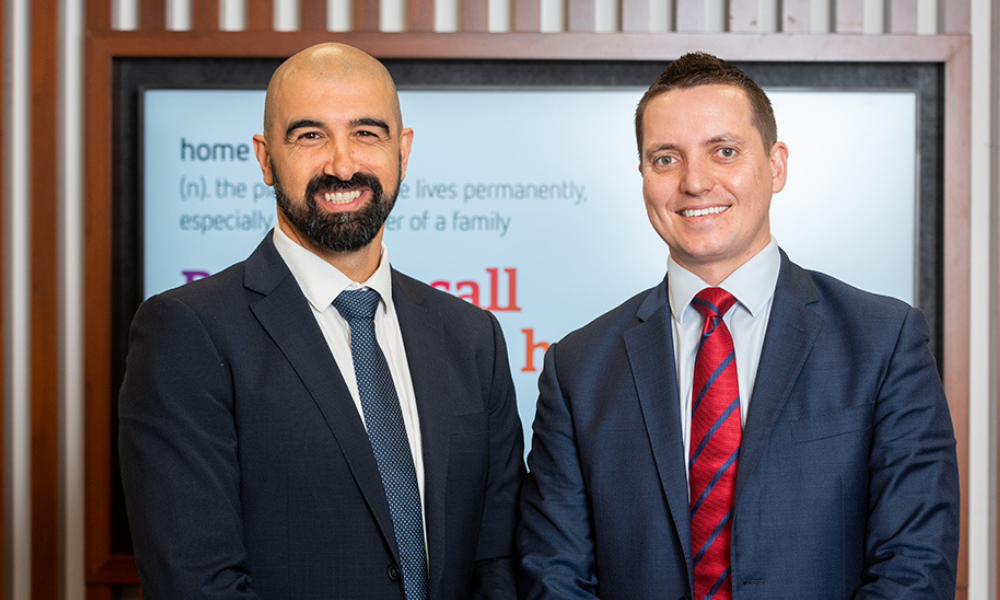 It's shaping up to be an eventful year for Heritage Bank, with changes to leadership roles and being named a finalist in the MFAA State Excellence Awards.
Heritage Bank Former NSW/ACT state manager Paul Moses (pictured above left) has been appointed to head of broker experience.
Moses will lead the customer-owned bank's mortgage broker operations, while former broker head Stewart Saunders (pictured above right) has been seconded to the role of chief customer officer, managing its retail operations
Heritage Bank is proud to have been named as a finalist in all five of the MFAA State Excellence Awards (Queensland, NSW and ACT, South Australia and Northern Territory, Victoria and Tasmania, and Western Australia – new category).
Open to MFAA members, the awards celebrate the work of the industry's best brokers, businesses and industry professionals, with the areas of customer service, professionalism, ethics, growth and innovation.
Read more: Heritage Bank and People's Choice merger to go ahead
It comes off the back of Heritage Bank winning the Mutual/Credit Union Lender Award at the MFAA Queensland Excellence Awards, announced in Brisbane.
Moses has more than 25 years' experience in the banking and finance industry, working across retail banking, financial planning, business development and mortgage broking. He was previously a principal and director with Wizard Home Loans, and a financial adviser/service manager with Colonial State Bank.
Moses commended his predecessor Saunders who he said had done a "tremendous job" in leading the broker experience team.
In the short-term, Moses said he would focus on creating solid foundations and ensure the basics are done well to achieve best outcomes for brokers and their customers, through ongoing communication and service.
"I will work closely with our lending operations team to keep the lines of communication open and transparent, so we can continue to deliver great relationship-based banking experiences," Moses said.
Due to its strong proposition as a mutual bank, Heritage has seen "unprecedented home loan volumes" in recent months, Moses said.
"We will also look to bolster our support team to increase capacity and responsiveness for BDMs and brokers and create more consistent turnaround times in periods of greater volume."
He acknowledged Heritage Bank's long-standing reputation for partnering with brokers to achieve best outcomes for their clients.
"I look forward to continuing this momentum and reinforcing the partnerships with our broker partners who have been so loyal to us," Moses said.
Moses also congratulated the Queensland team on winning the state awards, which he said highlighted their commitment to working with broker partners to achieve best outcomes for members.
"It's an absolute honour for Heritage to be recognised by industry peers through MFAA and named as a finalist across all states and territories in the same year," Moses said.
"We exist for the benefit of our members, not shareholders, so to receive this recognition across the board is a big vote of confidence in what we're doing."
Read more: Call for 2022 Australian Mortgage Awards nominations
Moses commended the MFAA for creating a separate award category for customer-owned financial institutions, which he said, "recognises the value we add to the industry".
The broker channel plays a key role in enabling the bank to deliver a national presence, he said.
"Brokers have been a key catalyst in driving awareness further than our existing branch network and creating advocates for Heritage Bank," Moses said.
"We're committed to working with brokers and will continue to implement service and process enhancements, to make us easier to do business with."
Heritage Bank is working on several important initiatives that will be brought to market in the second half of 2022, Moses said.
These include improvements to its product origination platform, to reduce paperwork and duplication of data and speed up the application and assessment process. The customer-owned bank is also in the early stages of planning for a new core banking system.
"I'm particularly looking forward to the implementation of our digital documents projects. This will enable electronic signatures and digital delivery of documents to our customers and brokers that will speed up time to settlement and improve the experience for customers," Moses said.
Summing up his experience as broker head, Saunders told said he was "really proud" of what had been achieved. Investment in back office capacity through a significant increase in credit operations, had improved service.
"What really excites me are the possibilities of the next few years as Heritage moves forward with its proposed merger with PCCU," Saunders said.
"If it proceeds, the merger will create one of Australia's largest customer-owned banking organisations. We are also advanced on our design of a new mortgage origination platform which will deliver significant improvement in customer experience through faster approvals and delivers scalability in our process."
In addition to the promotion of Moses, other leadership roles have changed within the broker experience team.
Formerly a BDM, Andrew Galloway has been appointed to the role of state manager for Queensland, WA and NT.
Gerald Allan has been appointed to the role of state manager for NSW, VIC, SA and TAS. Allan was previously national credit manager for RAMS, credit analyst at Wizard Home Loans and has also worked for Homeloans Ltd and Westpac.
In April, Heritage Bank and People's Choice confirmed merger plans would proceed and that they were entering the regulatory approval process.
Former chief customer officer Kevin Potter has been seconded into a merger integration planning role, in preparation for the merger. Members are due to vote on the deal later this year.