90% of their clients are mums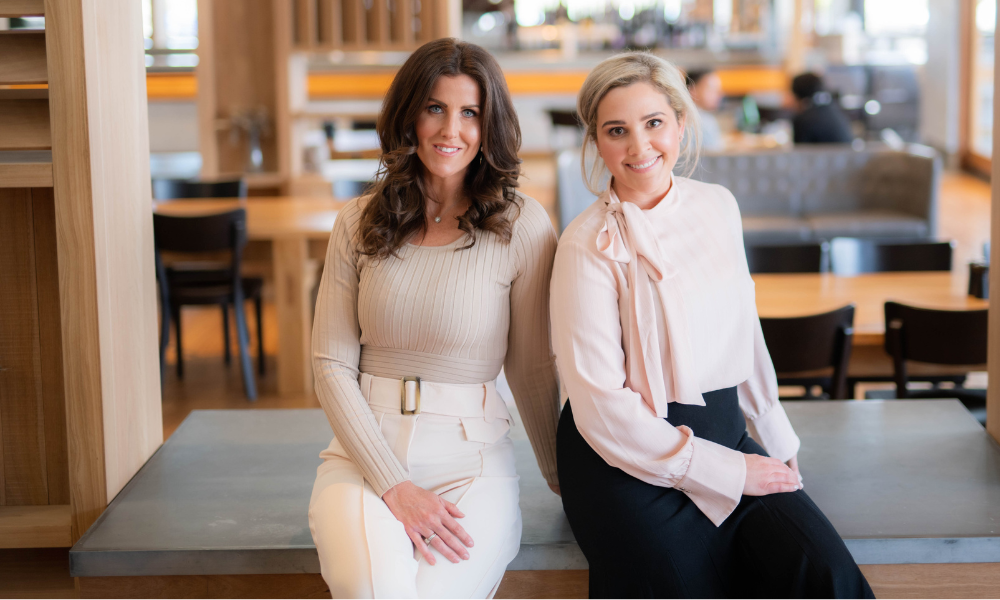 Women may be underrepresented in the mortgage industry, but according to two female brokers, this is more of an opportunity than a challenge.
Approaching four years in business, Two Birds One Loan directors Alissa Childs and Elouise Dooley (pictured above) have built their business around helping other women achieve their homeownership dreams.
Based in the Hills District of Sydney, which includes many higher socio-demographic suburbs such as Beaumont Hills, Bella Vista, Box Hill and Castle Hill, the pair, who have a passion for helping women and their families become more financially literate, say over 90% of their clients are mums.
As mums themselves, they are members of a local Facebook group Hills District Mums. Through the group, they receive a high volume of leads, including recommendations from mothers who have used their services.
Read next: Equipping female business owners with tools for success
While a traditional broker may generate leads through knocking on doors and pounding the pavement, Dooley and Childs said they had been able to tap into a huge pool of local clients using online methods.
"We've been able to reach our target market effectively through social media and through organic growth," Dooley said.
Asked whether working in a male-dominated industry was a challenge, the pair disagreed, saying being female gave them "the edge".
"Being female gives us a point of difference: there's so much opportunity and we're finding it's an untapped market," Dooley said.
The pair, who won the Customer Service Award - Business at the 2022 NSW and ACT MFAA Excellence Awards, say they prioritise customer service.
With 10 years' experience as a BDM, Childs said her passion had always been to provide a high level of customer service – skills which she was easily able to transfer to her current role. With a corporate marketing background, Dooley uses her skills in managing back-end processes.
The women credit their complementary experience, which in addition to enabling them to work as brokers, equipped them with the skills to run a business.
"We really do care about the outcomes that we get and based on the feedback in our reviews, I think we really excel in that," Childs said.
Women naturally were more inclined to seek out people they connect with, and would do their own due diligence, usually online, before deciding to enlist their help, they said.
The first point of contact was often the website, where potential clients could read their profiles and experience and the services they provide.
Childs said people who came to them for help had varying degrees of financial literacy. Being patient, relatable and genuine was one of their strengths, she said. They showed this through the level of care and attention they spent on each transaction.
"No question is too hard, and I think people feel comfortable in working with us for that reason," Childs said.
Read next: Call for diversity as female broker numbers dwindle
Rather than hide the fact that they have children, the pair said they were open about the work/life juggle, often meeting with clients online while their young children were in the background.
"We don't pretend that we don't have children and I think that is very relatable for people … we have set hours, and we have to do school drop offs and pickups," Childs said.
Although some people may feel they have to keep work and family completely separate, Childs said they aimed to normalise the work/life juggle and the day-to-day demands of parenting.
"Nine times out of 10, the people we're working with have children too and are facing that same juggle, so I think that's what makes us relatable," Childs said. "I think when you're working with someone you can connect with on a personal level, it makes it more of a genuine relationship."
Although rates were rising, Childs and Dooley said they were busier than ever. In a recent week, they received 15 leads, adding that interest rate rises had not slowed things down.
As a large portion of the rate increases were buffered into initial loan assessments, they said clients were generally aware higher rates were coming and were open to pulling back on their discretionary spending.
"We're finding people are coming in off the back of the ending of fixed periods and wanting to review their home loans in general," Dooley said.
Noting variable rates were still in the low 3% range, Childs said one of the suggestions she gave to clients considering a fixed rate was to choose a variable rate, and channel the extra payments towards building a buffer of equity in the redraw.
This allowed clients to get used to higher repayments and was an alternative to paying that extra money to the bank in interest.
"The variable rates may take a while to get up to that level, (predictions show they may get up to around 4% by the end of the year), which is still a long way off 5.7% or 5.8% on a fixed rate," Childs said.
Their business provides a free budgeting service to clients coming off fixed rates, to help them prepare.
"We're telling clients now not to pay the minimum, but to pay as much as they can afford over the minimum, so that money's not sitting there for them to spend," Childs said.