The society ensured around 95% of its 88 branches remained open at any one time, albeit under reduced operating hours, during the pandemic.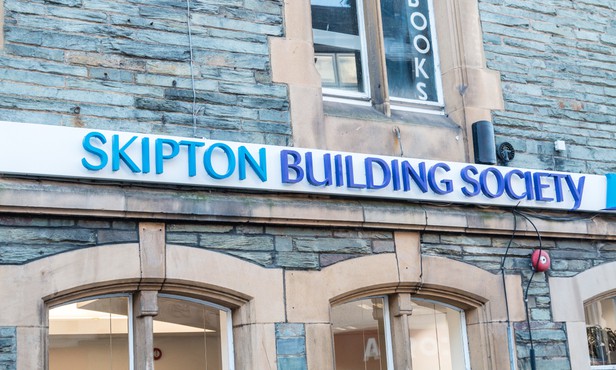 Skipton's half year results show the building society has increased its mortgage customer numbers by 9,456 to 226,947 between 31 December 2019 and 30 June 2020.
The society ensured around 95% of its 88 branches remained open at any one time, albeit under reduced operating hours, during the pandemic.
90% of the society's 1,500 head office colleagues worked from home, providing a contact centre facility for 50 hours every week.
During this period, Skipton achieved a net customer satisfaction score of 87%, compared to 86% as of 31 December 2019.
Skipton recorded underlying profits before tax of £47.9m, compared to £78.9m in the six months until 30 June 2019.
The society arranged more than 22,000 mortgage payment deferrals, and proactively called customers who had arranged a mortgage payment deferral to check they had all the information and support they needed.
At its peak, 15% of borrowers had a mortgage payment deferral; as at 30 June 2020, this figure had reduced to 5%.
By 30 June 2020, 67% of the Society's borrowers who had been granted a mortgage payment deferral had reached the end of their deferral period.
Of these, 13% elected to extend their deferral for up to another three months.
Of the remaining 87% who did not extend their mortgage payment deferral, 98% paid the full monthly amount due on their mortgage in the following month.
Group gross mortgage lending was £2.1bn during the pertiod, compared to £2.5bn during the same period the year before.
Mortgage balances grew by 4.7% since the end of 2019, and savings balances grew by 1.4%.
The society helped 12,376 homeowners to purchase or remortgage their properties during the period, including 2,369 first time buyers and 3,627 buy-to-let borrowers.
David Cutter, group chief executive at Skipton, said: "We went into this pandemic in a strong position with healthy levels of capital and liquidity, however undoubtedly profits are lower in a period where our focus has rightly been on the safety and well-being of our customers and colleagues.
"It is testament to the first-rate efforts of our people – all of whom have been impacted like everybody else across the country in so many different ways – that we have been able to quickly adapt and respond to continue to serve our customers well throughout these unprecedented times.
"Our Skipton Link video appointment service and the Skipton app really came into their own during the first six months of the year.
"Video appointments increased fivefold during the period and the number of mobile app users increased to 166,000.
"This enabled our customers to maintain face to face contact with us, together with having access to their accounts from their mobile phone.
"We also managed to help and reassure many more people through our social media and web chat customer services support, noticing big increases in customers reaching out to us through our digital platforms.
"It's fair to say our financial results reflect a difficult time; our mortgages and savings division has been heavily impacted by increased impairment charges and our estate agency division, Connells, saw all of its UK branches have to close for two months.
"However, the resilience of Skipton's business model has allowed the Society to maintain strong capital ratios throughout."
Cutter added:"The COVID-19 pandemic has caused major social and economic disruption, and although the UK government has taken extraordinary steps to support people, public services and businesses, the impact on the general population is colossal.
"Whilst there remain significant uncertainties in assessing the long term social and financial impacts of the pandemic, Skipton remains forward-looking and focused on its purpose of meeting the short and long term interests of its members.
"Profits for the whole of 2020 will be significantly down on last year, and although Connells' trading has been strong since the estate agency market re-opened, it is not yet clear whether this will be sustained or whether it is just due to pent up demand.
"Forecasting the outlook for house prices, unemployment and the housing market is extremely difficult at this moment in time.
"But the Society remains financially robust with a strong capital position and healthy levels of liquidity, and is in a good position to face the challenges ahead."