Halifax, Virgin Money, Skipton put the brakes on as BoE says it will 'do what it takes' with interest rates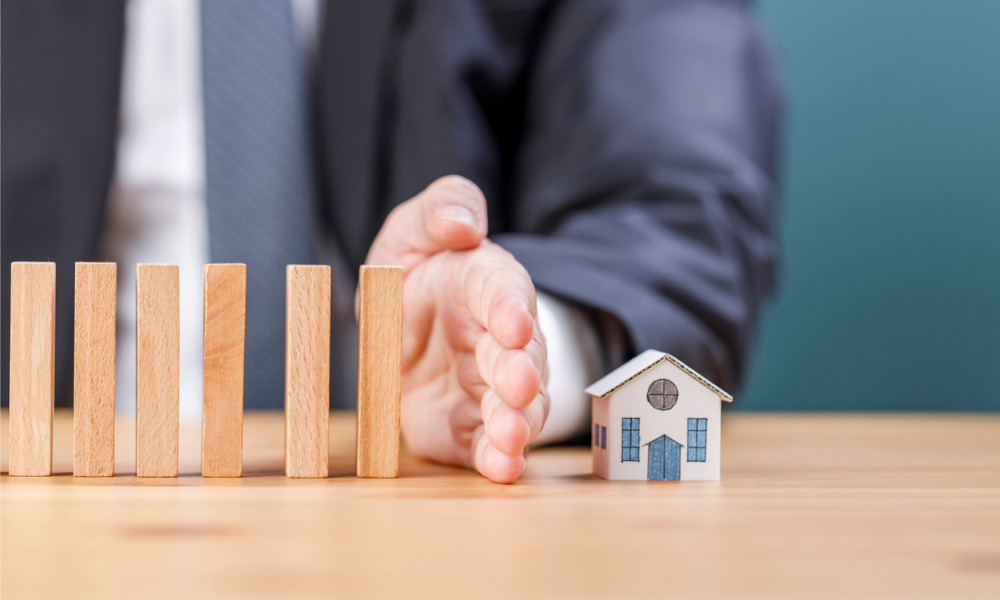 Several major lenders have pulled their mortgage products from the market in what is seen as a reaction to finance minister Kwasi Kwarteng's mini-budget last week.
Virgin Money and Skipton Building Society temporarily withdrew mortgage products for new customers yesterday, while Halifax said it will remove all its products for homebuyers that charge a fee by close of business today.
A Halifax spokesperson said they are making some changes to their product range as a result of significant changes in the cost of funding.
The Bank of England (BoE) base rate is already at its highest in nearly 14 years after a 0.50% hike to 2.25% last Thursday. Kwarteng's announcement a day later of a number of tax cuts aimed at boosting the economy sent the pound plunging to its all-time low of $1.035 against the US dollar early yesterday morning.
Read more: Pound plunges to all-time low – interest rate meeting expected.
With investors asking the BoE for immediate intervention to prevent the UK from further sliding into a currency crisis, the central bank has responded that it would not hesitate to change interest rates, which will probably be decided in an emergency meeting before the next scheduled one in November.
"The uncertainty around the risk of an emergency rate rise is likely to see other lenders withdrawing products or increasing rates dramatically until they know the extent of how this all pans out," Jamie Lennox, director at Norfolk-based broker Dimora Mortgages, said. "The UK economy is on red alert, and lenders and borrowers alike are having to keep a keen eye on what is a rapidly changing rate environment."
For many brokers, the move by the three lenders is likely just the start of more mortgage product withdrawals.
"Other lenders will almost certainly follow suit and wait to see what move the Bank of England's Monetary Policy Committee takes prior to bringing back a full range of products," Anil Mistry, director and mortgage broker at RNR Mortgage Solutions, commented.
"Smash, bang and wallop, but sadly this is just the start," Imran Hussain, director at Harmony Financial Services, remarked. "Many lenders will follow suit given that another rate rise, potentially this week, is looking imminent.
"Products will get chopped and changed quicker than we can all keep up. The mortgage market was already hectic, and now it's going haywire. Swap rates for two-year products are now above 5%. Compared to where we were a year or so ago, that's frankly insane."
Imogen Sporle, head of regulated and term finance at Finanze, said that while rate changes in the world of mortgage brokers are unsurprising, this one is a "real shocker" as almost all of the rates are above 4%.
"It's upsetting to see especially those rates increasing on the affordable housing range, as it's that bracket of the population that are already struggling who are going to be among the worst hit by these inflated rates," she added.
Read more: Mortgage shock comes for UK homebuyers.
"Mortgage lenders are already sending rate changes out, hiking fixed deals, despite the flurry of moves last week," Lewis Shaw, founder of Shaw Financial Services, pointed out. "We've even just been told of the first 6%-plus clean credit mortgage rate, which is the highest rate for a mainstream lender I've seen in over seven years.
"Is this the sign they know something we don't? The writing is on the wall. Markets have shown what they think of 'Kami-Kwasi's fiscal event'. UK five-year bond yields are above those of Italy and Greece, and the cost of insuring the UK against a default is rising. This will make HM Treasury hot under the collar.
"The Bank of England will be forced to step in with another base rate hike to try and calm spooked markets. That will feed into higher mortgage rates and, as always, it'll be the taxpayer left carrying the can. In the history of poor economic policies, last week's fiscal event will fly into the top 10."
"The chancellor stood at the ballot box on Friday and delivered a mini-Budget for growth," Scott Taylor-Barr, financial adviser at Carl Summers Financial Services, added. "He certainly managed that: since then, we've had growth in interest rates, growth in public borrowing, growth in uncertainty for sterling and growth in concern for the UK economy.
"I'm not 100% sure that was the growth he had in mind and the immediate reaction from financial markets has not been kind."