Some 3,000 delegates from 45 countries gathered in London's Olympia for MIPIM UK with no fewer than five government ministers in attendance.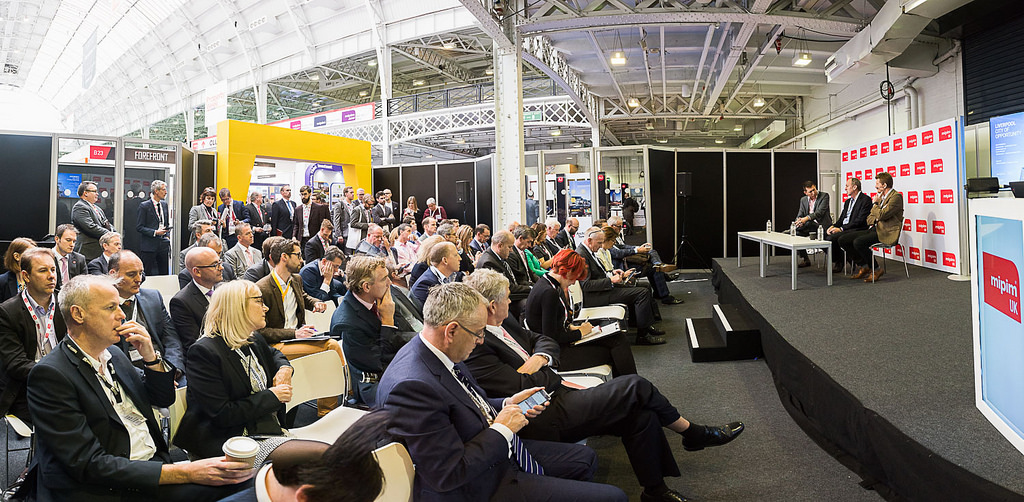 Political leaders and investors came together with the UK real estate industry lastweek for the first major business gathering focused on the British property sector since the Brexit vote.
Some 3,000 delegates from 45 countries gathered in London's Olympia with no fewer than five government ministers in attendance, including Gavin Barwell, Minister for Housing, Planning and London.
Over 320 individuals attended from investment companies and financial institutions from the UK and 20 other countries, representing combined real estate investment portfolios well in excess of €150bn. Much of the talk in the MIPIM UK conference rooms and corridors was focused on where the property market will be heading in post-Brexit Britain.
Commercial real estate in Britain has a market value of £1,662bn, employs over two million people and contributes £94bn annually to the British economy. Government ministers at MIPIM UK were keen to reassure the industry and overseas investors that British real estate remains attractive.
Since new Prime Minister Theresa May came to power, the UK government has stressed its commitment to boosting housing and developing infrastructure, while industry analysts note that despite uncertainty linked to Brexit, the weak pound is encouraging international investors to look for opportunities within Britain.
Gavin Barwell told his MIPIM UK audience: "Most people want to own their own home. I want a system that's bottom up - we are going to build the homes that we need to build.
"There's huge potential for off-site construction, driving innovation and diversification in the market."
Sir Howard Davies, chairman of the Royal Bank of Scotland (RBS) opened MIPIM UK's conference programme. This year, RBS announced it has earmarked £1bn of its £30bn real estate loan book to provide finance for the UK Private Rented Sector schemes.
Daviestold delegates: "We'll see slower economic growth post-Brexit but the degree depends on the nature of Brexit. We are seeing signs of investors who were cautious immediately post-Brexit making enquiries once more.
"The London property market may not be so buoyant if we have a downsizing of the City as companies consider moving headquarters abroad."
Davies was joined on stage by Guy Hands, founder, chairman and chief investment officer at Terra Firma Capital Partners, who explored some of the possibilities for private equity investment.
He said: "I believe in a long-term investment approach to UK property because I believe in the UK and its strong long-term fundamentals, regardless of short-term volatility."
Viewing Brexit as an opportunity Hands continued, "It's not the referendum that matters, it's what happens from this point on.
"The number one critical social issue in Britain is solving housing."
Former England football internationals Rio Ferdinand, Bobby Zamora and current West Ham captain Mark Noble caused a stir among MIPIM UK sport fans as they discussed their Legacy Foundation – a unique project that combines residential, sport and community-led development which aims to deliver up to 50% affordable housing.
Talking to his MIPIM UK audience on day one Zamora said:"MIPIM UK is the place where the Legacy Foundation can engage with the real estate community. In 2015 we met Central Bedfordshire Council here and since then have worked on our vision to deliver brand new affordable accommodation and fantastic sports and academic facilities."
While London continues to be seen as a safe haven for investors, other cities have become increasingly astute at marketing themselves to the real estate investment community. MIPIM UK hosted a diverse selection of these cities from around Britain including Manchester, Liverpool, Birmingham, Leeds, Glasgow and Aberdeen, and Andrew Percy, Minister for the Northern Powerhouse, joined his senior government colleagues at the Olympia.
MIPIM UK continues to be the only event where the global real estate community gathers to dedicate itself to the UK property market. Investors attending included Teacher Retirement System of Texas, Alberta Teachers Retirement Fund, GIC Real Estate, PGGM, APG Asset Management, Fosun and Bahrain Mumtalakat Holding Company.
Giving his take on where the UK property market is going, Simon Durkin, head of research at BNP Paribas, said: "The initial market reaction to the referendum vote hasn't been as pronounced as many had forecast and the UK real estate market remains an attractive proposition. The future remains uncertain but in uncertain times, the investment profile offered by large liquid markets, such as UK real estate, often benefit."
Over the past two years, MIPIM events have been focusing on the growing role that tech startups are playing in the sector, providing the real estate industry with tech solutions such as the use of Big Data or crowdfunding.
The week saw the London round of the MIPIM Startup Competition, with tech companies vying to be selected for the finals in Cannes next March.
Companies competing at MIPIM UK include Pinpo - the first matching app between landlords and tenants, onTarget - a construction scheduling platform with real time analytics and Airboxlab, who's Foobot app monitors 24/7 indoor air pollution.
"In the wake of the Brexit vote, MIPIM UK has provided an ideal and timely platform for the British and international real estate community to come together to assess the future of the UK's real estate sector. MIPIM UK is essential to attracting overseas investment into Britain and the message from Olympia was clearly that 'Property UK' is open for business," concluded Filippo Rean, head of Reed MIDEM's Real Estate Division.